Fox News Host Jeanine Pirro Claims Ilhan Omar's Hijab Is 'Indicative of Her Adherence to Sharia Law'
Fox News Host Jeanine Pirro suggested during her Saturday evening show Justice with Judge Jeanine that Representative Ilhan Omar, one of the first Muslim women elected to Congress, wears a hijab because of her "adherence to Sharia law."
The remarks of the network anchor, who is an ally of President Donald Trump and spoke at one of his political rallies last year, comes on the heels of Congress formally condemning anti-Semitism, Islamophobia and other forms of hatred after Omar, for the second time since taking office in January, made remarks that have been perceived by asome as anti-Semitic.
"Your party is not anti-Israel—she is," Pirro said of Democrats and Omar. "So, if it's not rooted in the party, where is she getting it from? Think about it. Omar wears a hijab, which according to the Koran 33:59, tells women to cover so they won't get molested. Is her adherence to this Islamic doctrine indicative of her adherence to Sharia law, which in itself is antithetical to the United States Constitution?"
Pirro later said more explicitly that she thought "this is Sharia-adherent behavior, and it is somewhat disturbing if she is someone who is Sharia-compliant."
In a statement released by the network, the former judge apologized and invited Omar on her show. But she denied that her comments suggested or had intended to suggest the Muslim congresswoman was "un-American."
"I've seen a lot of comments about my opening statement from Saturday night's show, and I did not call Representative Omar un-American," Pirro said. "My intention was to ask a question and start a debate, but of course because one is Muslim does not mean you don't support the Constitution. I invite Representative Omar to come on my show any time to discuss all of the important issues facing America today."
Pirro's remarks also earned her backlash from the network, including a fellow Fox News employee. Hufsa Kamal Khan, an associate producer for the network's Special Report w/ Bret Baier, according to her LinkedIn profile, tweeted at Pirro to "stop spreading this false narrative."
"[Judge Jeanine] can you stop spreading this false narrative that somehow Muslims hate America or women who wear a hijab aren't American enough?" Khan said. "You have Muslims working at the same network you do, including myself. K thx."
The network's official statement said it "strongly condemns Jeanine Pirro's comments about Representative Ilhan Omar. They do not reflect those of the network and we have addressed the matter with her directly."
Omar has been a target for many Republicans, and some Democrats, who have accused the congresswoman of playing into anti-Semitic tropes.
At the same time, Democrats have been divided on how—if at all—to reprimand the freshman congresswoman last week ahead of a House resolution to condemn her remarks. Some members came to Omar's defense, arguing there should be no resolution, despite her making no apology. Others pushed for Islamophobia and other forms of hate language to be added to the resolution's text, so as to not single out Omar. The text did not name the congresswoman. And other Democrats went a step further, telling Newsweek a future repeat offense would likely lead to her removal from the House Foreign Affairs Committee.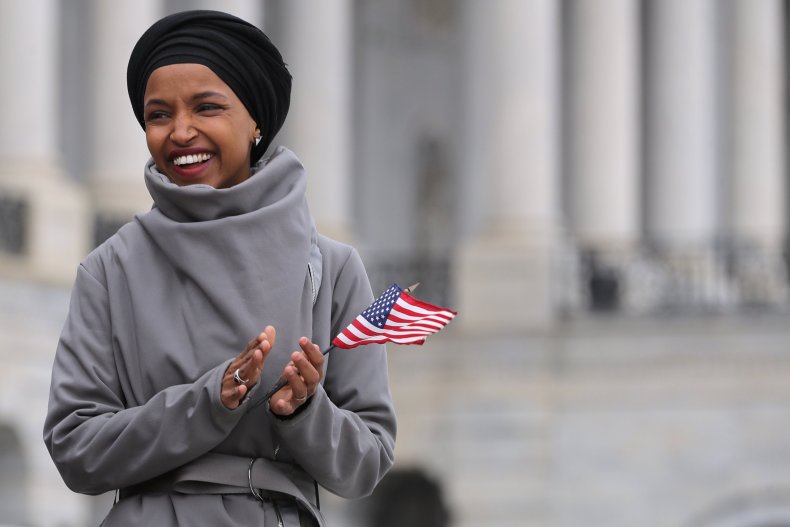 Ultimately, the House passed a resolution condemning "every form of bigotry and hatred," succumbing to demands from some Democrats to include anti-Muslim bias and anti-white supremacy language after an anti-Muslim poster showing Omar's picture was posted in the West Virginia state legislature. House Speaker Nancy Pelosi defended Omar following the passage of the resolution, saying Friday that the Minnesota congresswoman "has a different experience in the use of words, [and] doesn't understand that some of them are fraught with meaning."
Republicans slammed Democrats for not removing Omar from the committee, saying it was hypocritical because Democrats supported the GOP's recent decision to remove Congressman Steve King from his committee assignments for questioning the offensiveness of such terms as "white nationalist" and "white supremacist."
"[Anti-Semitism] seems to be more fashionable in Europe, it seems to be more fashionable in this country—regretfully—among some members of the new class in the House," Senate Majority Leader Mitch McConnell told reporters last week.
Democrats have argued that King's long history of promoting white nationalists and his Twitter engagement with neo-Nazis cannot be fairly used by Republicans to say that King and Omar deserve similar punishment.
"[Republicans] waited, what, 20-something years before acting on Steve King's hateful remarks on white supremacism," Democrat and Foreign Affairs Committee member Gerry Connolly previously told Newsweek.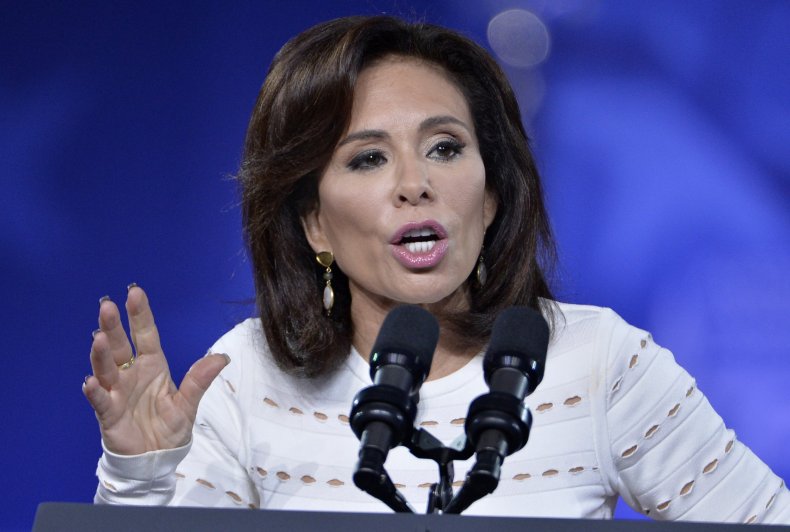 This story has been updated to include comments from Hufsa Kamal Khan. It was further updated to include statements released by Pirro and Fox News.