Alexandria Ocasio-Cortez Calls for Protests Over Supreme Court's Roe Ruling
Representative Alexandria Ocasio-Cortez was marching Friday with abortion-rights advocates in front of the Supreme Court following its decision to overturn Roe v. Wade.
In a video captured by Turning Point USA contributor Drew Hernandez, the New York Democrat is seen participating with numerous protesters who took turns calling the decision "illegitimate" and encouraging opponents to march "into the streets" to show disapproval.
Soon after the abortion decision was released Friday morning, protests began outside of the Court's building. Both abortion-rights and anti-abortion activists arrived at the site to demonstrate. No instances of violence were reported by police by late Friday afternoon.
Earlier in the day, Ocasio-Cortez tweeted that overturning Roe and outlawing abortions "will never make them go away."
"It only makes them more dangerous, especially for the poor and marginalized," she wrote. "People will die because of this decision. And we will never stop until abortion rights are restored in the United States of America."
In response, Representative Marjorie Taylor Greene tweeted a video of Ocasio-Cortez protesting, saying she had "launched an insurrection." The Georgia Republican added, "Any violence and rioting is a direct result of Democrat marching orders."
Newsweek reached out to Ocasio-Cortez's office for comment.
Other Democrats in Congress, such as California Representative Ted Lieu, gathered with abortion-rights advocates on Friday. Jane's Revenge, a group formed after the May leak of the Court's majority draft opinion that foretold Friday's decision, vowed a "night of rage" in Washington, D.C.
Flyers from the group have reportedly been circulated in the city. They read: "The night SCOTUS overturns Roe v. Wade hit the streets you said you'd riot. To our oppressors: if abortions aren't safe, you're not either."
The flyers were signed with the group's name.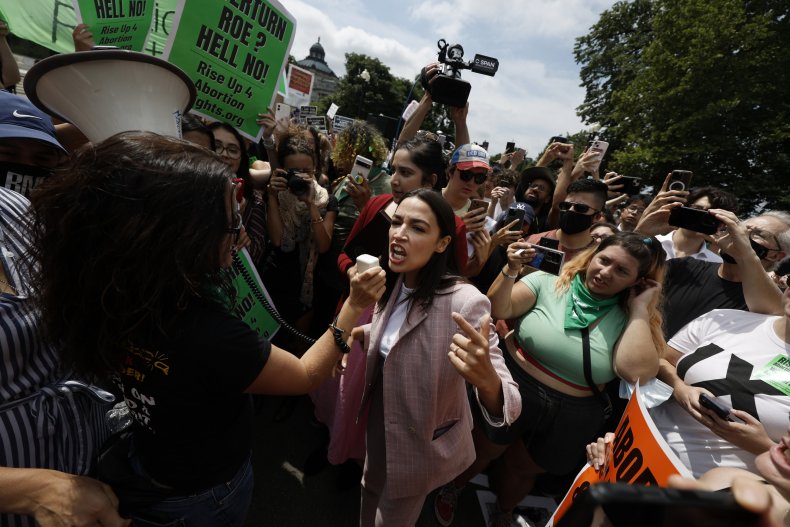 As protesters gathered in front of the Supreme Court, a group of House Democrats were singing "God Bless America," as seen in a video. Earlier Friday, House Speaker Nancy Pelosi read a poem in response to the ruling.
In an Instagram Q&A last night, Ocasio-Cortez said her "honest view" was that "things" in America were likely to be more difficult moving forward. She did not refer to anything in particular but said people have to "stick together."
"It is really about a choice all of us will have to make in life, either consciously or unconsciously: Will I be a person who is safe and creates good for others? Will I be a person who stands up? Will I be a person who primarily minds my business and serves myself or try to be part of something bigger?" she asked.
Meanwhile, the Supreme Court lacks the confidence of the vast majority of the American people, according to Gallup. Its poll on the subject, done annually, shows that just 25 percent of citizens have "a great deal" or "quite a lot" of confidence in the Court.
The poll was conducted between June 1 and 20, ahead of both the Roe decision and Thursday's ruling striking down a century-old New York state law on carrying guns in public.