Alexandria Ocasio-Cortez Says She Declined Nancy Pelosi's Climate Committee Invite, Is Focusing on 'Legislative' Side
Congresswoman Alexandria Ocasio-Cortez explained Thursday why she had not been named on the House's new select committee on climate change by Speaker Nancy Pelosi, stressing it was not a "snub," but rather that she turned down an offer for a position.
When asked why she turned down an offer to be part of a committee that will tackle an issue so important to the freshman lawmaker, Ocasio-Cortez's reasoning was that it's an "investigatory body. They're tackling the investigative piece. And right now, we're tackling the legislative piece." She also pointed to her involvement in various other committees and subcommittees that will also tackle climate change initiatives.
Despite not being on the congressional panel, Ocasio-Cortez continues to say that the speaker supports her efforts to push forward the Green New Deal and other climate change initiatives.
The proposal, backed by dozens of congressional lawmakers and the climate change activist group Sunrise Movement, was released early Thursday by Ocasio-Cortez and Senator Ed Markey, Democrat from Massachusetts, in the form of a non-binding resolution filed in both chambers. It offered more specifics to the plan, which calls for making the country operate on 100 percent clean and renewable energy within 10 years. Pelosi also named her Democratic members who will be on the Select Committee on Climate Crisis, with Ocasio-Cortez's name noticeably absent.
"We share this priority. She did, in fact, invite me to be on the committee. So, I don't think that this is a snub," the New York congresswoman said outside the Capitol building while advocating for the Green New Deal. "Today is about the actual legislative plan. Right now, this legislative scope is the only legislative scope that has been presented in this congress."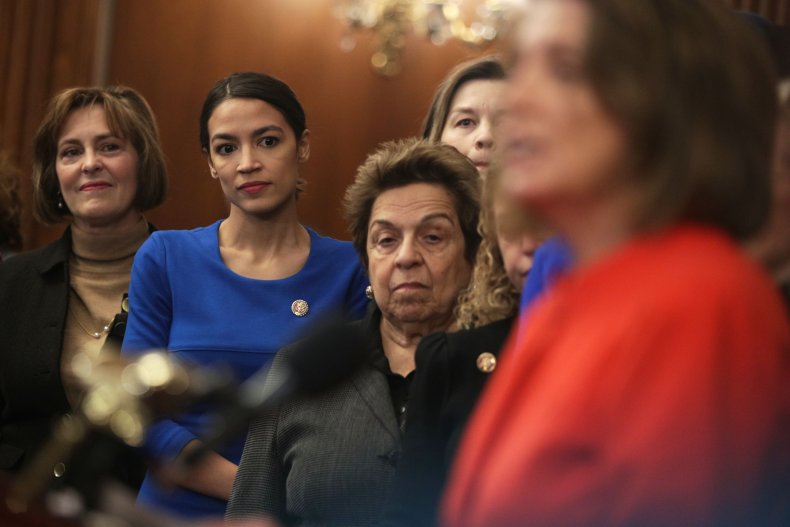 Freshman progressives and other Democrats who have come to support the Green New Deal were frustrated when it was previously revealed the committee would lack much of the power that other congressional committees possess. That includes the ability to subpoena witnesses and advance legislation. It was created to examine new climate change policies and does not have the sole purpose of focusing on the Green New Deal, another complaint from the supporters of the proposal.
Although Pelosi has experience as speaker pushing climate change policies under previous administrations, more progressive members have questioned her eagerness to support such an ambitious new climate proposal. She appealed to some of the more progressive members with her speech after retaking the speaker's gavel, saying "we must also face the existential threat of our time: the climate crisis."
But much of the Green New Deal has been viewed by more moderate lawmakers and critics as radical and unrealistic, who say the goal for America to become 100 percent renewable energy dependent with net-zero greenhouse gas emissions in 10 years is next to impossible. To achieve this, a fact sheet released with the non-binding resolution suggests to "upgrade or replace every building in the U.S. for state-of-the-art energy efficiency," among other things. And Ocasio-Cortez has suggested the nation's wealthiest may have to pay 70 percent in taxes to fund such an energy overhaul, an unpopular message among less liberal members of Congress.
Pelosi was asked Thursday morning following the proposal's release whether it should act as a "useful baseline" for climate change efforts.
"Quite frankly, I haven't seen it," the speaker said. "But I do know it's enthusiastic, and we welcome all the enthusiasm that is out there. The purpose, though, of this select committee and the tasking that I have given to the committees of jurisdiction—I didn't even have to task them, they have their own enthusiasm—that we would have an evidence-based, well-defined approach to how we go forward to make a difference."
On Wednesday, Pelosi dismissed the Green New Deal as a "suggestion" to Politico, a position that many progressives were previously wary about.
"It will be one of several or maybe many suggestions that we receive," she said. "The green dream or whatever they call it, nobody knows what it is, but they're for it right?"
But Ocasio-Cortez didn't seem to mind Pelosi's remarks on her flagship climate change proposal, much less calling it by the wrong name. She did not "consider that to be a dismissive term. I think it's a great term."