Ocasio-Cortez Compares Climate Change to Nazi Germany in Call for 'Radical' US Environmental Efforts
New York Democratic congressional primary winner Alexandria Ocasio-Cortez compared the "existential threat" posed by climate change to that of Nazi Germany during World War II.
The Democratic Socialist candidate and frequent target of conservative figures made the Friday comments at a campaign event encouraging a similar mobilization of America's industries and workforce in response to the climate change threat. Ocasio-Cortez, 29, told supporters that seemingly "radical" efforts to take on climate change's negative effects can use a similar industrialization blueprint as the U.S. used to take on the Axis threat.
"So we talk about existential threats, the last time we had a really major existential threat to this country was around World War II," Ocasio-Cortez told the crowd. "And so we've been here before and we have a blueprint of doing this before."
"None of these things are new ideas," she continued. "What we had was an existential threat in the context of a war. We had a direct existential threat with another nation, this time it was Nazi Germany, and the Axis, who explicitly made the United States as an enemy, as an enemy."
Ocasio-Cortez made the case that the country's leadership and citizens can similarly re-focus efforts to take down what she sees as this generation's largest looming threat. She dismissed critics who label environmental or anti-global warming efforts as being too "radical."
"What we did was that we chose to mobilize our entire economy and industrialized our entire economy and we put hundreds of thousands if not millions of people to work in defending our shores and defending this country," she stated. "We have to do the same thing in order to get us to 100 percent renewable energy, and that's just the truth of it."
Echoing Vermont Independent Sen. Bernie Sanders, who also describes himself as a Democratic Socialist, Ocasio-Cortez has frequently questioned why Republicans "write unlimited blank checks for war" but refuse to allocate money for environmental causes or health care.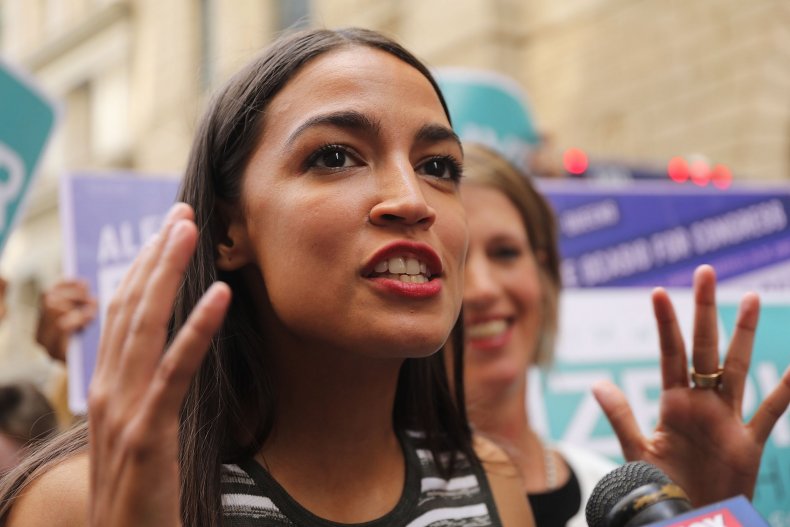 "Why is it our pockets are only empty when it comes to education and healthcare for our kids … and 100 percent renewable energy that is going to save this planet?" Ocasio-Cortez said in August. "We only have empty pockets when it comes to the morally right things to do, but when it comes to tax cuts for billions and unlimited war, we seem to be able to invent that money fairly easily."
She continued at the Friday event, telling attendees, "It may seem like really big, it may seem really ambitious, it may seem really 'radical' as us people like to say. But the fact of the matter is we are dealing with a radical truth and a radical reality, and the more that we choose to ignore it the worse we are doing by our children, and our grandchildren, and frankly ourselves in this lifetime."
Throughout her campaign, Ocasio-Cortez has drawn the ire of a wide swath of right-wing pundits who have sought to cast her out of the political mainstream for being a "radical" Democratic Socialist.
Several Fox News guests this week responded to her comments about climate change and Nazi Germany, with Former Trump advisor Sebastian Gorka saying "this woman, Ocasio-Cortez, should be ashamed of herself and anybody who was her teacher in school." Although Gorka himself has been linked to pro-Nazi groups, he ranted against Ocasio-Cortez's seeming indifference to the plight of Europe by Nazi Germany.
"Miss Cortez, 60 million people were killed in World War II, almost half a million Americans died. Six million Jews died in the Holocaust. This is a war that involved 10 million GIs, and this is comparable to climate change? This is the lunacy of the Democrat party today and that is why when it comes to the election, what is it, 16 days from now, got to be down ticket Republican all the way."