Alexandria Ocasio-Cortez Compares Ted Cruz to an Abuser in Escalating Feud over Capitol Riot Fallout
In an Instagram Live chat on Monday night, Democratic New York Representative Alexandria Ocasio-Cortez discussed the January 6 insurrection on the Capitol. During the discussion, she compared the tactics of abusers with the actions of Republican Texas Senator Ted Cruz and other Republicans eager to "move on" without discussing accountability. She also publicly disclosed that she was a survivor of sexual abuse.
Ocasio-Cortez specifically named Cruz and Republican Texas Representative Chip Roy as having told her to apologize for blaming the insurrection on Republicans who voted against certifying the election in favor of now-President Joe Biden. These Republicans propelled repeatedly debunked claims of widespread voter fraud having "stolen" the election from now-former President Donald Trump.
Ocasio-Cortez also named Republican Missouri Senator Josh Hawley and Republican Alabama Representative Mo Brooks as two others whose anti-Biden votes helped convince insurrectionists of a stolen election.
"So many of the people who helped perpetrate and who take no responsibility for what happened in the Capitol are trying to tell us all to move on... forget about what happened... [and] that it wasn't a big deal... without any accountability, without any truth-telling or without actually confronting the extreme damage, physical harm, loss of life and trauma that was inflicted on not just me as a person, not just other people as individuals, but as on all of us as a collective, and on many other people," Ocasio-Cortez said.
"We cannot move on without accountability. We cannot heal without accountability. And so all of these people who want to tell us to move on are doing so at their own convenience," she added, before stating that she herself is a survivor of sexual abuse.
"These are the tactics of abusers. Or rather, these are the tactics that abusers use," Ocasio-Cortez said. "What they're asking for when they say, 'Can we just move on?' ... is, 'Can you just can we just forget this happen so that I can do it again, without recourse?... Can you just forget about this so that we can, you know, do it again?'"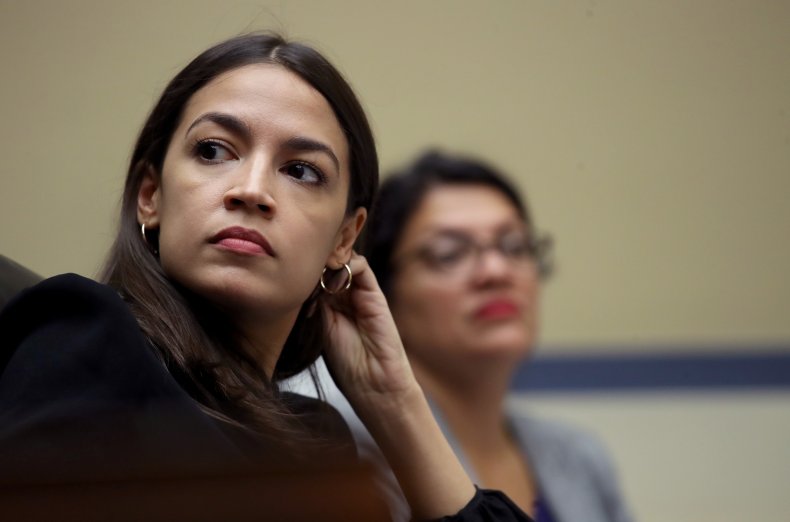 She said that she gave a month-long "window of opportunity" for Cruz, Hawley and Brooks, to say that they were mistaken for their actions. But instead, she says they "doubled-down" by insisting that they were right and that they wouldn't change their words or actions.
"What that tells me is that when given another window of political opportunity for themselves, even if they know that it means that it will endanger their colleagues, they will do it again," Ocasio-Cortez said. This, she explained, is why she believes the aforementioned congressmen should resign.
"Accountability is not about revenge," she explained. "It's not about getting back at people. It's not about any of that. It's about creating safety. And we are not safe with people who hold positions of power, who are willing to endanger the lives of others if they think it will score them a political point."
Ocasio-Cortez said she began feeling unsafe in Washington D.C. three days before the insurrection happened, both because Capitol security forces had begun discussing the prospect of violence and also because Trump's supporters began surrounding the Capitol and patronizing local grocery and convenience stores, creating a tense atmosphere of hostility.
She said the potential for violence caused her to feel nauseous on January 6. Then, in the afternoon, she heard loud banging at her office door and she hid in her office bathroom as voices in her office asked, "Where is she?"
During this time, she said, she thought she was going to die. She eventually made it into a colleague's office in another building and changed into her colleague's gym clothes with the hopes of evading detection.
During her Instagram Live chat, she emphasized that she was telling her story, not to make herself the center of what happened but to acknowledge both that her Republican colleagues understood their contributions to possible violence days before January 6 and as a way to potentially help others heal from the trauma caused by the insurrection.
"There's the trauma of going through what you went through. And then there's the trauma afterwards of people not believing you or trying to publicly humiliate you or trying to embarrass you. And that also gets internalized too, because a lot of times, you don't want to believe it, either," Ocasio-Cortez said.
Among those who were also present and traumatized by the insurrection, Ocasio-Cortez listed the largely Black, brown and immigrant Capitol food service workers and cleaning staff; congressional staffers and their children; the two Capitol Police officers who have died by suicide caused by post-traumatic stress following the riots and the other police officers who suffered a loss eye, a broken spine and other injuries from the rioters' attacks.
Newsweek contacted Ocasio-Cortez for comment.