Parkland Survivor David Hogg Relates to Alexandria Ocasio-Cortez's Capitol Riot Trauma
Rep. Alexandria Ocasio-Cortez's description of how she feared she would die during the U.S. Capitol riots has brought back painful memories for David Hogg of the day he and his friends survived the worst high school mass shooting in U.S. history.
Hogg has campaigned for tougher gun laws since 17 of his fellow students and staff at Marjory Stoneman Douglas High School in Parkland, Florida, were killed on February 14, 2018.
On Monday he responded to the frank and moving account by the Democratic New York congresswoman of her experiences when supporters of former President Donald Trump stormed the Capitol building on January 6.
Cortez said rioters entered her office and she took refuge inside her bathroom, saying on Instagram Live: "I thought I was going to die and I had a lot of thoughts.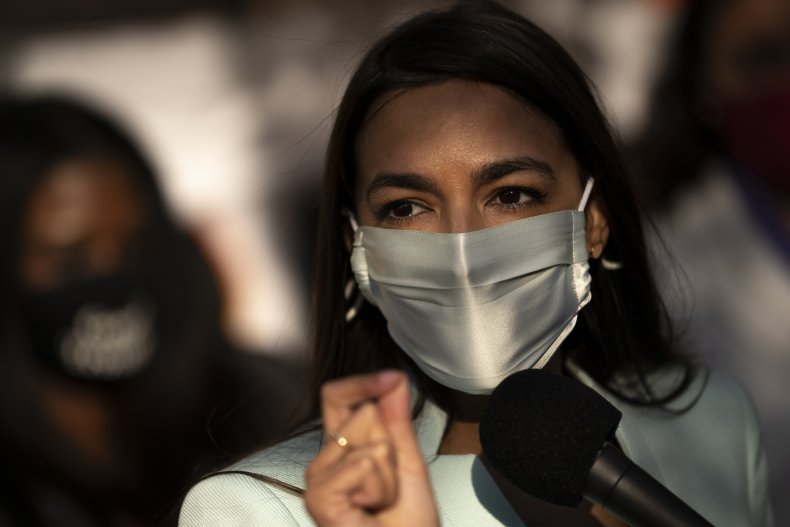 "In retrospect, maybe it was four seconds. Maybe it was five seconds, maybe it was 10 seconds. Maybe it was one second, I don't know. It felt like my brain was able to have so many thoughts.
"In between the screams and the yells," Ocasio-Cortez added, "I mean, I thought I was going to die."
Cortez also revealed that she was a survivor of sexual assault, an experience that had shaped her reaction to the events of January 6.
"When we go through trauma, trauma compounds on each other," she said. "These folks tell us to move on, that it's not a big deal, that we should forget what happened, even telling us that we should apologize—these are the same tactics of abusers."
Hogg expressed his support, tweeting: "Hearing @AOC talk about what happened on 1/6 sound like many of my friends after the shooting at our high school has me shook to my core."
"This is a sitting congresswoman. We all need to be deeply concerned for the future of our democracy," he added.
Last week, Hogg told Newsweek about the triggers for post traumatic stress disorder (PTSD). He said the emergence of March 2019 videos of Georgia Rep. Marjorie Taylor Greene confronting him in the U.S. Capitol had forced him and his fellow survivors to revisit their trauma.
"A lot of the PTSD comes from the gun violence but it also comes from the aggression and death threats that we get," he said last Thursday, as he called for the Republican Party to take action against Greene.
Meanwhile, David Schoen, one of the lawyers representing Trump in his impeachment trial on a charge of inciting the mob on January 6, has questioned why footage of the riots needs to be shown at the trial. "Does this country really need to see video tapes?" he told Fox News. "Why does the country need that now?"
The graphic below provided by Statista shows the support in the U.S. for accounts of the Capitol riots by new witnesses at Trump's impeachment trial.