Alexandria Ocasio-Cortez Says Democrats Causing 'Bigger National Scandal' Than Donald Trump
Democratic Congressional Rep. Alexandria Ocasio-Cortez slammed her own political party this weekend, saying Democrats were causing a "bigger national scandal" than President Donald Trump's "lawbreaking" by not pursuing the president's impeachment.
"At this point, the bigger national scandal isn't the president's lawbreaking behavior - it is the Democratic Party's refusal to impeach him for it," Ocasio-Cortez, who represents New York's 14th congressional district, tweeted late Saturday evening.
Ocasio-Cortez, a key figure in the Democratic party's progressive caucus, has publicly backed impeaching Trump since June. "I would support impeachment. I think that, you know, we have the grounds to do it," she told CNN in an interview.
She came out much more strongly in support earlier this month, calling out Republicans for their continued backing of the president. "I want to see every Republican go on the record and knowingly vote against impeachment of this president knowing his corruption, having it on the record so that they can have that stain on their careers for the rest of their lives," she told reporters.
The progressive congresswoman's latest complaint about her party's inaction came after new allegations emerged that Trump pressured Ukrainian leaders to open an investigation into the business dealings of Democratic presidential candidate and former Vice President Joe Biden's son Hunter Biden. Following alleged efforts by Trump and his lawyer Rudy Giuliani to pressure Ukraine on the matter, $250 million in military aide to the country was temporarily withheld. It was eventually released after bipartisan pressure from Washington lawmakers.
Newsweek subscription offers >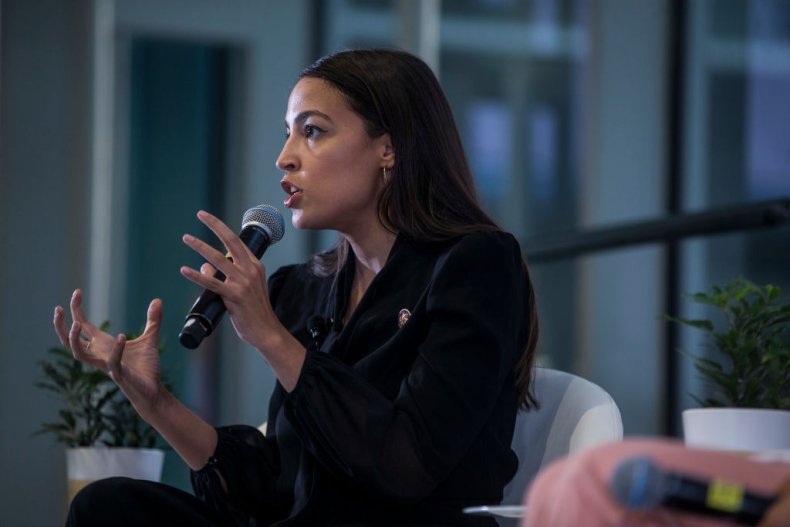 An unidentified whistleblower was so concerned by a particular phone call made by Trump regarding Ukraine that they filed an official complaint. Democratic leaders in Congress are now attempting to obtain that complaint, but Trump's acting director of national intelligence has been withholding it, in what many legal experts and lawmakers have argued is a violation of the law. Ukrainian officials told The New York Times that they had the impression that Trump's support was contingent on their government's willingness to pursue the probe into Biden.
As Ocasio-Cortez's tweet highlighted, there has been a growing division within the Democratic party over attempting to impeach Trump. Progressive Democrats in Congress have long been urging their party to push forward with an impeachment vote, but Speaker of the House Nancy Pelosi, a Democrat from California, has shown reluctance. She has previously said she believes it would be too divisive and would be better to defeat the president at the ballot box.
In response to the whistleblower report regarding Ukraine, Pelosi accused the president of "stonewalling" Congress.
"The Trump Admin is clearly violating federal statute by blocking the head of US Intelligence from providing Congress with a whistleblower complaint described as being of 'urgent concern & credible,'" the top Democrat tweeted on Saturday. "The stonewalling must end. What is the President hiding?"
Correction: A previous version of this article incorrectly stated that Ukrainian officials believed Trump withholding military aid was linked to their government declining to pursue the investigation into Biden. It should have said they had the impression that Trump's willingness to support their government was based on their willingness to pursue the probe.
Alexandria Ocasio-Cortez Says Democrats Causing 'Bigger National Scandal' Than Donald Trump | U.S.