Alexandria Ocasio-Cortez Calls Out 'Far-right Propaganda...Dedicated to Maligning Me,' Before Trump Rally Crowd Chants 'AOC Sucks'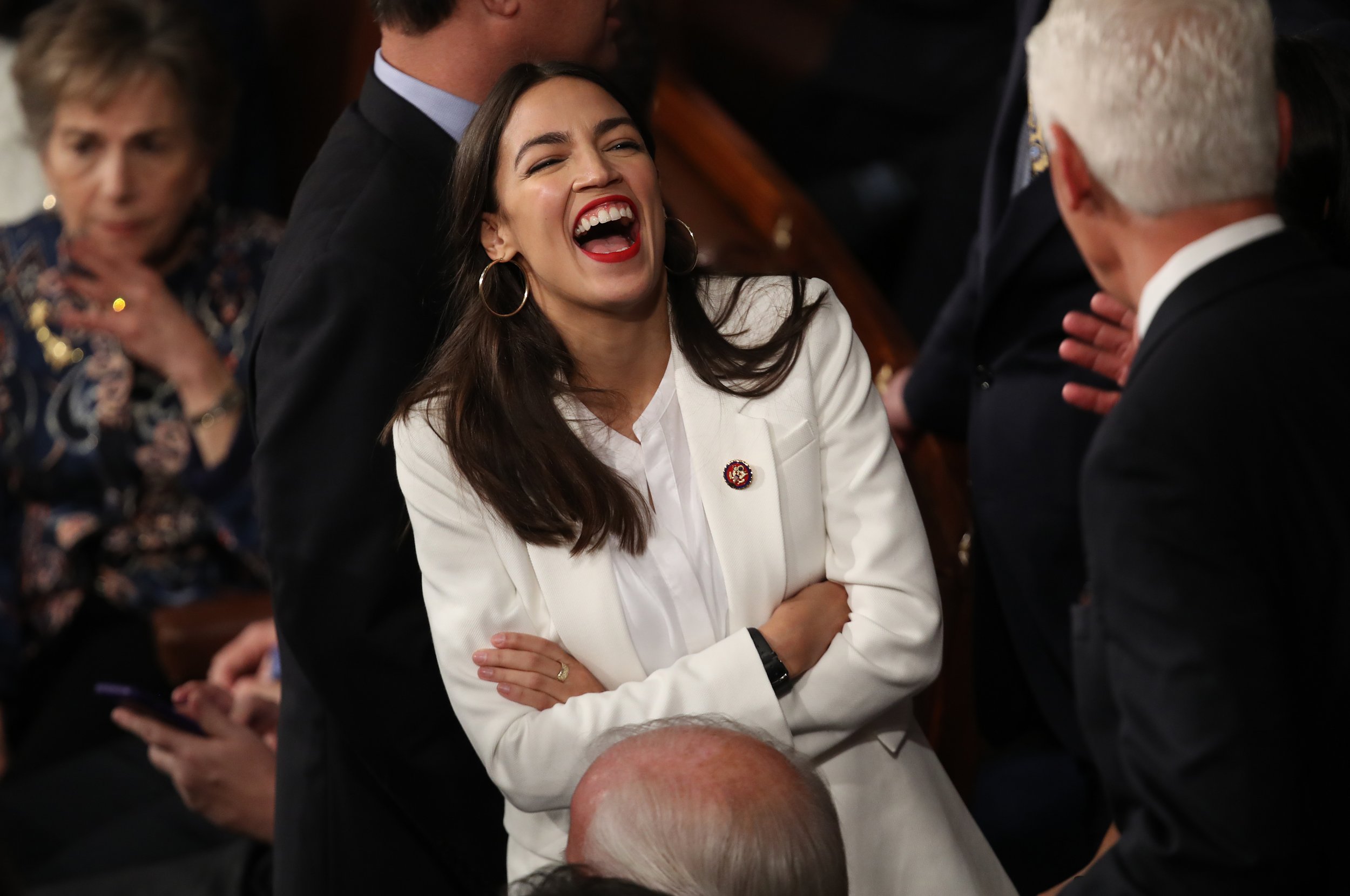 Representative Alexandria Ocasio-Cortez struck back at what she called a "far-right propaganda machine" that has maligned her and stoked national division.
Her comments came right before Donald Trump Jr. addressed President Donald Trump's rally in Grand Rapids, Michigan, on Thursday, where Trump Jr. mocked the New York congresswoman, who has fast become the face of the most progressive elements of the Democratic Party.
Regarding Ocasio-Cortez's proposed Green New Deal, Trump Jr. told the crowd, "Think about the fact that every mainstream, leading Democratic contender is taking the advice of a freshman congresswoman who three weeks ago didn't know the three branches of government...that's pretty scary." Trump Jr. was referring to a video in which Ocasio-Cortez explained the structure of the U.S. government incorrectly.
According to The Hill, the crowd erupted into chants of "AOC sucks! AOC sucks!"
"You guys, you're not very nice," Trump Jr. replied. "And neither is what that policy would do to this country."
Tweeting on Thursday, Ocasio-Cortez said, "It's almost as though there is a directed + concerted far-right propaganda machine with a whole cable news channel, and a dark-money internet operation propped up by the Mercers et al dedicated to maligning me & stoking nat'l division."
The Republican Party has sought to depict Ocasio-Cortez and her more progressive Democratic colleagues as radicals and socialists whose policy proposals would bankrupt the U.S.
And their tactics might be working. In a recent Quinnipiac University poll, Ocasio-Cortez received a negative 23 to 36 percent favorability rating, with 38 percent saying they hadn't heard enough about her to form an opinion.
The Green New Deal—an ambitious proposal sponsored by Ocasio-Cortez and Senator Ed Markey—would pivot the American economy away from fossil fuels to more environmentally sustainable energy sources, and strengthen workers' rights—has been one of the main targets of GOP attack.
Some Republicans claim the deal would bankrupt the country, and have criticized Ocasio-Cortez and her fellow proponents for failing to explain how the government would cover the costs of such an enormous undertaking.
Earlier this week, Senate Majority Leader Mitch McConnell introduced a vote on the Green New Deal, hoping to force Democrats to go on record as either supporting or opposing the policy, in a move to undermine their electability and drive a wedge between different wings of the party.
But Democratic senators—and independent Bernie Sanders—avoided the trap by voting "present" rather than for or against. Four Democrats sided with the 53 Republicans to vote down debate on the proposal.
The president took his own swipe at the Green New Deal when he took the stage in Michigan on Thursday, falsely claiming that the proposals would demand the elimination of airplanes and cows. He also repeated past criticisms of wind energy, the workings of which he doesn't appear to understand.
"If it doesn't blow, you can forget about television for that night," he told the crowd. "I know a lot about wind," he added.