GOP More Preoccupied With Alexandria Ocasio-Cortez Than Trump, Pelosi and Schumer Debate, Political Analyst Claims
Political analyst and Bloomberg Businessweek columnist Joshua Green has claimed Republicans meeting at Trump Hotel Tuesday evening were more interested in incoming congresswoman Alexandria Ocasio-Cortez than in President Donald Trump, Nancy Pelosi and Chuck Schumer's heated Oval Office debate.
"In two hours of circulating through GOP gatherings at Trump Hotel this evening, the big preoccupation wasn't Trump, Pelosi or Schumer—it was [Alexandria Ocasio-Cortez]," he tweeted Tuesday night.
"Good," Ocasio-Cortez replied on Twitter. "Make 'em sweat."
Earlier that day, Trump, Pelosi and Schumer sparred on-air over funding for the president's border wall. Within minutes, the cross-party conversation descended into a shouting match, with Trump declaring he would be "proud" to shut down the government over border security concerns.
Vice President Mike Pence was also present at the discussion, but remained silent.
Pelosi later told Politico Trump's focus on the wall was "like a manhood thing with him—as if manhood can be associated with him."
But Green claims a looming shutdown over the wall was at the back of many Republican's minds. They were concerned instead, he said, with the youngest woman ever elected to congress.
Social democrat Ocasio-Cortez has been a thorn in the side of conservatives for months. She wants to revamp U.S. energy policy with a Green New Deal and provide free healthcare and higher education for all.
She has attracted criticism for both her views and her relative lack of experience. But the freshman congresswoman-elect has won legions of fans online with her social media prowess. She uses wildly popular Instagram Live videos, for example, to engage with the public: discussing politics, responding to questions and sharing recipes.
Ocasio-Cortez frequently uses social media to blast her critics, recently accusing Fox News pundits of "clutching their pearls" after they called her a "bull in a china shop."
Green said Tuesday's focus on Ocasio-Cortez "really was remarkable," speculating that Republicans at the hotel thought she was "'dumb,' doesn't understand basic econ [and] leads a flock of sheep," in response to questions on Twitter.
All of this, he added, "conveys a deep-seated insecurity."
Green currently writes for Bloomberg Businessweek and has appeared as a pundit on CNN. He also authored 2017's Devil's Bargain: Steve Bannon, Donald Trump, and the Storming of the Presidency.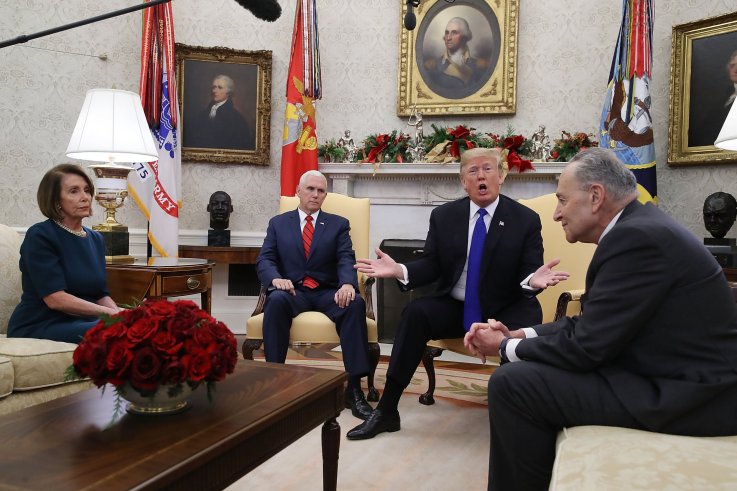 GOP More Preoccupied With Alexandria Ocasio-Cortez Than Trump, Pelosi and Schumer Debate, Political Analyst Claims | U.S.