Nancy Pelosi Says Donald Trump's Wall is a 'Manhood Thing—As If Manhood Can Be Associated With Him': Report
After a tense, argumentative meeting with President Donald Trump, Democratic House leader Nancy Pelosi reportedly said the commander-in-chief's focus on a border wall had to do with his "manhood."
"It's like a manhood thing with him—as if manhood can be associated with him," she said in a private meeting with House Democrats, according to a report from Politico. "This wall thing."
The meeting was televised from the Oval Office and featured Trump often interrupting Pelosi and Senate Minority Leader Chuck Schumer. Vice President Mike Pence sat silently, awkwardly uninvolved.
Pelosi reportedly said in the private meeting that she was trying to get a grip on the tense sit-down with Trump.
"I was trying to be the mom," she said, according to Politico, but "it goes to show you: you get into a tinkle contest with a skunk, you get tinkle all over you."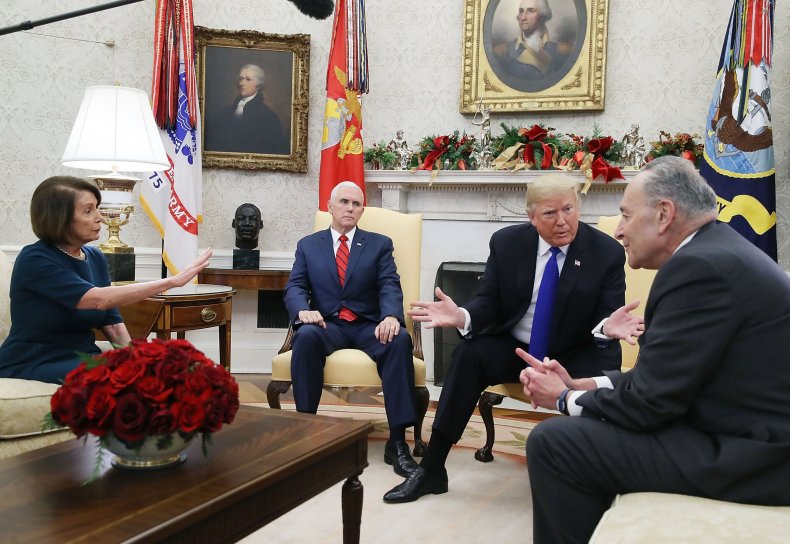 Trump pushed for his long promised—but still unconstructed—border wall along the southern border of the United States. The president even promised that he would shut down the government to land funding.
"I am proud to shut down the government for border security.… I will take the mantle. I will be the one to shut it down. I'm not going to blame you for it," Trump said in the meeting.
Pelosi reportedly told colleagues that Trump seem to threaten the possibility of fight over the issue. According to CNN's Manu Raju, Pelosi told House Democrats: "He said at the end of the meeting, he said, 'We can go two routes with this meeting: with a knife or a candy.' I said, 'Exactly.'"
Pelosi suggested after the meeting that Trump going the hard-line route and shutting down the government over the wall would be a foolhardy move.
"However obsessed he is with the wall, it isn't worth shutting down the government," Pelosi told reporters.