Alexandria Ocasio-Cortez Has as Many Twitter Followers as Incoming Democratic Freshman House Members Combined
In her rise to Congress, Alexandria Ocasio-Cortez has quickly become a household name—and her surge in popularity couldn't be more evident than in the Twitterverse.
With 1.54 million Twitter followers and counting, the congresswoman-elect has attracted as many fans on the social media site as the other incoming 63 Democratic freshman House members have combined.
Even when Ocasio-Cortez had just 1.38 million followers earlier this year, she had already amassed as strong a following as her peers, according to data compiled by lobbying firm Mehlman Castagnetti Rosen & Thomas–and since then, her circle of admirers has only continued to grow.
Read more: Alexandria Ocasio-Cortez's most popular Twitter takedowns and comebacks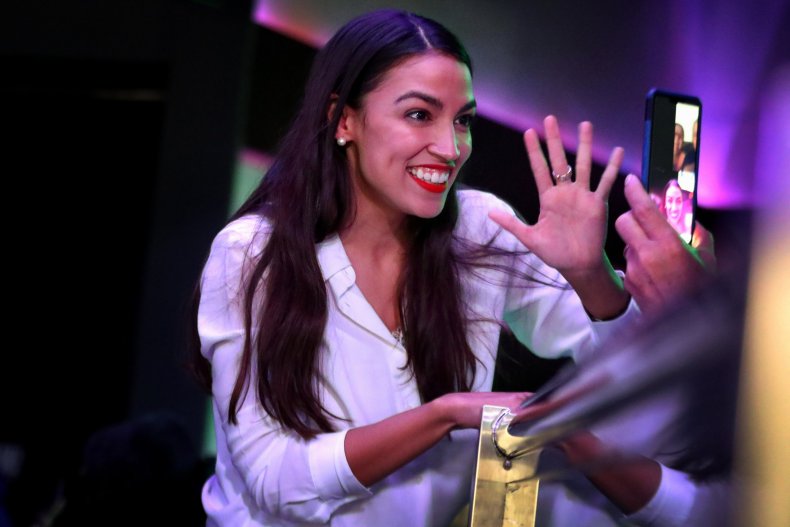 While AOC, as the New York politician is known to her fanbase, has managed to surpass one million followers, other incoming Democratic freshman House members have only managed to pull in a small fraction of that, in terms of Twitter support.
After Ocasio-Cortez, Minnesota State Representative-elect Ilhan Omar appears to have the second largest following of the Democratic freshman group, with 256,000 Twitter followers and counting.
Massachusetts Representative-elect Ayanna Pressley follows with 115,000 followers, while Michigan Congresswoman-elect Rashida Tlaib currently has a following of 105,000 users.
Coincidentally, all three incoming freshman House members made history in November's midterm elections, with Ocasio-Cortez becoming the youngest woman to be elected to Congress, while Omar and Tlaib became the first two Muslim women to be elected to Congress and Pressley became Massachusetts's first black congresswoman-elect.
Since launching her grassroots campaign for the 2018 midterm elections, Ocasio-Cortez has demonstrated just how effective a strong social media strategy can be, earning high praise for her transparency on Twitter, Facebook and Instagram.
The New York politician has used social media countless times to explain aspects of her campaign and what her role in Congress will be, including sharing details of her budget on Twitter and Instagramming her congressional orientation experience.
However, Ocasio-Cortez's freewheeling approach to social media has also already landed her in hot water, with The Washington Post describing a tweet the congressmember-elect wrote about health care funding as "badly flawed."
The incident, which saw Ocasio-Cortez incorrectly claim that accounting errors reportedly incurred at the Pentagon over the last 17 years to the tune of $21 trillion could have been used to fund two-thirds of the estimated $32 trillion cost of Medicare for All, earned the politician four "Pinocchios" on the Post's grading scale for factual inaccuracy, which means her statement was considered a "whopper" in the newspaper's books.