Alexandria Ocasio-Cortez Heckled, Called 'Big Booty Latina' in Viral Video
Video of a comedian heckling Representative Alexandria Ocasio-Cortez and saying she was a "big booty Latina" who "wants to kill babies" has gone viral on Twitter after the Democrat shared the footage.
The video shows social media personality Alex Stein outside the U.S. Capitol as Ocasio-Cortez approaches the steps of the buildings. He recorded himself calling her "my favorite big booty Latina."
"I posted about a deeply disgusting incident that happened today on the Capitol steps, but took it down bc it's clearly someone seeking extremist fame," Ocasio-Cortez tweeted on Wednesday.
"It's just a bummer to work in an institution that openly allowed this, but talking about it only invites more. Just really sad," she said.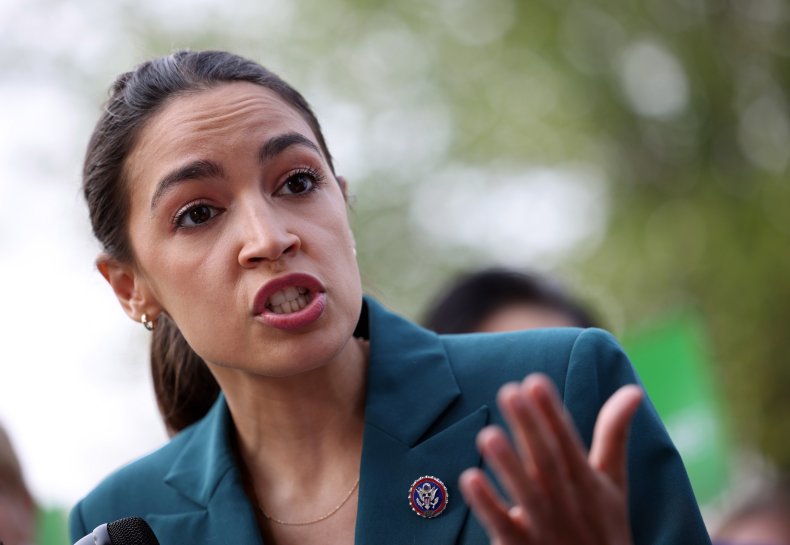 In another tweet, Ocasio-Cortez shared the video of Stein, which had been viewed 1.3 million times as of early Thursday morning.
"I was actually walking over to deck him because if no one will protect us then I'll do it myself but I needed to catch a vote more than a case today," the Democrat wrote.
In the video, Stein said: "AOC, my favorite big booty Latina. I love you AOC, you're my favorite. She wants to kill babies, but she's still beautiful. You look very beautiful in that dress. You look very sexy. Look at that booty on AOC."
Ocasio-Cortez briefly confronted Stein and made a peace sign to the camera before walking up the Capitol steps. Stein continued speaking to the camera as she walked away and added: "Hot, hot, hot like a tamale!"
The Democrat has been a strong advocate for abortion rights and has criticized the U.S. Supreme Court for its majority decision in June to overturn the landmark 1973 abortion case Roe v. Wade.
Stein shared Ocasio-Cortez' tweet on his own Twitter account and added: "If you really love me you would of at least tagged me" and also joked about the fact she appears to have blocked him on the social media platform.
"Thank you @AOC for making me trend on twitter tonight!" Stein wrote in another tweet featuring a screenshot showing his name as one of Twitter's trending political topics.
Stein told Newsweek on Thursday: "I just wanted to call out AOC and make her uncomfortable just like she said to make Brett Kavanaugh uncomfortable and she is lying about wanting to hit me. She totally liked me."
Ocasio-Cortez recently mocked Supreme Court Associate Justice Brett Kavanaugh after protesters at a restaurant where he was dining caused him to leave through the back door.
Newsweek has asked Ocasio-Cortez' office for comment.
This isn't the first time Stein has gone viral for heckling a politician. In June, he called Republican Senator Ted Cruz a "globalist" and a "coward" at the Texas GOP convention.
"You care more about the border between Ukraine and Russia than you do about the border between Texas and Mexico, why is that?" Stein asked Cruz in a video that went viral on social media.
"You are a globalist, you know it Ted, you are a globalist. You know that, bud, that is why you are a coward and a liar," Stein went on.
"You know that and I know that, that's why you are afraid to stand up. When people were freezing and dying you were in Mexico, do you remember that?" Stein said.
The comment was in reference to the fact Cruz and his family had traveled to Cancun, Mexico after a 2021 winter storm resulted in thousands losing power in Texas in freezing conditions.
Cruz received significant criticism at the time but said he had planned the vacation to be a good father to his daughters. He cut his trip short because it "didn't feel right."
Update 07/14/22 06.20a.m. E.T.: This article was updated to include a statement from Alex Stein.