New York Rep. Alexandria Ocasio-Cortez hit out at Joe Biden after Sunday night's Democratic debate, telling him "the truth matters" in a social media post.
The freshman lawmaker pressed the ex-vice president not to make false claims about his record, before going on to call him one of the "biggest champions" of the 2005 bankruptcy bill.
She also said that he was "pressured" into dropping his support for the Hyde Amendment last year—legislation that bans federal funding for the majority of abortions.
Joe Biden and Sen. Bernie Sanders (I-VT) went head-to-head in Washington last night for a CNN debate with no studio audience, owing to the ongoing COVID-19 epidemic.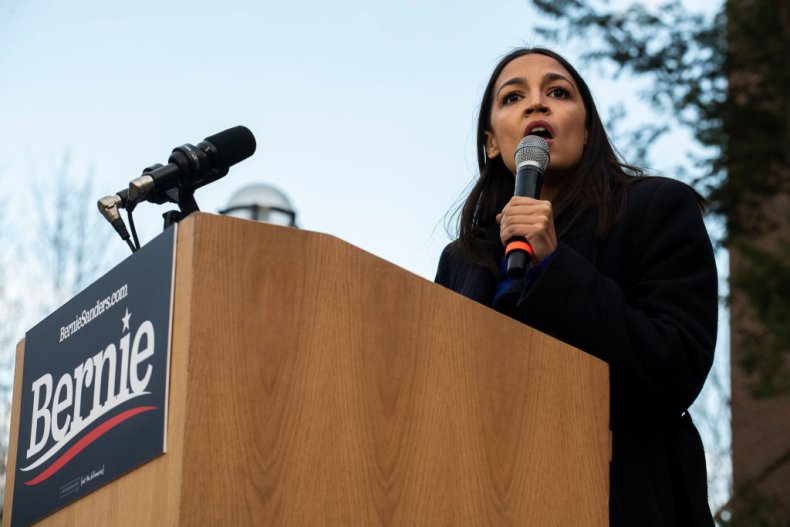 The global outbreak of the novel coronavirus was the key topic of the latest Democratic debate, where the two frontrunners for the party's 2020 nomination also argued over healthcare, social security and other issues.
In one exchange over Biden's record as a senator, Sanders accused the former congressman of "touting the need to cut Social Security, Medicare and veterans' programs" on several occasions.
Biden denied backing cuts to entitlement programs, but did say that "everything was on the table" when the Obama administration was considering how to slash the deficit.
After the former vice president denied backing cuts to Social Security and other programs, Sanders told viewers to "go to the YouTube right now" as clips of Biden backing freezes on benefits went viral.
Over the course of the debate, Biden also claimed he dropped his support for the Hyde Amendment "a while ago," having changed his position on the issue less than a year ago, and sought to distance himself from the 2005 bankruptcy bill.
"I did not like the rest of the bill, but I improved it," Biden said, according to CNN.
Responding to Biden's performance at the Washington debate, Democratic Rep. Ocasio-Cortez tweeted: "Don't say you support a fracking ban when you don't. Don't say you didn't write the bankruptcy bill when you were one of it's biggest champions.
"Don't say you supported ending Hyde a long time ago when you were just pressured into it last year. This is basic. The truth matters."
Newsweek has contacted the Biden campaign for comment and will update this article with any response.
The hashtag #LyinBiden was fifth in the U.S. Twitter trending charts on Monday morning as users reacted to clips of Biden at last night's CNN debate.
Heading into the televised head-to-head, Biden was the primary race's clear frontrunner on the back of crucial Super Tuesday primary wins as well as a victory in Michigan last week.
At the time of writing, the FiveThirtyEight Democratic primary forecast gives the former vice president a 99 percent chance of winning the majority of delegates and becoming the party's presidential nominee.