Representative Alexandria Ocasio-Cortez called for the NBA boycott to be dubbed a "strike" as she praised the courage of Milwaukee Bucks players who refused to take the court on Wednesday in protest against racial injustice.
The Democratic congresswoman of New York said the NBA stars were withholding their labor rather than their money, meaning their stand against racism was a strike by definition, not a consumer boycott.
She added that it was important to point out the difference to show players had "power as workers," and later said similar organizing efforts in WNBA should not go unnoticed.
Reacting to a Washington Post story describing the action as a boycott, Ocasio-Cortez tweeted: "NBA players are courageously on strike (withholding labor), NOT boycotting (withholding their $/purchase). The diff[erence] is important [because] it shows their power as workers.
"The courage this takes is profound. WNBA organizing in this moment MUST be recognized too. #StrikeForBlackLives"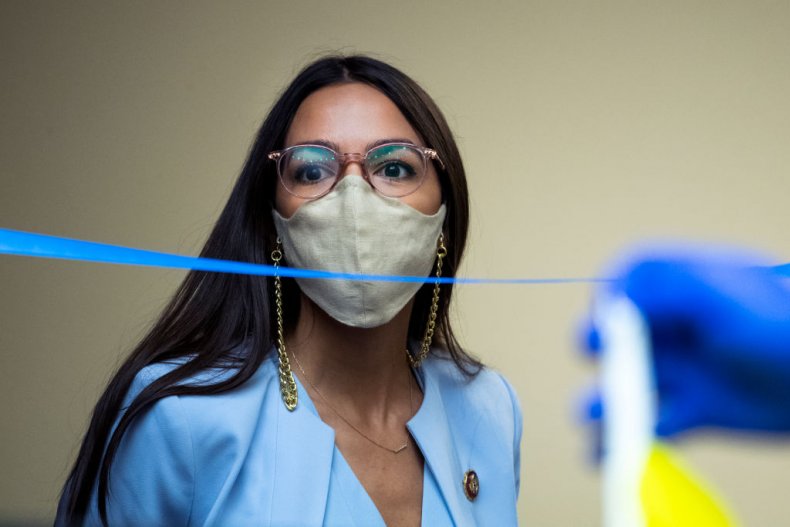 Milwaukee Bucks players refused to appear on the court ahead of Game 5 of their first-round series against Orlando Magic on Wednesday afternoon following the police shooting of 29-year-old Jacob Blake in Kenosha, Wisconsin on Sunday.
Releasing a statement on their strike action, Bucks players said they wanted justice for Blake and demanded that the officers involved in the shooting be "held accountable" for their actions.
"For this to occur, it is imperative for the Wisconsin State Legislature to reconvene after months of inaction and take up meaningful measures to address issues of police accountability, brutality and criminal justice reform," the statement read.
"We encourage all citizens to educate themselves, take peaceful and responsible action, and remember to vote on November 3."
After the team revealed they would not be taking the court, the NBA said it would postpone and reschedule the game and two others in light of the protest. It is not yet clear when the games will go ahead.
Major League Baseball and WNBA games scheduled for Wednesday night were also called off in the face of strike action, with the Milwaukee Brewers MLB team joining the Bucks' protest against the Kenosha shooting.
"We as a team unanimously decided today not to play our baseball game due to continued issues that we've seen with racial injustice and social oppression," Brewers player Ryan Braun told reporters. "Obviously what's happened in Kenosha hits close to home, something that continues to be deeply concerning and disheartening to all of us."
Kenosha police shot Blake several times in the back on Sunday as footage of the incident showed the unarmed Black man attempting to enter his vehicle as officers held up their guns. His three children were reportedly in the car as he was getting shot.
The incident under investigation from the Department of Justice sparked outrage and unrest in Kenosha, prompting President Donald Trump to deploy around 1,000 National Guard and 200 federal law enforcement officers to the city.
The graphic below, provided by Statista, shows public opinion on kneeling during the national anthem as form of protest.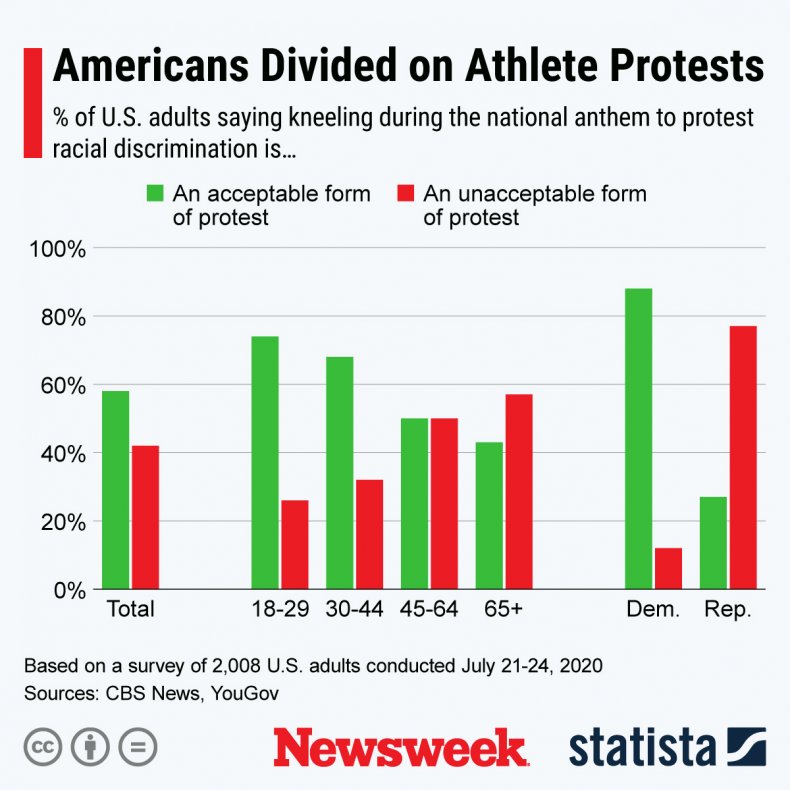 Update 8/27/20: This article was updated to include an infographic.