Alexandria Ocasio-Cortez to Push Bill Making Feds Identify Themselves Following Portland Arrests
Congresswoman Alexandria Ocasio-Cortez is co-sponsoring an upcoming House bill that would require federal law enforcement officers to wear visible identification markers while on duty.
The New York representative is expected to introduce the bill later this week, The Nation reported on Monday. Washington, D.C., Delegate Eleanor Holmes Norton is cosponsoring the bill alongside Ocasio-Cortez.
The proposed legislation was drafted as federal agents deployed to Portland, Oregon, sparked nationwide controversy over arrests involving undercover personnel, unidentified vehicles and excessive use of force during the city's ongoing protests.
If enacted by the House and Senate, it would mandate "the display of certain identification for certain law enforcement officers" and establish a system for federal agencies to collect data related to compliance. The bill is titled, "Law Enforcement Identification Transparency Act of 2020," according to a copy of the drafted policy obtained and published by The Nation.
"Not later than 90 days after the date of the enactment of this section the head of each Federal law enforcement agency shall implement a policy requiring that a Federal law enforcement officer (in uniform or plain clothes), employed by a Federal law enforcement agency, make visible the following identification while on-duty or serving the public as a federal law enforcement officer," the bill states.
Required identification under the bill would include: an officer's surname, the federal agency by which they are employed, and a badge or identification number assigned to the officer by that agency. An additional clause says each federal agency must devise and implement policies to enforce the identification requirements within 90 days, should the bill pass.
Newsweek reached out to Ocasio-Cortez's office for comments regarding the bill but did not receive a reply in time for publication.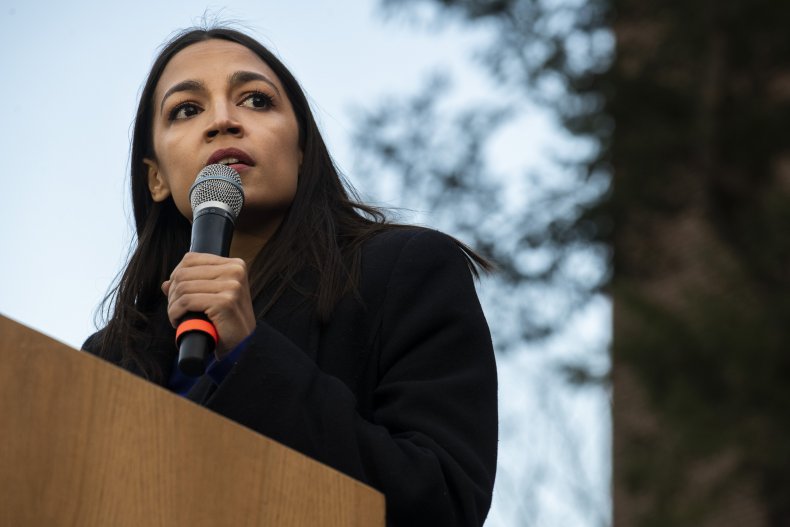 Federal agents arrived in Oregon's capital city earlier this month, amid continued demonstrations against racism and police violence following George Floyd's death in custody. Since then, officers have used tear gas, impact munitions and excessive force to disperse demonstrating crowds.
A viral video that showed agents without identification escorting a protestor into an unmarked vehicle drew particular criticism from the public as well as local, state and federal leaders.
House Speaker Nancy Pelosi and Oregon Congressman Earl Blumenauer issued a joint statement on Saturday in response, accusing the Trump administration of authorizing federal troops' deployment and using Portland protestors as political "props." After a protestor was shot in the head with an impact munition and hospitalized with critical injuries, Oregon Senator Ron Wyden referred to the person responsible as "one of Donald Trump's secret police" in a message posted to Twitter.
"Unidentified stormtroopers. Unmarked cars. Kidnapping protesters and causing severe injuries in response to graffiti. These are not the actions of a democratic republic," Pelosi tweeted one day earlier, saying the Department of Homeland Security's "actions in Portland undermine its mission." The DHS authorized deployment of troops from at least six federal agencies to Portland in early July, the Associated Press reported.
Senator Rand Paul, a Republican, was the latest federal official to beak with Trump regarding unidentified officers' actions in Portland.
"We cannot give up liberty for security. Local law enforcement can and should be handling these situations in our cities but there is no place for federal troops or unidentified federal agents rounding people up at will," Paul wrote on Twitter Monday afternoon.
Trump defended federal officers' presence in Portland on Sunday.
"We are trying to help Portland, not hurt it," he tweeted. "Their leadership has, for months, lost control of the anarchists and agitators. They are missing in action. We must protect Federal property, AND OUR PEOPLE. These were not merely protesters, these are the real deal!"
Newsweek reached out to the White House for comments but did not receive a reply in time for publication.
A previous version of this story was published with a selection of editor's notes included. These have been deleted.