Alexandria Ocasio-Cortez to Rally For Bernie Sanders in Iowa, Hold Climate Summit
Bernie Sanders has announced that Alexandria Ocasio-Cortez will be speaking at his rally in Iowa and multiple other events alongside him, and the two will attend a conference on climate change together, according to The Hill.
Ocasio-Cortez endorsed Sanders on October 19.
"Today, I am endorsing Senator @BernieSanders for president. In the end, we must come together to defeat Donald Trump. We should do so knowing he is a symptom of a larger problem - and our greatest hope is a multiracial, working class movement in the United States of America," she tweeted. Later, she stumped for him at a Queens, New York rally.
"It wasn't until I heard of a man by the name of Bernie Sanders that I began to question and assert and recognize my inherent value as a human being that deserves health care, housing, education and a living wage," she said, adding, "I'm proud to say the only reason I had any hope in launching a long-shot campaign for Congress is because Bernie Sanders proved you can run a grassroots campaign and win in an America where we almost thought it was impossible."
Sanders in turn replied to Ocasio-Cortez' praise in an interview with CBS This Morning.
"Alexandria has been a political phenomenon," he said. "She has been in office for less than one year, but she has helped to transform politics in America...her addition to this campaign is very, very significant."
They will appear together at climate change rallies in Council Bluffs and Coralville next week, in support of Ocasio-Cortez' Green New Deal.
Sanders announced that Ocasio-Cortez would be appearing at his Iowa rally at Friday's Des Moines rally, which took place before the Democratic Party's Liberty and Justice Celebration, a dinner that attracts many entertainers and Democratic politicians.
Sanders is looking to regain his momentum after taking a break from campaigning after being sidelined for a few weeks after suffering a minor heart attack in early October.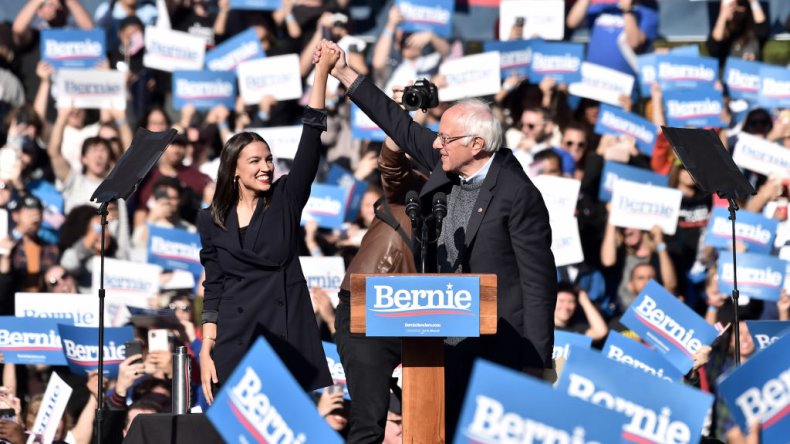 The following events featuring both politicians will be open to the public:
6 p.m., Friday, November 8: Council Bluffs Rally with Sanders and Ocasio-Cortez at Iowa Western Community College, Reiver Arena, 2700 College Road, Council Bluffs.
Noon, Saturday, November 9: Des Moines Climate Crisis Summit with Sanders and Ocasio-Cortez, Drake University, Bell Center, 1421 27th St., Des Moines. Transportation will be provided to Iowa State University and Grinnell College students.
6:30 p.m., Saturday, November 9: Coralville Rally with Sanders and Ocasio-Cortez, Coralville Marriott Hotel and Conference Center, 300 E. Ninth St., Coralville. A shuttle will run from the University of Iowa campus to the Coralville Marriott Hotel before and after the rally.