West Ham United vs Arsenal: What We Learned as Mesut Ozil and Alexis Sanchez Seal Easy Win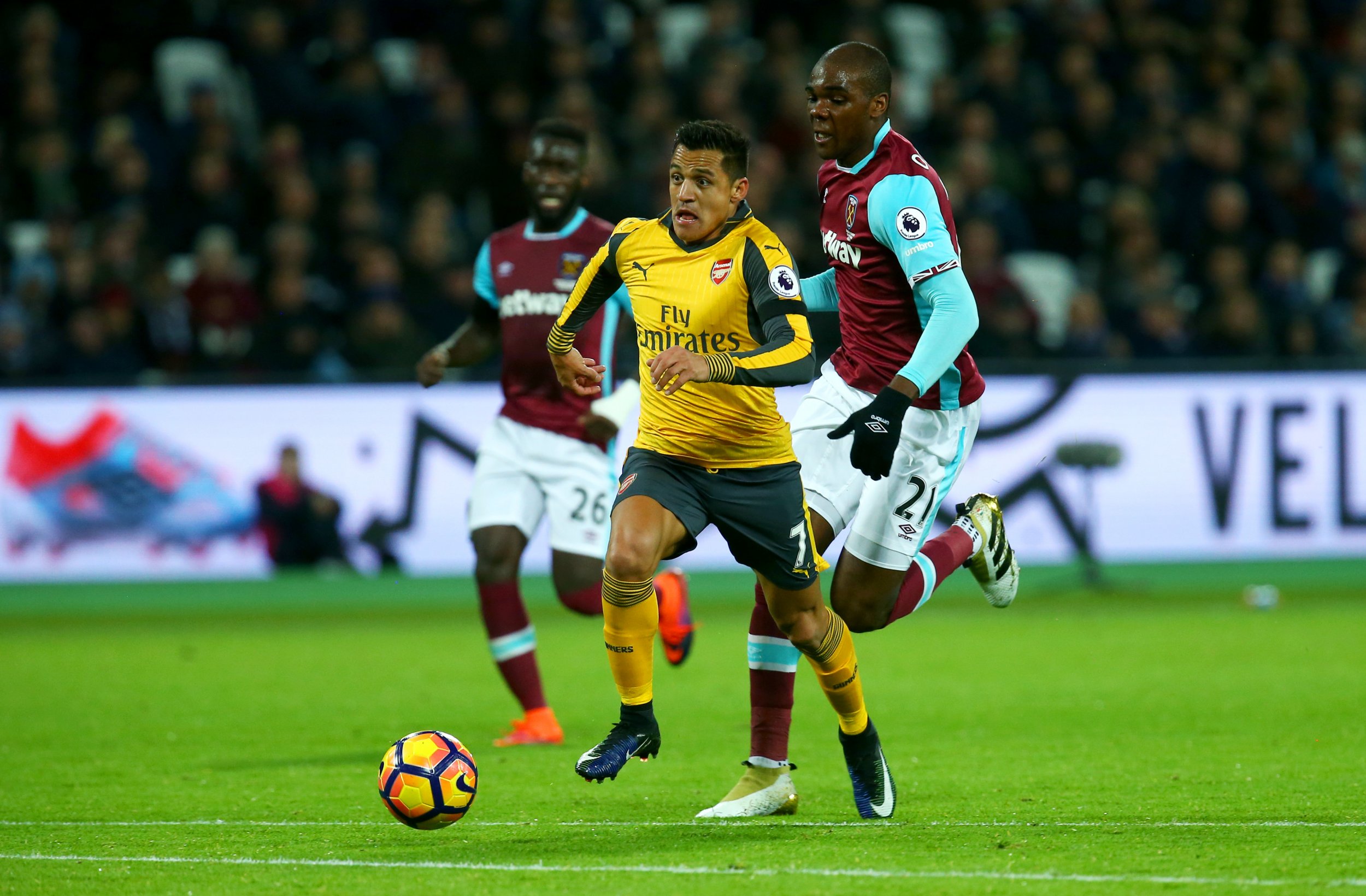 Arsenal kept pace with English Premier League leader Chelsea on Saturday evening with a 5-1 win at London Stadium over West Ham United.
After Chelsea recorded perhaps the statement of the season so far in beating Manchester City 3-1 earlier in the day at Etihad Stadium, Arsenal rarely had to extend itself against a West Ham side that continues to threaten a serious, season-long battle with relegation, even as it hammered four second-half goals past helpless West Ham keeper Darren Randolph.
What did we learn from the encounter in east London? Newsweek draws the conclusions.
Dimitri Payet deserves a better supporting cast
Perhaps he's a cynic, the man who decides to connect Arsene Wenger's defense this week of West Ham United's best player, Dimitri Payet, with transfer speculation this weekend linking Payet to a move to Arsenal in January.
What said cynic can say while resting safe in his negativity is that Payet has not been performing for West Ham with anything near the consistency of last season. Here he was in direct competition, and contrast, with Arsenal's creative arriviste, Mesut Ozil.
The difference is that Ozil can draw pretty pictures on top of a solid wall, namely Arsenal's midfield and style of play that invariably gives it more possession than its opponent. Payet spent most of the opening half-hour minutes chasing back, as part of an unsuccessful team effort to deny Arsenal the ball, moved deep and shunted awkwardly onto the left-hand side of a four-man midfield.
In the second period, Payet drifted, with more feline grace than a cynical politician, toward the center ground, began to drop his shoulder and dink passes in and around the Arsenal box.
Still, the cynic wonders what such a talent might achieve in a side set up to cater to his ability.
Granit Xhaka will prove himself, with time
So Santi Cazorla will be out for two months, perhaps three, as he needs an ankle operation. The Spaniard, a crucial part of Arsenal's midfield when fit, has not played since the middle of October anyway, and the team has gone unbeaten in the Premier League in that time. Which is not to say Wenger would not dearly love Cazorla still around, or that he does not need more out of his major summer signing in Cazorla's prolonged absence.
Granit Xhaka is Arsenal's most expensive ever midfield signing; for that money, upwards of £ 30 million, he was meant to provide stainless steel performances, tough tackling mixed with clever angles and passing from the center of the field.
The tackling has verged on the brutal—three yellows and a red since joining Arsenal—and the craft has appeared only in bursts, a coruscating long-range strike against Hull City the best example.
Against West Ham there was enough zing mixed with fallibility to suggest that Xhaka could go either way. A risky backpass on 11 minutes, but inventiveness too in the Swiss man's forward balls. A cynical block to pick up another yellow card on 68 minutes — but a necessary one, as West Ham was breaking forward in numbers at the time. With Xhaka, as with any new signing, equanimity is required.
Arsenal is a different side when Xhaka plays — more tenacious, a little more direct from defense to attack. That may, in the long run, be a good thing.
Alexis Sanchez and Mesut Ozil cannot be lost, or replaced
No coincidence that Arsenal's contract twins happen to be its two most important attacking players. Both Mesut Ozil and Alexis Sanchez need new deals—Ozil looks the more likely to sign first.
They combined for Arsenal's goal on 24 minutes, after West Ham defender Angelo Ogbonna's dithering on the ball. Sanchez advanced on goal and — here is why they work like cheese and pickle, film and noir — laid on an unmissable finish for Ozil.
This is not a case of deliberating over which one is more important, though Sanchez has the better goal and assist figures for this season so far. Rather, the German and Chilean have that kind of rare understanding which seems to make them more than the sum of their talents, which are considerable to start with.
Against West Ham, Sanchez saved the individualism for late in the game. A soft-shoe touch was followed by a thumping finish for his second, with the third a precise low finish past Randolph's right glove. The hat-trick goal was exquisite, as Sanchez sat Randolph down with a feint before a delicate chip over his head.
No pressure on Wenger, who must find a way of keeping both, even if it means scattering his club's wage structure to the winds.
West Ham's relegation worries deepen
There are two ways for a team to get itself out of a relegation battle (if it could do both at the same time, it would of course not be scrapping in the first place). Said team can grind out results, as, improbably, Sunderland has begun to do under David Moyes, winning three of its last five games and conceding twice in those victories.
Or, it can load its cannons and attempt to score its way out of trouble, leaving the smell of cordite, and a handful of 3-3 draws, in its wake.
The problem, for West Ham, is it seems unable to do either. The cheers when it was suggested by the club's half-time compere that former striker Marlon Harewood should come on for the second half seemed a quarter sarcastic, three quarters desperate. Ashley Fletcher may have scored against the club of his youth, Manchester United, in midweek in the EFL Cup but he is not ready to rattle the cages of Premier League defenses.
Slaven Bilic can rightly point to bad luck with injuries, in evidence again as center back James Collins limped off five minutes into the game on Saturday evening. Andy Carroll was in the squad for the first time since August; Andre Ayew, too, has just started to feel his way through the fug back from injury. Nor was Bilic helped by the loss of both his first-choice full backs to injury, Aaron Cresswell and Michail Antonio.
Bilic noted in the week how important Carroll was to West Ham's seventh-place finish last season, and the substitute was the only home player to show any kind of predatory instinct with a close-range header to make the score 3-1, quickly cancelled out by Alex Oxlade-Chamberlain at the other end.
The end result of bad luck and perhaps bad planning—Simone Zaza appears unlikely ever to make the grade—is that West Ham lacks any kind of bite in its attack. The ship is springing leaks and the cannons are malfunctioning—an ignominious sinking beckons.
Read more at Newsweek.com: