An algal bloom may have poisoned the only available drinking water along part of a popular hiking trail on the West Coast, sickening hikers who have consumed it.
Groups of hikers on the Pacific Crest Trail (PCT), a 2,650-mile-long trail from Mexico to Canada which runs through California, Oregon and Washington, are skipping a section of the Californian desert to avoid areas with an algal bloom in the only available drinking water.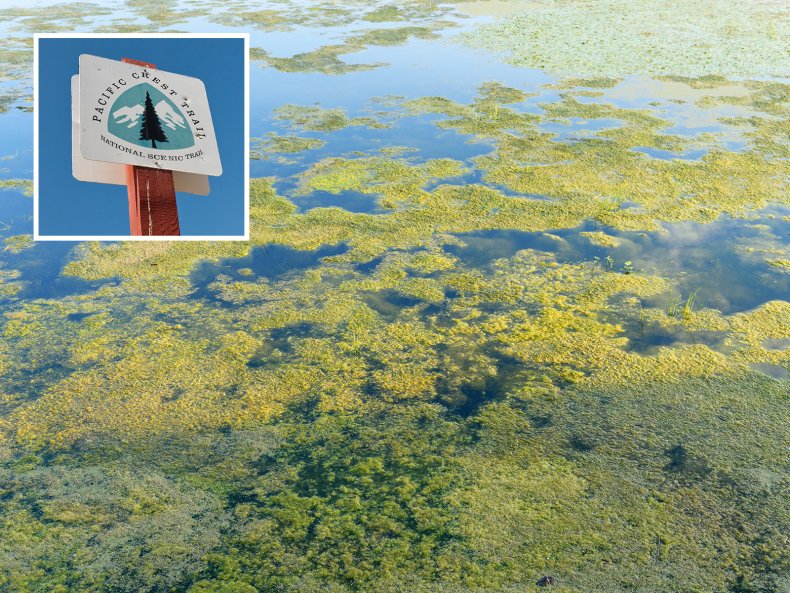 The cyanobacterial algal bloom was announced by the California State Water Board, which shared a map of locations where the drinking water might be affected. Algal blooms occur as a result of conditions like warmer temperatures or pollution, causing cyanobacteria to outcompete other phytoplankton in a body of water, and rapidly reproducing.
Cyanobacteria produce toxins that can be very harmful to anyone who ingest them, from humans to other animals like dogs. Freshwater cyanobacteria like the ones potentially in the drinking water sources on the PCT usually produce toxins in one of two categories: toxins that target the liver (hepatotoxins) or toxins that target the nervous system (neurotoxins).
The Pacific Crest Trail Association (PCTA) has released warnings to hikers about the dangers of drinking the water that has been affected by the algae, advising them to be mindful of lakes, reservoirs, tanks, springs, rivers and streams, as the algae can cause illness.
"Sometimes harmful algal blooms are easily visible, forming a 'scum' or discoloration on the water surface," said the June 10 statement. "Other times, they are less visible, floating beneath the surface or attached at the bottom of a water body. It can be difficult to visually determine if toxin producing species are present in a mat."
Etienne Goldman, a 24-year-old hiker from the U.K. who is currently in the area, told Newsweek that he and the other members of his hiking group are skipping a 90-mile section of the trail, between Tehachapi and Walker Pass, where they'd heard about other hikers getting sick on the FarOut app. FarOut provides hikers with alerts and community updates about the trail they're walking.
"We saw comments from the PCTA on the FarOut app warning people were getting sick from the water sources. They haven't been able to get someone out to test them properly, but they are thought to be due to the algal blooms," he said. Newsweek has verified the existence of these messages on the app.
Goldman says that he has also heard stories from other hikers that they drank the water from these "dangerous" sources and were fine, but doesn't want to take the risk of getting sick in the desert.
"We decided to skip that section because getting sick in the desert is no joke when you're 20 miles away from the nearest town, it's 100 degrees and there's basically no shade," Etienne said. "There are a lot of opinions in the comments on the app, but everyone agrees that you have to be comfortable taking your own risks. Me and my group decided that we were out here to have fun and the prospect of sh**ting ourselves in the desert didn't sound super appealing."
Other hiker groups have made the same decision, he said.
Camino, who goes by @camino.de.postal on Instagram, posted that he would also be skipping a section of the trail to avoid the algal blooms, although one of his friends would be carrying on.
"I had to make a hard decision today," he said in the caption of his Instagram post. "Multiple hikers were getting sick over the next section of trail and the best theory was that the water sources were contaminated. Although my friend @juliette.outdoors decided to brave it, I opted to bypass 85.6 miles to get to safer water."
Another hiker, Sumi Bal, commented on Camino's post that she was making the same decision. "[We] are deciding on skipping up some of the desert because of heat exhaustion. We feel your pain! Hope you're all good and feel better about your decision soon, sounds like a good call."
One hiker who goes by the trail name "Strider" wrote in a blog post that they would also be skipping that section, partly due to the algal problem: "There's a serious water issue somewhere between Tehachapi and Walker Pass: hikers are coming off sick in droves," they wrote. "At first we thought it was norovirus. Now, it's more likely that it's an algae bloom. No amount of filtration or chemical treatment can fix an algae bloom. People who want to hike are often skipping up to Walker Pass. Even that seems too hot for me. I just want out of the desert."
PCTA content development director Scott Wilkinson told Newsweek they are investigating reports of hikers getting sick. "We actually aren't even certain the problem is HABS-related (Harmful Algal Blooms), and our agency partners are testing water sources now."
According to the California Water Board, exposure to cyanobacteria and associated toxins can cause eye irritation, skin rash, mouth ulcers, vomiting, and diarrhea. When hikers are trekking around the borders of the Mojave Desert, one of the hottest places in the world, with tens of miles of walking between water sources, the last thing they need is to lose water via any other means.
"The most popular filters carried by hikers typically will filter out the bacteria—but not the toxins in the water. Water drops by trail angels may help as well, though we recommend that hikers shouldn't rely on water drops. Currently there is no talk of closing this section," Wilkinson said.