Algeria Is Becoming China's Weapon | Opinion
On August 24, Algeria announced it was severing diplomatic relations with Morocco, its neighbor to the west.
After breaking ties, Algiers moved to deepen the crisis it had created. On September 22, for instance, Algeria closed its airspace to the Moroccan kingdom. Moreover, the Algerian government announced that on the 30th of this month, it would shut its gas pipeline running through Morocco to Spain and Portugal, a move directed against its western neighbor.
Escalating disputes between the two North African countries strike many as inconsequential. As Moroccan analyst Samir Bennis wrote for the Washington Institute for Near East Policy, "To be sure, the Algerian decision to sever ties with Morocco is in many ways a non-event, as diplomatic relations between the two countries have been frozen for most of the last 27 years." During this period, the Algeria-Morocco border, thanks to Algiers, has indeed been closed.
Tension between Algiers and Rabat is, however, significant for one principal reason: Algeria is becoming a pawn for two disruptive powers, Russia and China. Moscow is merely hoping to increase military sales, but Beijing seeks control of Africa and is going after a holdout: Mohammed VI, the king of Morocco.
Algeria has suffered severe setbacks recently. In December, the Trump administration recognized Morocco's sovereignty over the Western Sahara, effectively blocking Algeria's access to the Atlantic Ocean. The Biden administration has so far not reversed that correct decision.
The crucial American recognition followed Morocco removing, in November, armed elements of the Polisario, the Popular Front for the Liberation of Saguia el-Hamra and Rio de Oro. The group is considered an Algerian proxy. Rabat's military operation opened up trade routes with Mauritania and sub-Saharan Africa.
Moreover, Morocco recognized Israel in December, reinforcing the historic Abraham Accords.
It is unlikely that Algeria will recover soon. "Algeria finds itself in the grip of a seemingly inescapable malaise of socialist decline," Gregory Copley, the president of the International Strategic Studies Association, tells Newsweek. "This decline has been underway for several years. Algeria's economy has been sliding since 2018, while that of neighbor Morocco has been rising."
In fact, the kingdom's economy is catching up with that of far-larger Algeria. Last year, Algeria produced $145.2 billion of gross domestic product, compared to Morocco's $112.9 billion.
As Copley, also the editor-in-chief of Defense & Foreign Affairs Strategic Policy, told me, "Algeria's leadership is lashing out, and essentially it has only one direction in which it can do so: Morocco."
Algeria, facing severe economic decline and growing internal unrest, is now laying the groundwork for an attack on Morocco. Of great concern are the Algerian wildfires, which started on August 9 during a heatwave. Algiers blamed the wildfires on its western neighbor, using "hostile actions" as a justification for breaking diplomatic ties.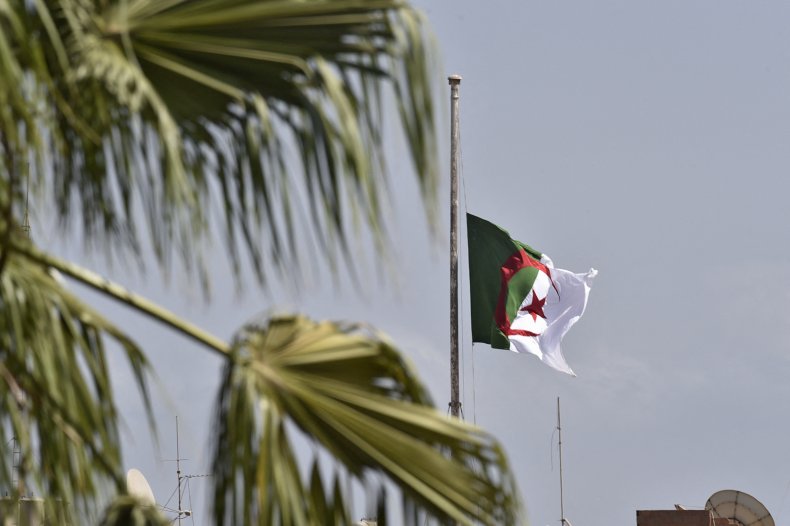 Algeria, in addition, has accused Morocco of supporting, among others, MAK, the Movement for Self-Determination of Kabylie, a Berber secessionist force.
Rabat, which has tried to tamp down tensions, is now deeply concerned about relations with troubled Algeria. The two neighbors have been preparing for the worst. "Morocco and Algeria have been engaged in an arms race pretty steadily for most of the last decade," Richard Fisher of the International Assessment and Strategy Center told John Batchelor of CBS' "Eye on the World" last month.
As Fisher points out, Algiers has been bulking up on Russian and Chinese equipment. From Russia, it is buying Sukhoi planes, reportedly becoming the first customer outside Russia of the Su-57 fifth-generation fighter. "Algeria has acquired six Kilo-class submarines if it ever wanted to try to impose some kind of blockade or mine Moroccan ports," Fisher notes.
From China, the Algerian military has purchased three frigates and will take delivery of three corvettes now under construction. China has also sold the HJ-12 shoulder-launched anti-tank missile, which, like the American Javelin, is capable of taking out most main battle tanks, including Morocco's U.S.-built Abrams tanks.
Beijing is also supplying niche capabilities, such as the China Aerospace Science and Technology Corporation CH-4 unmanned aerial combat vehicle, which is like the American-built Predator 2. Morocco does not have a battle drone like the CH-4, which puts it at a severe disadvantage.
It is no secret why Beijing is arming the Algerian military to the teeth. For one thing, Algeria is China's oldest and closest partner in the region, with ties going back to the era of Mao Zedong. Mao, in the words of John Calabrese of American University, viewed Algiers as "the linchpin of the anti-colonial and anti-imperialist struggle in Africa."
The pair has become even closer in recent months, especially as Beijing began to react to Morocco's outreach to the U.S. "Morocco's participation in the Abraham Accords, and friendship with the United States and Israel, is a poke in Xi Jinping's eye," Len Khodorkovsky, former deputy assistant secretary of state in the Trump administration, told Newsweek. "General Secretary Xi seeks dominance over Africa, and Morocco stands in the way of his master plan. That's why Xi is weaponizing Algiers, as Communist China's client state, to threaten Morocco."
"Morocco stands out as a friend of the United States, and China, I think, dearly wants to diminish that friendship, destroy that friendship," Fisher told Batchelor on his CBS radio program.
It's unlikely that China is looking to start a war in North Africa at the moment, but its Algerian client state is a "ticking time bomb" and "the most unstable country in North Africa after Libya."
The danger, Khodorkovsky notes, is escalation. Algiers is escalating an already-volatile situation as fast as it can.
Gordon G. Chang is the author of The Coming Collapse of China. Follow him on Twitter: @GordonGChang.
The views expressed in this article are the writer's own.