Controversial UFO enthusiast Jaime Maussan dismissed claims made in a criminal complaint after two small, mummified specimens were unveiled to Mexican lawmakers during an event on extraterrestrial life.
Maussan, 70, a Mexican sports journalist-turned UFO enthusiast, presented the bodies in display cases earlier this week at the Mexican Congress and claimed they were not related to any life on Earth.
The congressional hearing, which was the first of its kind in Mexico, ignited curiosity in addition to condemnation by scientists.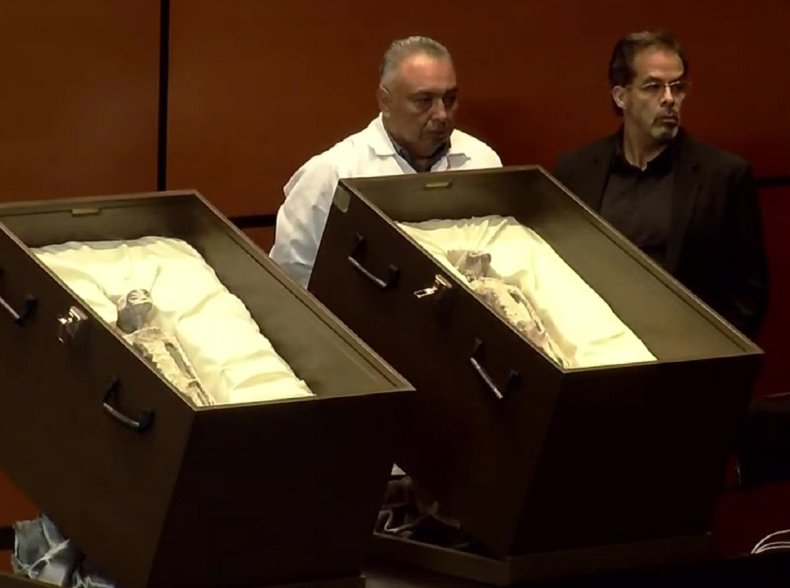 Maussan claimed the bodies were recovered close to the ancient Nazca Lines in southern Peru and were carbon-dated by Mexico's National Autonomous University to be about 1,000 years old.
He was also involved in the spread of the Nazca mummy story in 2017, although a 2021 paper published in the International Journal of Biology and Biomedicine that analyzed the remains and said, "the head of the small body is largely made of a deteriorated llama braincase and other unidentified bones."
Elsa Tomasto, a Peruvian bioanthropologist, was frustrated that Maussan's claims were given a large platform and cited several other apparent finds that were later found to be fraudulent.
He told Reuters: "What we said before still stands, they are presenting the same rehash as always and if there are people that keep believing, what can we do? It is so crass and so simple that there is nothing more to add."
Similar finds in the past have been dismissed by the scientific community as mutilated mummies of pre-Hispanic children who were combined with animal parts.
Peruvian Culture Minister Leslie Urteaga also questioned how the specimens ended up being moved from Peru and further stated a criminal complaint had been filed.
According to Reuters, Maussan said in response to the criminal complaint: "I'm not worried. I have done absolutely nothing illegal."
He did not tell the news agency how the specimens came to Mexico and were borrowed from a Mexican national by Maussan for the congressional hearing, although the man did not want to be identified.
When asked how he managed to gain possession of the so-called bodies, the man said it would be announced "at the appropriate time."
Julieta Fierro, a scientist at Mexico's National Autonomous University's Institute of Astronomy who examined Maussan's test results saw small anomalies in the data.
She said the presence of radioactive carbon-14 isotopes that are absorbed by living organisms into their tissue and helps scientists uncover the approximate year of death of a specimen would not be the same as on other planets—indicating the specimens were likely from Earth.
Fierro added the results "do not show anything mysterious that could indicate life compounds that do not exist on Earth."
Newsweek has contacted disinformation experts and Maussan via his social media accounts for comment.