All American's most recent episode on The CW acted as a backdoor pilot to Homecoming, a new spin-off from the football drama.
The All American spin-off has been given a rough release date by the network, and we know it will focus on Geffri Maya's Simone and new cast members in the world of college sports.
Here's what has been revealed so far about Homecoming.
When is All American: Homecoming out?
Currently, The CW is holding All American: Homecoming until midseason, meaning that the show will not air on the network until January 2022.
The spin-off is just one of the shows CW is saving for 2022, with Superman & Lois Season 2, Dynasty Season 5 and Stargirl Season 3 also coming next year.
All American Season 4 will be coming to The CW slightly earlier. The next season is confirmed to start on Monday, October 25, with episodes airing weekly at 8 p.m. ET / 7 p.m. CT.
Who is in the cast of All American: Homecoming?
Leading the cast of the spin-off is Simone Hicks (played by Geffri Maya), first introduced in Season 2, Episode 5 on the mothership show. As seen in the latest episode of All American, Simone will head to the fictional HBCU of Bringston.
There, she will meet a host of new characters, some of whom were introduced in the backdoor pilot. Leading the new cast members is Damon (Legacies' Peyton Alex Smith), who is navigating the world of baseball while Simone tries to make her way into professional tennis.
Joining them in Homecoming will be Katy Keene's Camille Hyde as a tennis rival of Simone's named Thea, while Manhunt's Kelly Jenrette will play popular college professor Dr. Patterson.
Also starring are Cory Hardrict (of The Oath) as baseball coach Marcus Turner, Sylvester Powell (Five Points) as Damon's friend Jessie, and theater actor Netta Walker as legacy student and socialite Keisha.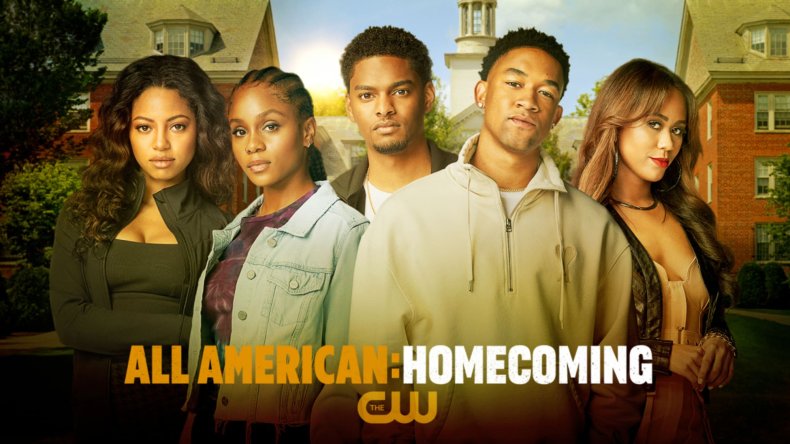 What will the plot of All American: Homecoming be?
Per the show's official logline, the series, "follows a young tennis hopeful from Beverly Hills and an elite baseball player from Chicago as they contend with the high stakes of college sports, while also navigating the highs, lows and sexiness of unsupervised early adulthood at a prestigious Historically Black College."
Is there a trailer for All American: Homecoming?
So far, a series trailer has not been released, and one is not expected until the end of 2020. However, The CW has released a trailer and a series of sneak peeks for the backdoor pilot which fans can watch if they missed the episode.
The full pilot is currently airing on The CW website and app. The episode will move to Netflix (which has the first two seasons now) eight days after the season finale airs.