Members of a popular internet forum rallied behind one woman who refused to cover for her financially irresponsible husband.
In a viral Reddit post published on r/AmITheA**hole, Redditor u/PuzzledWife22 (otherwise referred to as the original poster, or OP) said the couple usually splits the cost of a massive family vacation every summer but explained how a pair of reckless purchases left her husband's relatives on the outside looking in.
Titled, "[Am I the a**hole] for refusing to pay for my husband's family to go on vacation with us then leaving without him?" the post has received nearly 13,000 votes and 2,000 comments in the last eight hours.
Writing that COVID put the family's summer tradition on pause for two years, the original poster said she and her husband always pay for their four children together and cover costs for their parents separately.
The original poster also said that this year, the family planned on resuming their annual vacation, until her husband's spending habits put the trip in jeopardy.
"We are not rich, but we do live comfortably," OP wrote. "I managed our finances to get us to this point [but] when he retired he started managing his money because I didn't agree with his irrational purchases."
"He recently invested a large portion of his savings into a large hunting tract, citing it was a steal he couldn't turn down," OP continued. "[Then] I come home to a pretty boat in our driveway. I don't know a thing about boats but all I saw was money."
Noting that she reminded her husband multiple times that it was nearly time to pay for their family vacation, the original poster said she was assured it would be no problem. But for her husband and his side of the family—it was a problem.
"Time rolls around for us to book everything [and] he mentions that he noticed I had a significant amount of money in my personal account and was wondering if I could pay for the entire trip," OP wrote. "I told him no."
"We had a huge argument about it, and he ended up leaving...therefore, I booked my family and I," OP continued. "The moment we left for vacation the harassing calls and texts started...I came home to a nasty letter and his wedding ring, stating that he wouldn't be returning until I apologized to him and his family."
As pandemic-related travel restrictions are rolled back across the United States, travelers who have spent the last two summers cooped up are taking full advantage.
Traveling, however, is much easier for some than it is for others.
Along with skyrocketing inflation rates and nationwide protests by overworked pilots, rising flights costs within the U.S. have made travel much more difficult for individuals, and nearly impossible for many families.
In April, online booking platform Hopper reported that the average price of a domestic flight had increased more than 40 percent since the beginning of the year. Hopper also projected another 10 percent increase that month.
But according to data collected by the U.S. Bureau of Labor Statistics, airfare rose a whopping 18.6 percent in April, and another 12.6 percent in May.
Earlier this month, Forbes reported that this year, more than 54 percent of families in the U.S. were forced to alter their travel plans because of increased travel costs.
Adding that families cut an average of $1,636 out of their vacation budget for 2022, Forbes also reported that while 45 percent of families elected to visit less-expensive destinations, 37 percent took (or plan to take) fewer trips and 35 percent will be traveling shorter distances than they'd initially planned.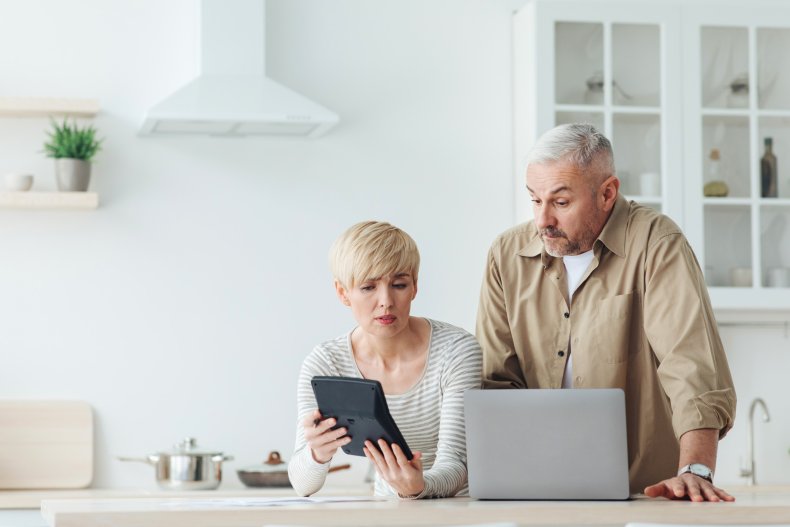 In her viral Reddit post, the original poster made it clear she was prepared to pay her share of vacation costs and that her husband's absence (along with his family's) from the trip was his fault alone.
Throughout the post's comment section, Redditors agreed and argued that his huge purchases, disregard for his wife's reminders and reaction to OP's refusal to pay for his family were a perfect display of his true colors.
"[Not the a**hole]," Redditor u/OrangeCubit wrote in the post's top comment, which has received more than 20,000 votes. "Of course he had a plan, that plan was always that you would pay."
"Let him leave with his boat and piece of land and his awful family and he can figure it out on his own," they added.
Redditor u/BrownSugarBare, whose comment has received more than 11,000 votes, echoed that sentiment.
"This man bought a g**damn boat without mentioning it to his partner and then got butt hurt his financially sound partner refused to pay for HIS family for a vacation?!" they exclaimed. "GOOD RIDDANCE and [not the a**hole]. He can live on his boat."
"Your husband is acting like a child," Redditor u/_reditor chimed in, receiving nearly 5,000 votes. "His impulse purchases are not a reason for you to dip into your savings."
Newsweek reached out to u/PuzzledWife22 for comment.