All Splatoon 3 Amiibo Figures and Unlockable Items
Splatoon 3 has plenty of opportunities for player to customize their own Inkling or Octoling character. There's an abundance of items to choose from, including hair clips, shoes, jackets, shirts, and much more—that's in addition to all the weapons you can pick from, too.
Some items, however, are unlocked only by way of special Splatoon Amiibo figures that you can purchase separately from the game. You can use your Amiibo figures in Splatsville to unlock new items, take photos, and have Splatoon character manage your inventory and outfits. These exclusive outfits and goodies cannot be found anywhere else in-game, so you need to get them when you can.
To get each Amiibo item, you need to go to the Amiibo box located at the edge of Splatsville and put each Amiibo figure on the NFC reader slot on your Nintendo Switch Joy-Con or Pro Controller. You'll receive a "welcome gift" from each figure, but you'll have to play some Turf War matches to continue leveling up and receive additional items.
If you're unsure which Amiibo figures you want to use to get new goodies, we've got the rundown on what each one will net you in terms of free customization items. It'll be up to you to complete more battles to get the rest of the outfit sets, but scanning your figures is the best place to start. Then, you can splat your way through the competition with the best of 'em.
Check out our complete list of figures and items below.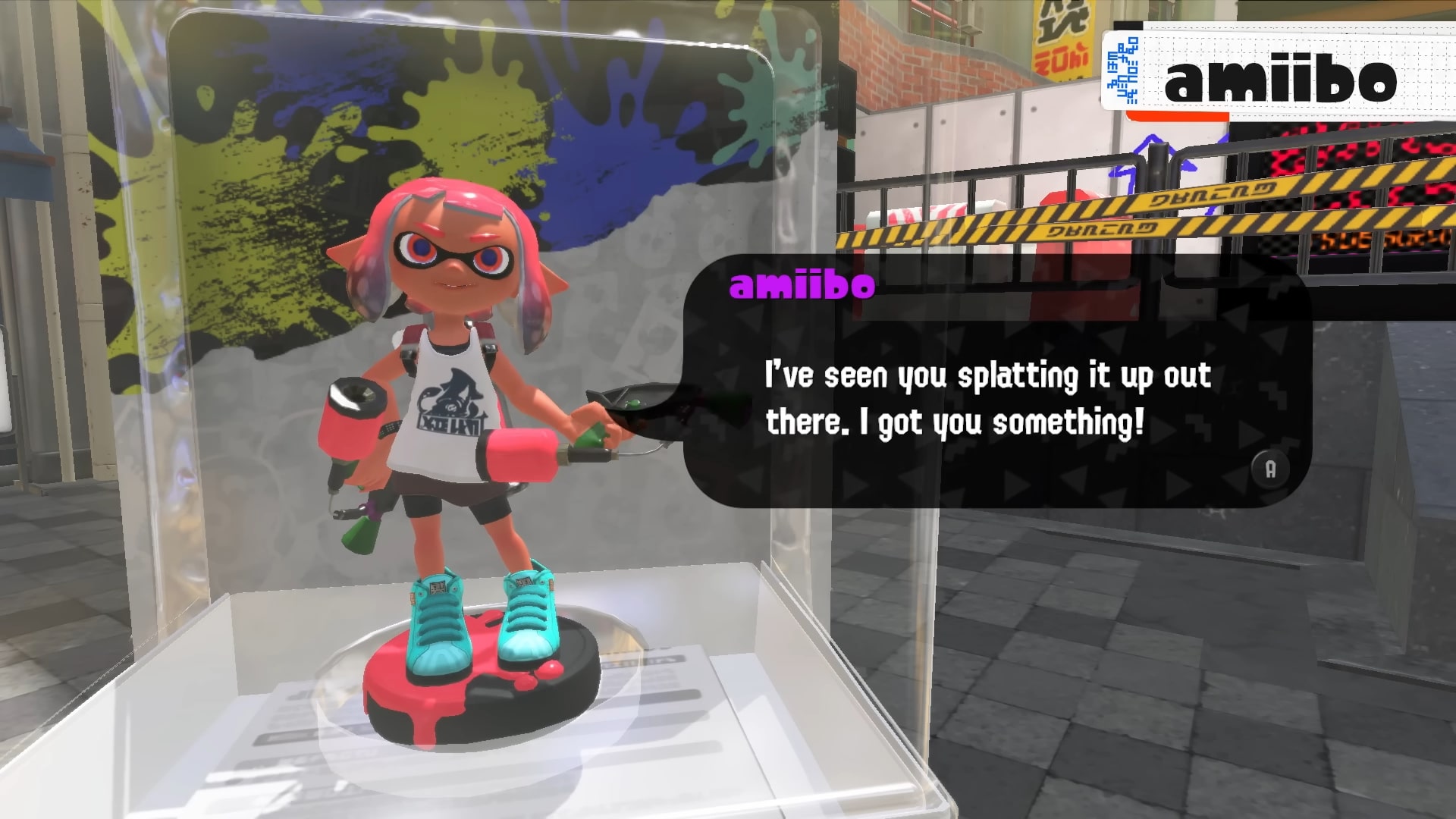 All Splatoon Amiibo and Unlocks
This is a complete list of which items you can get from specific Amiibo figures in Splatoon 3. Be sure to scan each figure in and level up the items you receive in return so you can ultimately unlock a matching outfit per character. And keep an eye out because there are even more Splatoon Amiibo characters on the way later in 2022.
Callie
Hero Headset Replica
Hero Jacket Replica
Hero Runner Replicas
Marie
Armor Helmet Replica
Armor Jacket Replica
Armor Boot Replicas
Marina
Marinated Headphones
Marinated Top
Marinated Slip-Ons
Pearl
Pearlescent Crown S
Pearlescent Crown L
Pearlescent Hoodie
Pearlescent Kicks
Inkling Girl
School Uniform A
School Uniform B
Base School Shoes
School Shoes + Hi Socks
Squid Hairclip
Inkling Girl (Splatoon 2)
School Cardigan A
School Cardigan B
Base Fringed Loafers
Baggy-Sock Fringe Loafs
Squid Clip-Ons
Inkling Boy
Samurai Helmet
Samurai Jacket
Samurai Shoes
Inkling Boy (Splatoon 2)
Squinja Mask Mk I
Squinja Mask Mk II
Squinja Suit
Squinja Boots
Inkling Squid
Power Mask
Power Armor
Power Boots
Inkling Squid (Splatoon 2)
Power Mask Mk I
Power Armor Mk I
Power Boots Mk I
Octoling Girl
Enchanted Hat
Enchanted Robe A
Enchanted Robe B
Enchanted Boots
Octoling Boy
Steel Helm
Steel Platemail
Steel Greaves
Octoling Octopus
Fresh Fish Head
Fresh Fish Gloves
Fresh Fish Feet
Splatoon 3 is available now exclusively on Nintendo Switch.