Alleged Russian Spy Maria Butina Pitched a Documentary Film Featuring Vladimir Putin in the Great Outdoors, Report Reveals
Alleged Russian spy Maria Butina was working to organize a documentary film that would showcase Russian President Vladimir Putin's "love of the outdoors," according to emails obtained by ABC News.
The media organization acquired dozens of pages of email correspondence from 2015 and 2016 that showed Butina attempting to arrange a meeting between Russia's high-level officials, such as Foreign Minister Sergei Lavrov, and National Rifle Association (NRA) members. She was also establishing communications with The Outdoor Channel about making a documentary to feature Putin.
"I have also just arranged for an official delegation of Russian Kremlin cabinet ministers to travel the U.S. to observe your presidential election in the fall," Butina wrote in June 2016, according to ABC News. "This matters to your project because THEY have already lobbied President Putin to do this show as an example of the kind of relationship Russia could have with America … and with President Trump."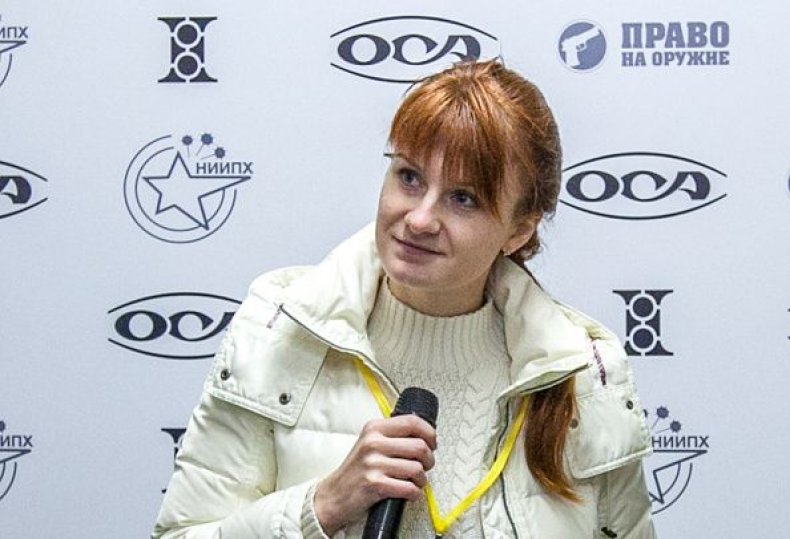 In 2015, Butina penned an op-ed for the National Interest in which she argued that "it may take the election of a Republican to the White House in 2016 to improve relations between the Russian Federation and the United States." The 29-year-old was arrested in July and charged with 18 U.S. code 951, which is violated by acting as an agent of a foreign government without notifying the attorney general. Prosecutors said Butina had attempted to infiltrate Republican political circles on behalf of the Russian government while she was completing a graduate degree in Washington, D.C.
The young Russian gun rights activist was involved in a romantic relationship with Republican political operative Paul Erickson, and prosecutors claim she used him to gain access to political organizations. Her lawyer argued that the relationship was genuine, providing a video of the couple singing Disney songs together as evidence. Butina has pleaded not guilty to the charges against her.
Butina's ties to Russia and the NRA are well known, however. She was previously an assistant to Alexander Torshin, the deputy governor of Russia's central bank and one of Putin's close allies. Torshin had requested to meet then-candidate Trump on the sidelines of an NRA convention during the height of his campaign for president in 2016. He did not ultimately meet with Trump senior, but he did meet with Donald Trump Jr. It is unknown what the men discussed; Trump Jr. described the encounter as inconsequential.