Photos allegedly taken inside scalding UPS vans showing temperatures above 130 degrees Fahrenheit sparked anger online.
The photos shared by @TeamstersRnF, a multinational trade union, showed thermometers reading 117 degrees Fahrenheit and hotter, with one thermometer reading 150 degrees. This comes as much of the nation is still gripped by extreme heat and droughts. In July, the heat in Arizona claimed the lives of a dozen people in a period of a few weeks.
A spokesperson from the group told Business Insider the images came from UPS drivers in a union in New York.
"UPS drivers are sharing thermometer reads from inside their trucks," the tweet read. "UPS CEOs would never accept working in 120 or 130-degree offices. Drivers shouldn't have to either."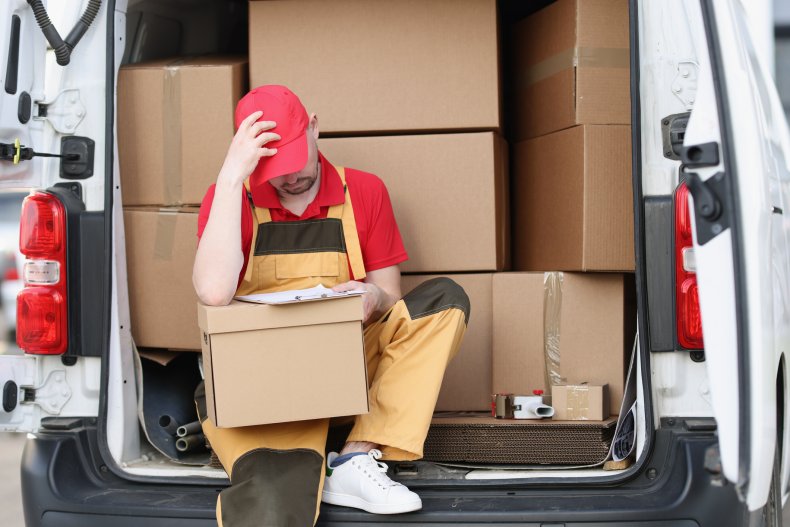 The viral tweet came just weeks after the company addressed concerns after footage of a delivery driver fainting during work in Arizona circulated online. Another UPS driver reportedly died during the job earlier in July, with the family believing heat stroke was a possible reason.
A UPS spokesperson told Newsweek in July that drivers are "trained to work outdoors and for the effects of hot weather....we never want our employees to continue working to the point that they risk their health or work in an unsafe manner."
Record Heat
On August 5, the National Weather Service issued excessive heat warnings for several states, with warnings about temperatures reaching up to 110 degrees in some areas.
At upwards of 90 degrees Fahrenheit, individuals can begin to feel severe heat exhaustion and cramps, although heat exhaustion is more likely at temperatures between 105 and 130 degrees Fahrenheit, according to Healthline.
Individuals exposed to temperatures above 130 degrees Fahrenheit are often at risk of heat stroke, which
Symptoms of heat exhaustion:
Nausea
Heavy sweating
Dizziness
Lightheadedness
Weak but rapid pulse
Symptoms of heat stroke:
Reddish skin that's hot to the touch
Strong and rapid pulse
Loss of consciousness
Internal temperature above 103 degrees Fahrenheit
If someone is exhibiting symptoms of heat stroke, contact emergency services immediately.
Online Reactions
On Reddit, where the Tweet was shared by u/Vorieos in the popular "antiwork" forum, more than 20,000 users upvoted and hundreds commented. The post can be found here.
"People do die in heat like that, unacceptable," one user commented.
Another user claimed their friend brought a thermometer to the FedEx they worked at and got a reading of 116 degrees Fahrenheit and 87 percent humidity inside the trailers they were loading.
"Nothing but a fan at the opening of the door. It's absolutely hellish," the user commented. "Someone at another facility died last week from heat exhaustion."
"Honestly huge respect to these people working at UPS & FedEx," another user commented. "These trailers/trucks are insanely hot! I went to work their for a couple days and I couldn't handle it."
Newsweek reached out to UPS and @TeamsterRnF for comment.