An alligator has been filmed prowling right outside the front door of a Florida home by wildlife officials.
Flagler County Sheriff's Office received a call on April 24 about an "animal problem," it said in a statement. On arrival at the home, officers found the large predator lurking right behind the property's front door.
Florida is home to around 1.3 million alligators. They live in all of the state's 67 counties, around wetlands and marshes. Much of their habitat lies in close proximity to populated areas, meaning the large reptiles can often wade into neighborhoods and cause a nuisance for local people.
The latest footage, taken by the Flagler County Sheriff's Office, shows the alligator slinking around the doorstep of the house. The large reptile appears to look up at the door before it starts to move further across the porch.
Officers from the Florida Fish and Wildlife Conservation Commission arrived shortly after to remove the intruder, the sheriff's office said.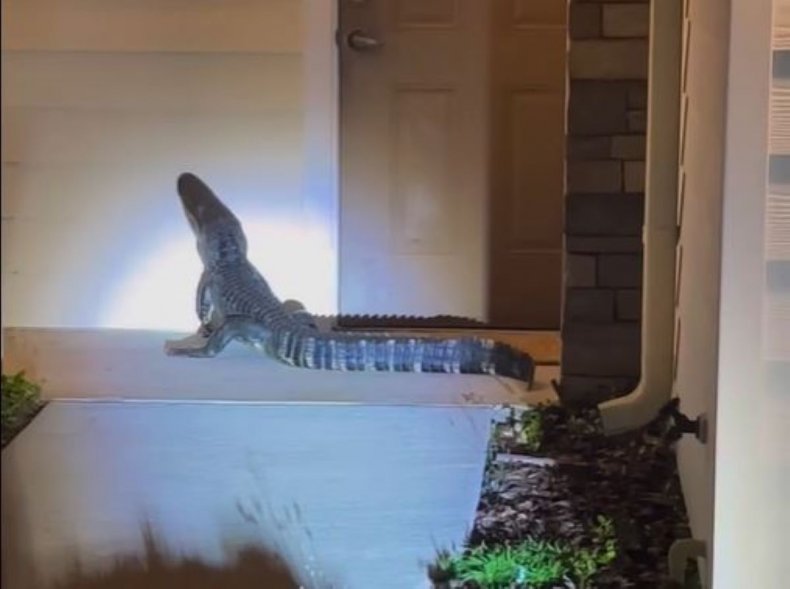 It is the middle of the alligator mating season in Florida. The reptiles usually begin courtship in April and start mating in May and June. This means they are a lot more active around this time of year while in search of a partner , so alligator sightings around neighborhoods and other populated areas tend to increase.
The breeding season does not just mean alligators are more active, but males in particular can become more aggressive. This is because they become more concerned with defending their territory when in competition for a mate.
The Florida Fish and Wildlife Conservation Commission operates a Statewide Nuisance Alligator Program, which monitors the number of alligators wandering into developed areas.
In the comment section of Flagler County Sheriff's Office Facebook video, one user, Cathy Green, said she had had a recent encounter with a large gator in her neighborhood.
"I had one that size under my car all night," she wrote. "I warned our neighbors. We just didn't leave the house all night, next morning he was gone. We were new to the area at the time. I didn't call the police, I called animal control. They didn't seem to think it was a problem so we stayed inside until he went away."
Other commentators expressed concern that more alligators in the state were being displaced by habitat loss. "Hopefully he / she was relocated ... we are taking away their habitat from them," wrote Robin Magleora wrote.
Florida alligators can usually grow up to 13 feet. It takes alligators between 10 and 20 years to grow to their full size. One Facebook user said the alligator at the doorstep looked like a baby, but the sheriff department did not confirm the animal's size or age.
Correction 08/04/22 5:30 a.m. ET: This article was corrected to state that there are 67 counties in Florida.