Fascinating footage captured by a Florida woman over the weekend shows a male alligator performing a mating ritual known as a "water dance," according to Fox 35 News.
The video was posted to Facebook on Sunday by Evelyn Bell, who told the station that she spotted the amorous gator while driving along Lake Apopka Wildlife Drive—a nature preserve in Orange County, Florida. The clip received hundreds of likes and dozens of comments from viewers who thought the video was "amazing."
Bell told Newsweek that she was driving through the preserve when she heard two loud bellows from somewhere up ahead of her. Curious, she followed the sound and eventually found the dancing gator, which she filmed from inside her car.
In the video, the gator moves toward the bank of a canal with its tail in the air. The creature bellows as it moves back and forth in the water, before finally resting.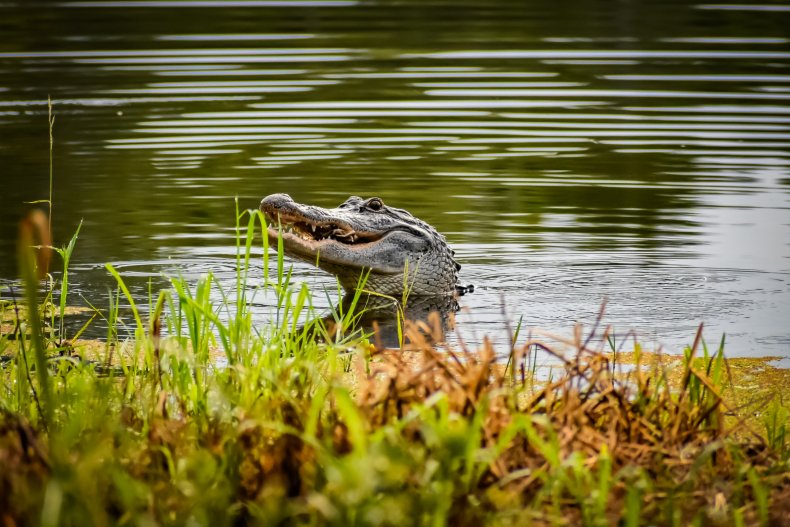 Bellows are "loud, very low-pitched vocalizations" male alligators use to attract mates, among other things, said EarthSky. In addition to being loud, the lower frequencies of these mating calls produce vibrations that cause the water around the gator to "shoot up above the surface like fountains," which is why Gator Alley Farm refers to the mating ritual as a "water dance."
Jake Meney, a reptile keeper at the Australian Reptile Park, previously told Newsweek that "the sound of male bellowing signals the start of breeding season."
In Florida, where Bell's video was filmed, "courtship begins in early April, and mating occurs in May or June," according to the Florida Fish and Wildlife Conservation Commission.
One commenter joked that the gator thought Bell was "cute." However, Bell explained in a separate comment that she spotted several other gators nearby that the gator from her video was likely trying to attract.
Commenters loved the video and called the mating ritual "amazing."
"Wow!! How magnificent is that creature!!! The sounds, the vibration and ripples on the water... absolutely amazing!" exclaimed Lisa Ann.
"So cool," said Cindy Brackett. "Looking for love in all the wrong places!"
"Absolutely beautiful!" commented Laura Frady Hayes.
Susan Petracca added: "Great video! I like Lake Apopka."
In other alligator news, Michigan police found an alligator named Karen in the passenger seat of a car involved in a high-speed chase last week. After being secured with black electrical tape, Karen was handed over to an exotic animal rescue expert.
Also last week, a 49-year-old Florida man was bit by a seven-foot alligator while walking around a motel after mistaking it for a dog. And in May, a Florida man believed to be looking for a lost frisbee was reportedly killed by an alligator lurking nearby.