Alligator Named Karen Found in Passenger Seat of Car After High-Speed Chase
Michigan cops engaged in a high-speed pursuit last Saturday, and while they apprehended the alleged suspect, they were surprised to meet the passenger—an alligator named Karen.
According to the police report from the Lake County Sheriff's Office obtained by Newsweek, the responding officer saw the suspect, later identified as Joshua Applebaum, allegedly driving about 73 miles per hour in a 55-mile-per-hour zone.
Applebaum reportedly ran through a flashing red light without stopping or slowing down. At that point, he was allegedly driving 98 miles per hour.
Another officer assisted the responding officer, and they followed Applebaum's car until he crashed and became stuck between trees.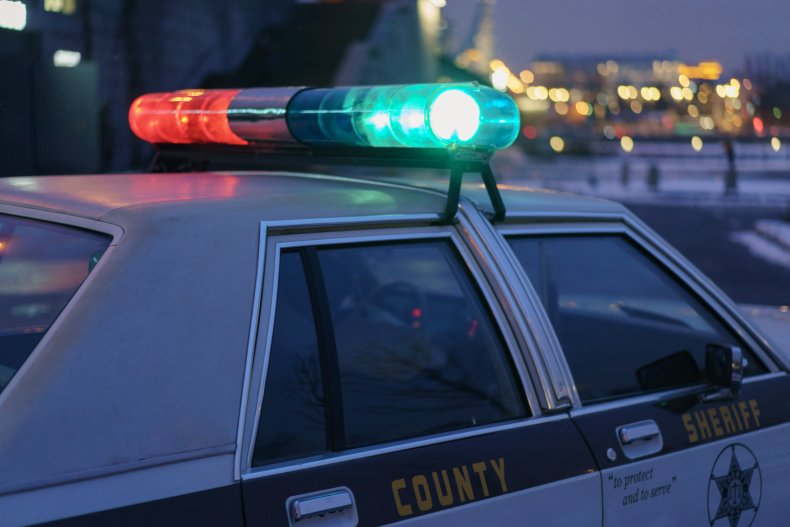 Police ordered him to stop accelerating the car, and one officer smashed out the driver's side window.
"I approached the suspect vehicle with my service weapon drawn and pointed my weapon at the suspect and ordered him to drop the alligator he was holding," the report stated.
Officers conducted a search and found more than $1,000 in cash in his front pocket, a small vial of what he said were alligator teeth from his pet alligator Karen and another vial containing a red capsule.
According to Geo Zoo, though some want to have an alligator as a pet, there are many drawbacks and challenges associated with keeping one.
These reasons include the aggressive behavior of the reptile, the enclosure requirements and an alligator's medical needs.
"Finding a certified veterinarian that can help you with your pet alligator can be difficult, and typically not cheap," the organization stated.
The report stated that Applebaum was charged with speeding, failing to obey police and driving with a suspended license.
"We safely secured 'Karen' the alligator with black electrical tape and placed her in my patrol vehicle," the report stated.
Officers turned Karen over to an exotic animal rescue expert.
The law enforcement agency shared a video and a photo that showed the alligator on its Facebook page.
"Karen is not facing any charges at this time," the caption stated. "We believe she was an unwilling participant during the incident, nor do we believe she was ever in control of the vehicle."
Police are no strangers to car chases.
Teenagers in Florida led officers on a chase when they reportedly stole a pizza delivery car with two pies in the back seat.
A video shows the final moments of a pursuit, which resulted in a police car ramming into the side of the alleged suspect's pickup truck.
Another chase came to an end when the suspect was apprehended after he stopped for gas.