Alligators React to Woman Saying 'He's Big'
A hilarious viral TikTok of a group of alligators reacting to a woman saying "he's big" has left the internet in stitches.
The video posted to TikTok by Morgan16_22 has received over 2.9 million views and more than 638,000 likes since it was posted at the beginning of March.
At the start of the footage, a group of alligators can be seen in the water below making hissing noises. One person can be heard saying "oh wow," after which another said: "He's big, too."
The alligators then suddenly all look towards the voice, in the same direction, as if reacting to the woman's comment.
John Brueggen, director of the St. Augustine Alligator Farm Zoological Park in Florida, told Newsweek that alligators have been known to respond to human voices.
Brueggen, who works with all 24 species of crocodilians at the park, said: "I actually suspect that these animals saw something, like a feeding bucket, or fish on a line, and that is what made them all perk up at the same time...We see alligators respond to our vocal cues every day. They are intelligent animals and fairly easy to train."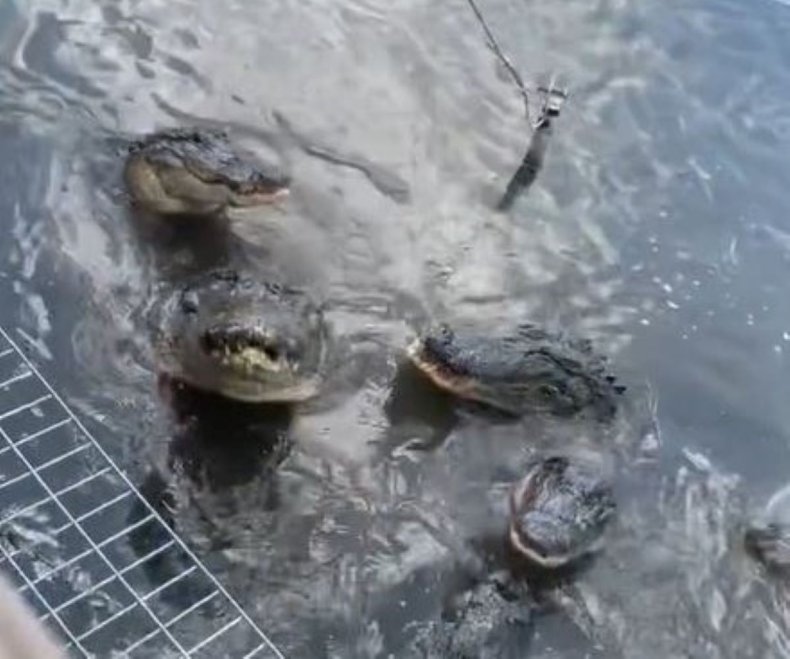 Similarly, Brandon Fisher, an alligator expert working at Gatorland in Florida, told Newsweek that alligators are very vocal reptiles.
"Through training and working with alligators, they can learn the tones of our voices and what commands we give and be able to understand them. At the same time though feeding wild alligators is no good because they get used to us humans very quickly and associate that food with us," Fisher said. "As far as this TikTok video goes... I would have to say that one of the words that the person spoke out loud must have been a word used by whoever cares/trains those alligators. Most likely the reason four of them looked up at the person filming at that moment."
Lindsey Lawson, a Tulsa-based reptile conservationist and member of the United States Association of Reptile Keepers, told Newsweek it is obvious these alligators are used to being fed by humans.
"The response seen in this video is the result of some form of stimulus off to the left of the individual filming. Unfortunately, there is no way to tell for certain what caused the reaction due to the limited view of the video, but it is presumably a visual or auditory stimulus in the form of a familiar food source," she said.
Lawson said while all alligators react, an individual towards the right-center of the video can be seen swimming towards the left.
"Though it does seem like the larger alligator is staring directly at the person filming after she made a comment, an alligator's eyes are on the sides of its head, giving them a wide visual range and excellent peripheral vision. He has an excellent view of what is going on off to the left while facing her directly," she said.
It is not clear where the viral video was filmed, however, alligators can be found all over the U.S. They live in the southeast and as far north as North Carolina. They are particularly abundant in Florida and Louisiana.
Social media users commenting on the video said the alligators appeared offended at the woman's comments.
Daniavilla4 said: "THEY GOT SO OFFENDED.." Another TikTok user, kaylebowens08, wrote: "Oh no the way he looked at you."
"They were like 'hey...he's been watching his weight,'" Nashgrierfan23 wrote.
Ladybryght said perhaps it they took the comment as a good thing: "They're not offended. They're all excited to know which one of them is considered the biggest," the TikTok user wrote.
Twitter user @TEXASTITTIE reposted the video, saying: "There's no way animals can't understand us i'm sorry."
Update 04/06/22 at 10:48 a.m. ET: This video has been updated to include quotes from Brandon Fisher and to include Lindsey Lawson's job description.