Almost 70 Percent of College Students Favor Banning Assault-Style Weapons
Almost 70 percent of college students favored banning assault-style weapons, although women were far more likely to strongly support the restriction.
On Saturday morning, 20 people were killed and an additional 26 were injured during a shooting at a Walmart in El Paso, Texas. Then, in the early hours of Sunday morning, nine people were killed and 27 others were injured during a shooting in Dayton, Ohio.
The weekend's shootings reignited conversations about gun violence in the United States and presidential candidates offered their solutions. Senator Bernie Sanders advocated for a ban on assault weapons and Senator Cory Booker called for an increase in background checks.
On Monday, Trump advocated for a number of reforms, including an increase in mental health services and restricting access to firearms for those who pose "a grave risk to public safety."
Months earlier, College Pulse, a survey and data analytics company, released a survey on June 11 that detailed how college students viewed gun control.
While the majority of college students thought the right to own guns, established by the Second Amendment, was either important or essential, they also agreed that there should be limitations. Almost 70 percent of students that were polled favored banning assault-style weapons and 48 percent strongly favored it.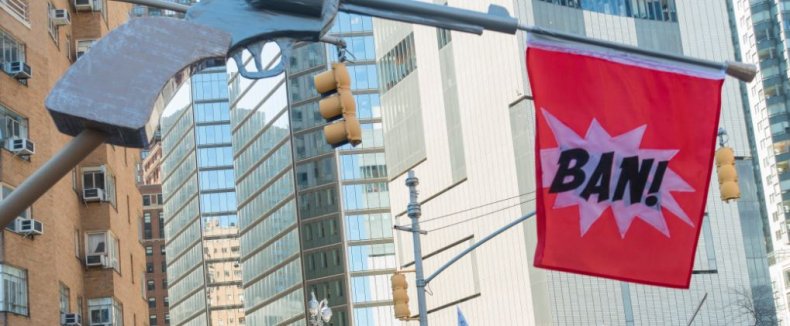 When broken out by gender, women were far more likely to agree with the ban than men. Eighty-three percent of female college students favored banning assault-style weapons compared to the 49 percent of male students who supported the measure.
Only 31 percent of male respondents strongly favored the ban, making them half as likely as women to take that position.
The exact same percentage of students that favored banning assault-style weapons also supported a ban on ammunition magazines that could hold more than 10 rounds.
Barnes & Noble College recently released a report about Generation Z, those born after 1995, and the 2020 election. The report found that just as was the case in 2018, gun violence and mass shootings were a top issue for Generation Z voters.
After Tuesday's debate on CNN, College Pulse and Chegg polled college students about the candidates' performances. Sanders, who shared similar views on assault-style weapons as college students, was declared to be the second-place winner behind Senator Elizabeth Warren.
People disagree on what constitutes an "assault weapon," but the Public Safety and Recreational Firearms Use Protection Act, signed by then-President Bill Clinton in 1994, defined a "semiautomatic assault weapon" as a semiautomatic rifle, pistol or shotgun that has an ability to accept a detachable magazine and at least two items on a list of varying criteria based on the firearm type.
The law was repealed 10 years later and in January, Senator Diane Feinstein introduced a similar bill to ban assault weapons.