Alt-Right Neo-Nazis Are Targeting the Women's March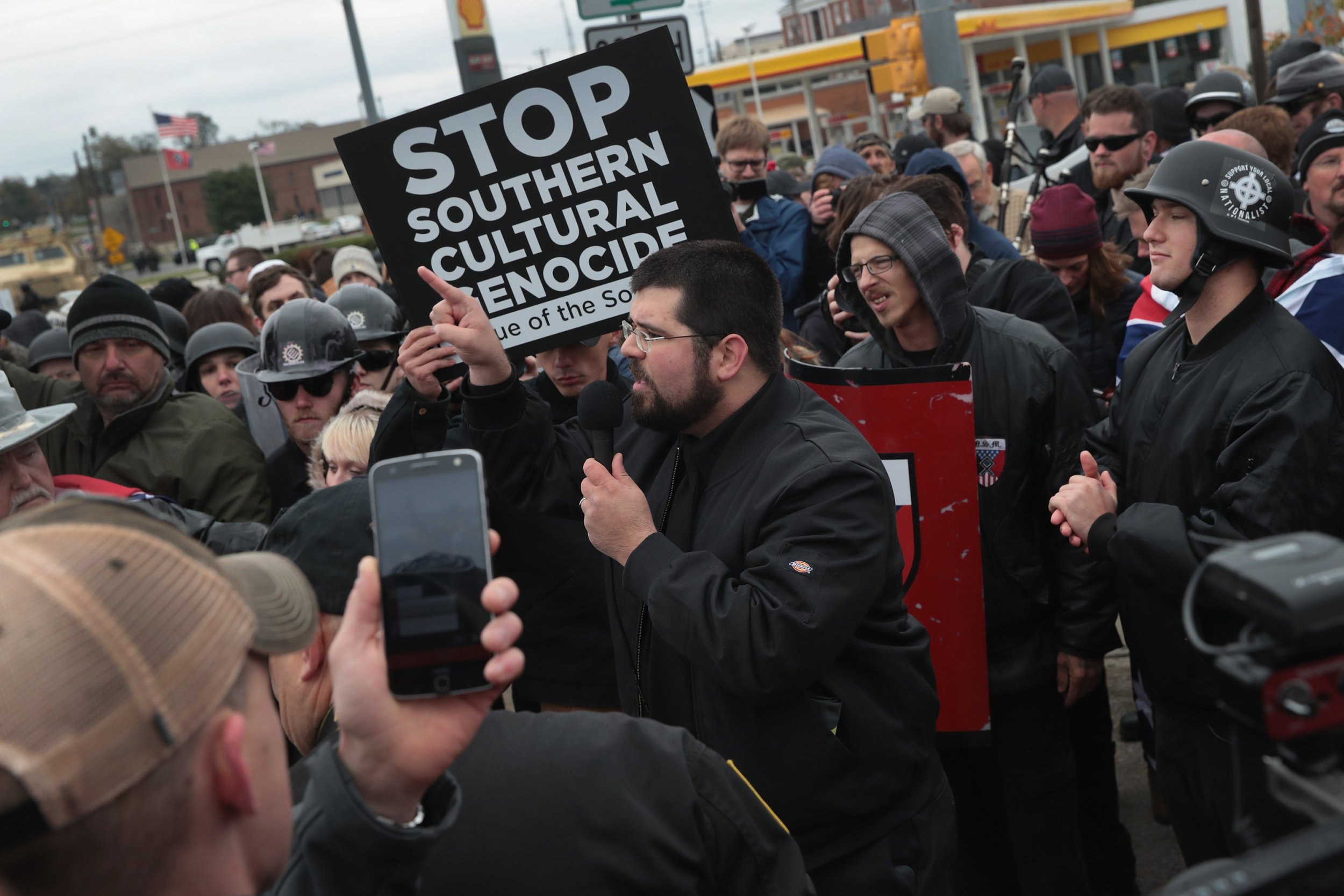 Feminist activists on Sunday are planning to commemorate last year's Women's March, the response to the election of President Donald Trump that was widely regarded as the biggest demonstration in U.S. history.
As they do so, the so-called alt-right—an anti-immigrant, anti-Semitic movement that has struggled to recruit women—is aiming to co-opt this political moment with a series of stunts, including spreading propaganda and a counterdemonstration in Knoxville, Tennessee. This targeting of a feminist event is part of an ongoing pattern of misogynistic behavior in the movement, according to activists and a rights group that spoke to Newsweek.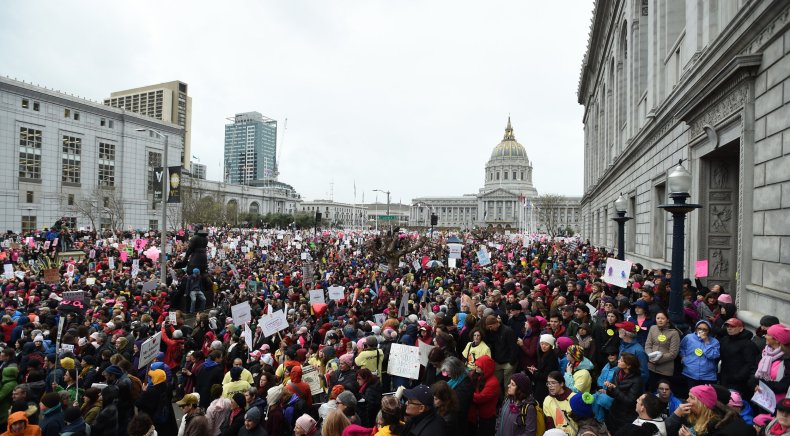 Trolls from 4chan, an imageboard website that is popular with the alt-right, are planning to post signs at women's studies departments on college campuses Sunday with the hashtag #mybordermychoice, a deliberate perversion of the abortion-rights slogan "my body my choice," according to a series of posts on the site and research conducted by antifascist activists.
The hashtag #mybordersmychoice, which is a call to reduce the flow of immigrants to the U.S. and to ramp up deportations—two policies that are integral to alt-right politics—dates back to at least spring 2017. It started to percolate online in the second week of December, following the promotion of another hashtag, #ItsOktoBeWhite, which received sympathetic coverage on Fox News and in a variety of conservative publications.
The far right has used such tactics on college campuses before. Megan Squire, a professor of computing sciences at Elon University in North Carolina and a civil rights activist, tracks hate propaganda posted on college campuses. In 2017, she found more than 200 instances.
While this is happening, a self-described national socialist group linked to the alt-right, the Traditionalist Worker's Party (TWP), is planning to stage a counterdemonstration to the second annual Women's March in Knoxville. The counterprotest has forced Women's March organizers to reroute their event, according to a report in USA Today.
Matthew Heimbach, TWP's 26-year-old leader, estimated to Newsweek that turnout at the demonstration will include about 50 to 60 members from the local chapter. Heimbach, an open admirer of Adolph Hitler who falsely denies that the Holocaust happened, helped to promote the "White Lives Matter" rally that took place in Tennessee in October and is widely regarded to be an emerging leader within the world of street-level politics that is often associated with the alt-right.
On cue, antifascist activists are mobilizing to counter TWP's rally, as well as potentially the distribution of the fliers on campuses, according to a source familiar with the subject who spoke to Newsweek. The source asked for anonymity over fears of retribution.
Lecia Brooks of the Southern Poverty Law Center, a rights group, told Newsweek that Heimbach is "no defender of women," referring to altercations involving the opposite sex he has had at demonstrations.
Heimbach replied to that notion by saying legal abortion and illegal immigration were victimizing the unborn and women, and that "women have had their femininity put under attack by a culture that treats them as either sex objects or as mere economic cogs in the capitalist system." Heimbach is a critic of the capitalist system while also being a critic of socialism, and views a "national socialism" system that includes only white non-Jews as an alternative to both. He said the policies of his group were structured to "empower women to their God given honorable place as true equals to men in society through their unique role as mothers and wives." To be clear, he is an ardent critic of contemporary feminism.
Brooks of SPLC told Newsweek that the far right goes after women-friendly events "because they're easy targets." She said Heimbach and the 4chan trolls were trying to capitalize on the "public attention that will inevitably come for the Women's March."
Kelsey Goldberg, an organizer with Democratic Socialists of America's Los Angeles chapter and a feminist activist, told Newsweek men and women should be standing up against what is happening with the alt-right movement nationwide. "The rise of fascism in America affects female activists more than it does men. It affects women of color most of all," she said. "What women activists need in times like these is a support system from our male colleagues."
Goldberg referred to a Newsweek article about some members of the alt-right targeting children for recruitment and said people should be focusing on ways to keep young boys from becoming too isolated and possibly falling victim to an ideology of hate. "Donald Trump didn't invent these people," she said regarding the far-right. "Merely impeaching him won't get rid of this problem."
Story was updated to indicate that TWP accepts white Pagans in addition to Christians and preaches "religious tolerance" for non-Jews.