Neo-Nazi Website Daily Stormer Is 'Designed to Target Children' as Young as 11 for Radicalization, Editor Claims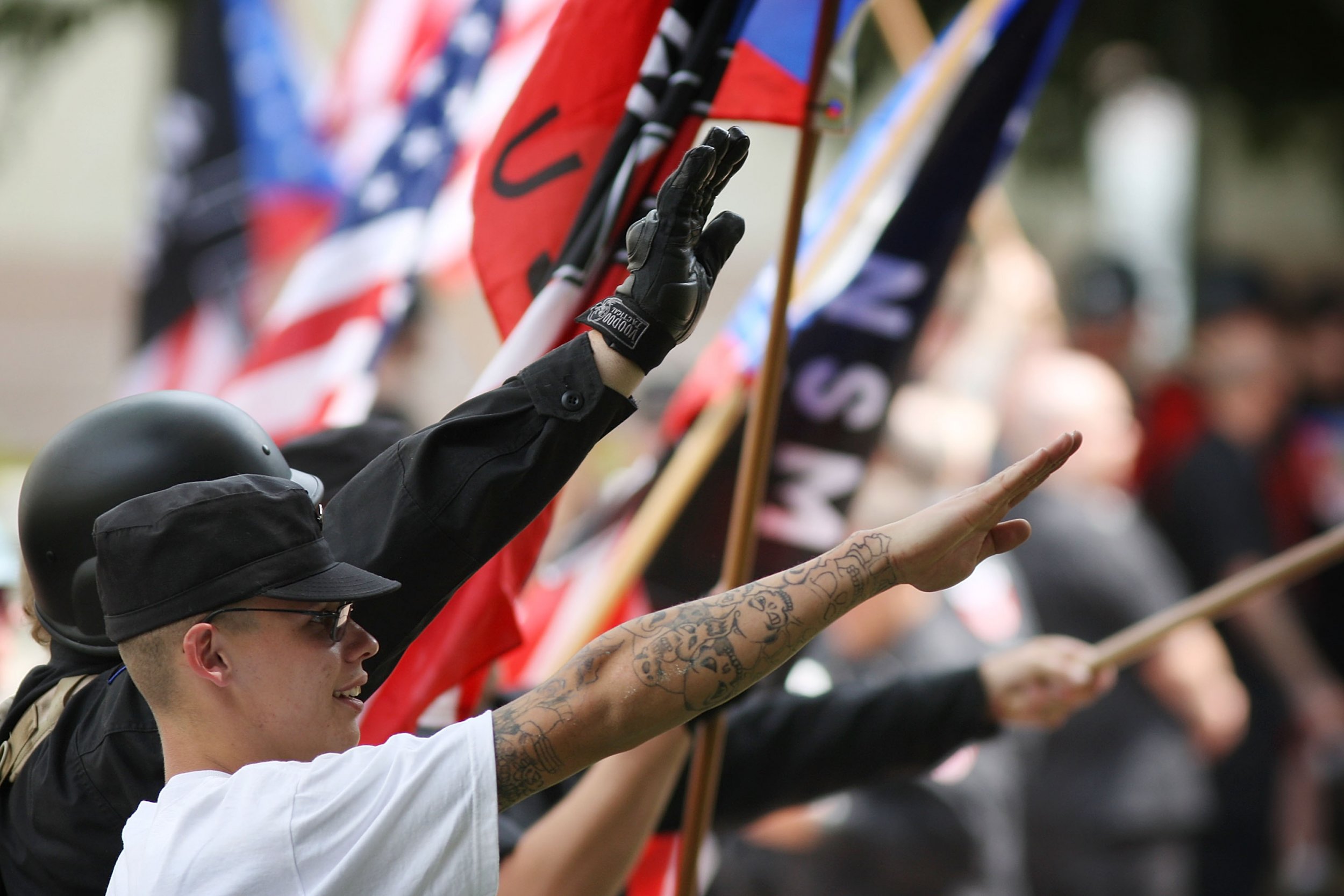 The editor of the neo-Nazi website Daily Stormer acknowledged on a white supremacist radio show that the true purpose of the conspiracy site is to radicalize children as young as 11 into holding extremist beliefs.
"My site is mainly designed to target children" for radicalization, the editor, Andrew Anglin, said Saturday on Radical Agenda, a radio show hosted by Christopher Cantwell, one of the marchers during a deadly Charlottesville, Virginia rally in August. "[Age] 11 through teenage years.… Young adults, pubescents."
Anglin's remark was part of a discussion about how memes are used by neo-Nazis to "indoctrinate" children into sharing their beliefs. Cantwell later took a call from a boy claiming to be 14 years old. The boy praised Anglin, 33, and Cantwell, 37, as being influential on him, adding: "I'm sitting next to a bookshelf with Mein Kampf," referring to the autobiography of Adolf Hitler. Cantwell seemed to grow nervous while talking to the boy, asserting that the show was meant only for entertainment, but Anglin quickly embraced the listener.
"[White] men naturally want this," he boasted. "Our goal has to be to give this [ideology] to teenagers and even before teenagers."
Anglin, who in addition to praising terrorists has repeatedly promoted violence against young women and girls, used the opportunity to boast how he had targeted young children for recruitment into hate groups.
"Did that kid say he was 14? You've got this coming up now. Over the next five years, you're going to see an entire generation coming into their 20s that are on board with all of this," Anglin bragged about his neo-Nazi beliefs. "When you think about the number of listens and hits that we get...we have created a movement among the youth that we're not even able gauge the size of."
Daily Stormer essentially serves as the homepage of the anti-Semitic alt-right movement, which has been linked to a number of violent crimes in recent months. It regularly posts propagandistic lies about the genocide of the Jewish people during World War II, claiming no such thing ever happened. The site has also posted rants from Andrew "Weev" Auernheimer appearing to call for the wholesale slaughter of Jewish people. Keegan Hankes, an intelligence analyst with Southern Poverty Law Center, told Newsweek that Auernheimer was likely "fully aware" of what he was doing in calling for violence. "I think he's being quite sincere about these things," he added. Auernheimer could not be reached for comment.
Anglin declined an opportunity to comment for this article, but Cantwell told Newsweek: "I wish I had read Mein Kampf [at age 14]—my life would have turned out better." Cantwell is currently under house arrest in Virginia on two felony charges for allegedly using tear gas and pepper spray at the Charlottesville rally.
The idea of neo-Nazis recruiting disaffected 11-year-olds—who are legally too young to see recent Star Wars films in the theater without supervision—may leave some feeling disgusted, but targeting children for hate groups is nothing new, according to Elisa Hategan, the author of Race Traitor, a memoir of her life inside of a hate movement. Hategan, who is now 43, became a poster child for Heritage Front, Canada's largest white supremacist group, at the age of 16.
Hategan was a victim of abuse while growing up and felt isolated, which made her a prime candidate for recruitment into the white supremacy movement, she told Newsweek. Hategan said people like Anglin are basically hawking the same propaganda that an older generation of white supremacists used, but in a new package involving racist and anti-Semitic internet memes. She compared them to child predators who "lure kids with candy at playgrounds."
"Instead of having a conversation with someone powerful or someone that is at an equal level to him [Anglin] chooses to approach someone that doesn't threaten him," she said, suggesting that targeting children is an "ego boost" for neo-Nazis. "It takes a type of man that is excited by exploitation."
Hategan left Heritage Front at age 18 and helped provide information to anti-racist activists to help take down the group. She said the type of children who are seduced by hate group predators may be feeling lost, and often are ostracized at home or at school.
"They want these kids to feel even more alienated and ostracized," she told Newsweek. "It ultimately makes kids more reliant on their hate network."