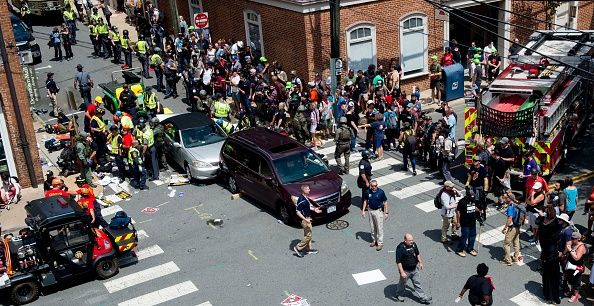 The "Unite the Right" rally, a white nationalist event in Charlottesville, Virginia, that collapsed into chaos on August 12—resulting in murder charges for a man who allegedly voiced sympathy for Nazism and rammed a car into a crowd of counterprotesters—is already a volatile cultural flash point, as evidenced by the outcry that followed "alt-right" speaker Richard Spencer's unexpected return to the city last weekend.
On Thursday, the city of Charlottesville, attempting to strike back against the white nationalist protesters who three times have demonstrated in an effort to preserve a monument to Confederate General Robert E. Lee, filed a lawsuit against some of the key organizations and figures involved with the event.
According to research, the city's attorneys laid out in the suit, sympathizers with the white nationalist side of the melee have expressed a desire to return to Charlottesville with the intention of targeting leftists and anti-racist activists with violence.
"On September 12, 2017, The Virginia Flaggers—a group that glorifies Confederate emblems and memorials—uploaded a video to its Facebook page depicting liberal activists at the University of Virginia," the lawsuit states. The comments underneath read as follows, according to the lawsuit:
"I just want to know, when can we start shooting?"
"Kill them and [negroes]!"
"Unleash Hell on their asses"
"Kill them all."
"Shoot em."
White nationalist blogger Mike Enoch also suggested that James Fields, the alleged murderer of counterprotester Heather Heyer, "should get a medal," according to research laid out in the suit.
Other protest attendees, including Justin Moore, the Grand Dragon for the Loyal White Knights of the Ku Klux Klan, expressed a similar degree of ambivalence about murdering leftists.
"I'm sorta glad that them people got hit, and I'm glad that girl died," Moore said to a reporter, according to the lawsuit. "They were a bunch of Communists out there protesting against somebody's freedom of speech, so it doesn't bother me that they got hurt at all."
The lawsuit alleges that future white nationalist rallies scheduled for the city would result in more violence.
"On its own, the mere act of staging a public gathering enjoys constitutional protection," the lawsuit claims. "But just as 'Unite the Right participants anticipated and carried out repeated, coordinated violent encounters, future rallies orchestrated by white-nationalist leaders will almost certainly attract alt-right warriors—including paramilitary organizations—prepared to inflict serious and irreparable harm."
Several militias, as well as prominent white nationalist groups like Vanguard America and League of the South, are accused in the suit. So is Redneck Revolt, an anti-racist group that opposed the "Unite the Right" rally.
Charlottesville's City Council conducted a special meeting Thursday morning, during which attorney Mary McCord presented details from the extensive investigation into what took place on August 12. She alleged that those accused in the lawsuit spent time knowingly plotting militaristic violence. "Theirs was a strategy to provoke and invoke. Provoke the counterprotesters, then invoke in self-defense as an excuse to inflict long-planned violence," McCord said of white nationalists, adding that the lawsuit isn't intended to restrict the rights of protesters to assemble or the right to bear arms.
Spencer tells Newsweek that he has no comment on the lawsuit. Others involved could not immediately be reached for comment. Spencer told Newsweek earlier this week that he and other protesters "could come back with three or 10 times the number of people," referencing his third protest in the city, which involved about 40 white men.
Charlottesville Mayor Mike Signer released a statement saying he supports the suit "as a stand against the disintegration of our democracy, and as a call for us to put a firm close to this horrible chapter in our democracy where people think it's OK to parade in military outfits in public, to openly threaten violence against other people, to fire weapons into crowds, to beat people in public, and to use a car as a weapon."
"Let me be clear," Signer says. "The emergence of these paramilitary groups in the public sphere is a threat to democracy itself."