A Pizza Chain Has Introduced an 'Alternative Facts' Pizza With Zero Calories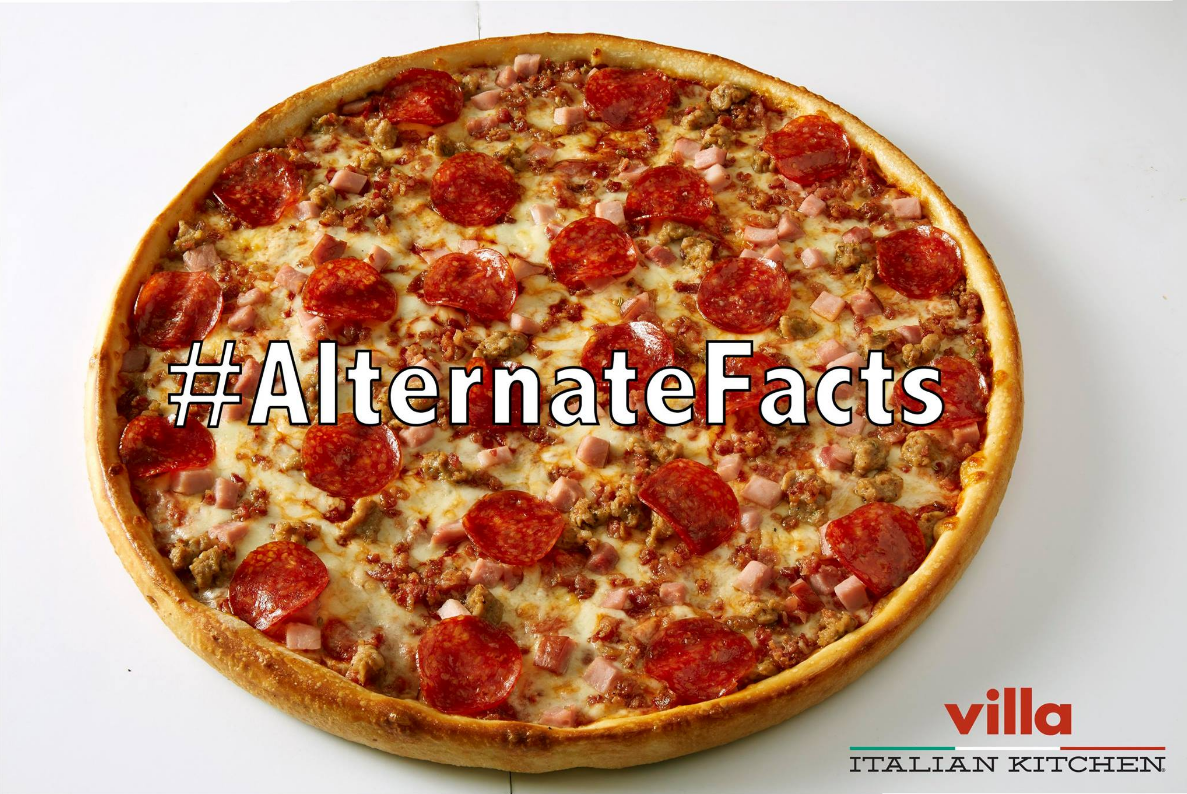 Kellyanne Conway made headlines Sunday when she told Chuck Todd on Meet the Press that press secretary Sean Spicer was using "alternative facts" to demonstrate the size of Trump's inauguration crowd. The use of the term was widely ridiculed by the media, Twitter users and even Merriam-Webster's dictionary, which felt the need to clarify the definition of a "fact." Conway's Orwellian rhetoric even caused the British author's dystopian novel 1984 to hit No. 1 on Amazon's best-seller list, prompting publisher Penguin to print 75,000 more copies to keep up with demand.
Related: Trump team welcomes 'alternative facts' in assault on media
Also capitalizing on the phrase is national pizza chain Villa Italian Kitchen, which on Tuesday announced a new zero-calorie #AlternativeFacts pizza topped with bacon, pepperoni, ham and sausage. Just as Trump drew "the largest audience to witness an inauguration, period," as Spicer said on Saturday, the #AlternativeFacts pizza could be the answer to your dieting woes.
This is a genius marketing ploy on the part of Villa Italian Kitchen, but it isn't the only company to take advantage of Spicer's new role in the spotlight. After the internet discovered a bizarre trend of anti-Dippin' Dots sentiment in the annals of Spicer's Twitter account, the "ice cream of the future" manufacturer offered to host an "ice cream social" at the White House.
"Dippin' Dots are made in Kentucky by hundreds of hardworking Americans in the heartland of our great country," wrote CEO Scott Fischer. "As a company, we're doing great. We've enjoyed double-digit growth in sales for the past three years. That means we're creating jobs and opportunities. We hear that's on your agenda too."
The White House has yet to issue a response, although on Wednesday morning Spicer did tweet this:
There are still opportunities out there for brands to cash in on the press secretary's newfound fame. Following his tumultuous weekend, we were reminded of a Washington Post profile of Spicer from August in which he divulged that he chews and swallows 35 pieces of gum before noon every day.
Your move, Orbit.
Read more from Newsweek.com:
- #Pizzagate resurfaces an old anti-Semetic slander
- D.C. gunman was driven by fake news, police say
- Watch: the world's first pizza delivery by drone