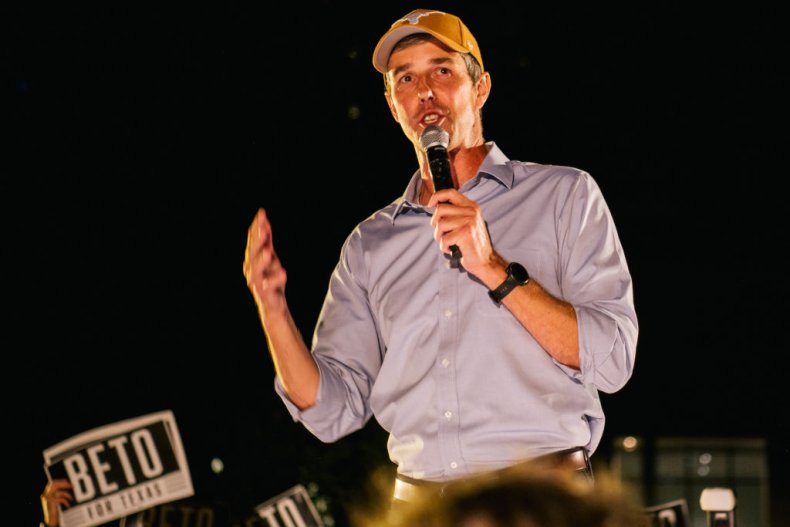 Democratic Texas gubernatorial candidate Beto O'Rourke has turned his attention to combating "voter suppression" in the state as his campaign falters against Republican Governor Greg Abbott.
The O'Rourke campaign announced Friday that it would be deploying over 44,000 volunteers to contact more than 2 million Texas voters via home visits, text messages, phone calls and letters in February. The effort was launched after President Joe Biden's effort to pass federal voting rights legislation failed in the Senate and while O'Rourke lagged far behind Abbott in most polls, with the Republican governor enjoying a 15 point lead in the most recent survey.
"There is no one riding to our rescue, no cavalry coming in to save voting rights across our state," O'Rourke said in a statement. "Protecting democracy lies squarely with the people of Texas."
"We're going to meet this challenge of voter suppression by coming together and personally contacting over 2 million Texas voters — at their doors, on their phones, in their mailboxes, whatever it takes to bring them into our democracy and ensure they have a say in the future," he added.
The O'Rourke campaign cited both the failure of Democratic federal voting rights legislation and a controversial Texas voting bill that Abbott signed into law last year as motivation for the new initiative.
The campaign said that volunteers would work to "educate voters on how to navigate new hurdles that Greg Abbott and Republicans have put into place to make it harder for Texans to exercise their right to cast a ballot."
Abbott's Press Secretary Renae Eze insisted that the Texas voting law was intended to prevent cheating and make voting easier, while calling O'Rourke's characterization "lies" in a statement to Newsweek.
"Credibility-challenged Beto O'Rourke is again spreading lies," Eze said. "Texas has made it easier to vote and harder to cheat, by increasing early voting hours—more than blue states like Delaware and New York have—creating more transparency in the election process, securing every ballot, and ensuring uniform statewide rules."
O'Rourke seems all but certain to become the Democratic nominee for Texas governor. A poll from the Texas Politics Project at the University of Texas in Austin, which was released in October—one month before O'Rourke announced his candidacy, found that he was preferred by a 70 percent majority in the Democratic primary.
While he continues to trail Abbott in polls with nearly 10 months left before the election, Democrats have expressed optimistic enthusiasm for his chances. Labor activist and former Democratic U.S. Senate candidate Cristina Tzintzún Ramirez wrote that young voters of color could hold the key to his victory in an opinion article published by The El Paso Times on Friday.
"Now is the moment to make the investments to create real change, and O'Rourke's team must do everything it can to capture the momentum by giving young people a clear, compelling reason to show up at the polls," Ramirez wrote. "A young, diverse Texas has the power to determine the future of our entire country, if only we give those Texans a reason to vote."
Many expressed similar enthusiasm when O'Rourke, a former U.S. representative, ran an unusually competitive race for a Texas U.S. Senate seat against Republican Senator Ted Cruz in 2018. Although Cruz ultimately won the election by a relatively narrow margin, O'Rourke's performance was the closest a Democrat had come to holding statewide office in the state for 40 years.
O'Rourke's supporters have been generous in donating to his gubernatorial campaign during its early stages. Earlier this week, the campaign announced that it had raised $7.2 million since O'Rourke declared his candidacy on November 15.
However, Abbott's campaign announced that it had added $18.9 million to a total of $65 million over the past six months. Abbott is also facing a potentially formidable GOP primary challenge from Texas Republican Party chair Allen West.