Actress Amandla Stenberg's DMs Released By Film Critic After Review
A film critic has shared a direct message she received from actress Amandla Stenberg after writing a negative review of the slasher movie Bodies Bodies Bodies.
Lena Wilson of The New York Times panned the horror release, which stars 23-year-old Stenberg alongside Maria Bakalova, Rachel Sennott, Lee Pace and Pete Davidson.
The film follows a group of rich twentysomethings who attend a party at a remote mansion. Wilson's review described the movie as "bloated with pompous irony" and said it was "perfectly tailored to one of [production company] A24's key demographics: bougie 25-year-olds who value branding over substance."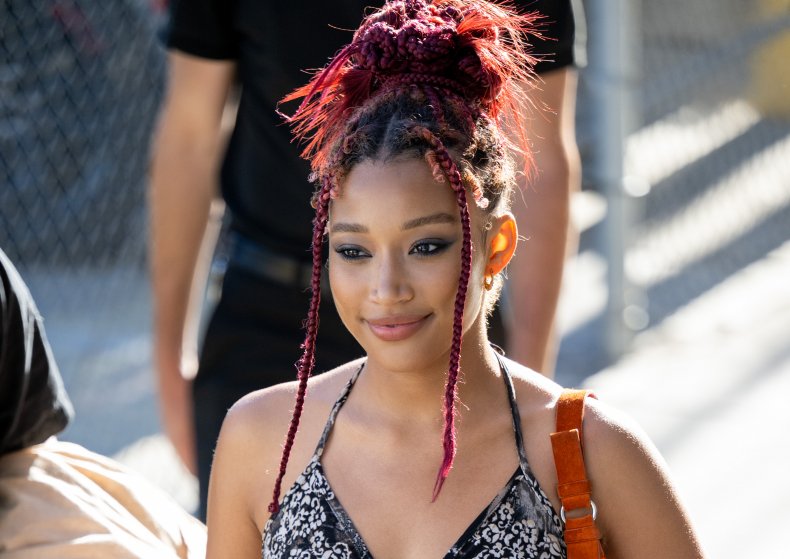 The movie has received mostly positive reactions from critics, with an 89 percent score on Rotten Tomatoes.
Wilson's review, published on August 4, was negative—and she posted on Twitter on Thursday to share an Instagram DM from Stenberg, seemingly unhappy about her comments.
The critic wrote in her article: "The only thing that really sets Bodies Bodies Bodies apart is its place in the A24 hype machine, where it doubles as a 95-minute advertisement for cleavage and Charli XCX's latest single."
The message from Stenberg reads: "Maybe if you had gotten ur eyes off my t**s you could've watched the movie!"
Wilson shared a screenshot of the message and tweeted: "do you think she instagram DM'd [film critics] Alison Willmore, Justin Chang and Anthony Lane like this or.."
Wilson has suggested that Stenberg's message had homophobic undertones and added in another tweet: "always weird when the homophobia is coming from inside the house but this is something."
Newsweek has reached out to Stenberg's representative for comment, but the actress has since discussed the situation on her own social media.
"I'm receiving a lot of commentary on the internet for being a very naughty girl and for sending a DM that I thought was hilarious," Stenberg said on her Instagram story.
"There's a film critic and her name is Lena Wilson. She described [Bodies Bodies Bodies] as a 95-minute advertisement for cleavage, which I thought was hilarious. I'm proud that a piece of work I was a part of was described as such in such a renowned publication."
She continued: "I thought it was hilarious. I thought because Lena is gay, and I am also gay... as gay people, we would both find this comment funny. I was also curious to know what Lena would say to such a statement. Lena decided to publish it and also says that I am homophobic for saying that.
"It's quite surprising the amount of commentary I receive on my boobs. I wore this tank top in this movie because me and the costume designer felt it fit the character well. I do get tired of people talking about my chest. There seems to be a lot of unwarranted conversation about my chest."
She also addressed the film critic directly, saying: "Lena, I thought your review was hilarious. I thought my DM was funny. I did not mean to harass you. I do not wish you any harm. You are allowed to have your criticism on my work and I'm allowed to have my criticisms of your work. I wish you the best."
Earlier this week, Stenberg reflected on her experiences with "cancel culture" in an interview with The Cut, saying she had been "canceled so many times."
"I like to speak openly about the person that I am, and that invites some canceling from the far right," she said. "Then there are folks on the far left who think that I have done things that have not been inclusive, or that I have unfairly taken up space within media, or that I'm in cahoots with the entertainment industry when it comes to representation of Blackness.
"I don't know. I've been canceled so many times but from so many different angles, from so many different sides of politics," she added. "That has really shown me that that's just my fate."
Update 08/19/22, 10:25 a.m. ET: This article was updated to add Amandla Stenberg's latest comments.