Amazon Driver Vents About 180-Stop Route in Viral Clip: 'That's Why I Quit'
In a now-viral video on TikTok, a purported Amazon delivery driver said he was told to single-handedly deliver over 300 packages to 180 different stops.
The video was posted to the social media platform last month by Cameron Smiley (@camshaftsmiley), who wrote: "Y'all wonder why your staff is always a revolving door." It has garnered over 150,000 views and nearly 1,200 comments, many from alleged former Amazon drivers who said the video illustrated why they quit their jobs.
"I just want y'all to witness the pure f**kery that is going on in this damn van," Smiley said at the beginning of his video. "I don't know how they [expect] one person to deliver 326 packages [to] 180 stops."
Smiley gets up from the driver's seat to show viewers the back of his van, which is filled to the brim with packages.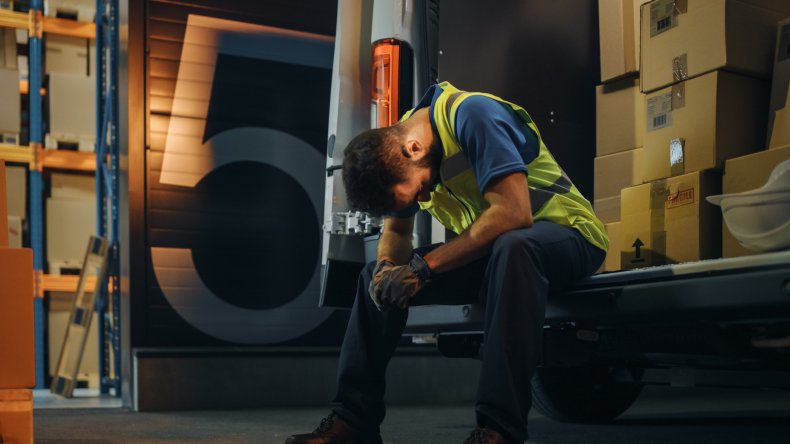 "Look how many f**king bags," he said before counting 21 delivery bags full of boxes. "What the hell?"
Smiley went on to say that the job is only made worse by "nasty" managers.
"And then to make it worse, you have big, musty, nasty attitude MANAGEMENT that kills the environment every time they're around," he wrote in his post's caption. "I'd name drop but lemme secure my new job first. You can tell how personally unhappy this troll is. Always nasty energy and a nasty attitude."
Delivery Routes
Of course, Smiley isn't the first Amazon delivery driver to complain about his job.
One Amazon employee vowed never to deliver packages again after dropping off 314 parcels at one address last October.
"That was a tedious process," the employee, Willy Ngoran, told Newsweek at the time. "The whole time I was like, ain't no way I am doing this again."
According to Insider, Amazon drivers typically deliver between 170 and 375 packages a day. With so many deliveries to make, some drivers have said they don't always have time for bathroom breaks and, as a result, have been forced to use their vans as "improvised bathrooms."
"Managing proper breaks is impossible because of the extremely high package count and stops, it makes it impossible to pull over to eat, so oftentimes I drive and eat with one hand—it feels very dangerous, especially driving the huge box trucks," Ryan, a DSP driver, told Insider. "I'm extremely fed up and mentally broken from my time here. It changed my personality."
Viewers React
Many of Smiley's viewers claimed they used to drive for Amazon, and said his video illustrated why they quit.
"Been there!!!! Never again," Shaun Elliott Willia said.
"And that's why I quit," Citrus Tablets wrote.
"EXACT reason I played sick in the middle of my shift & never returned," NubianQueenDee said.
"I had 300 packages on my first shift, had a co-worker with me that sat in the car and watched me struggle. Drove to Wawa & never came back out," Sam I Am said.
Fly__matt added: "Nah man I do not miss this s**t."
Newsweek has reached out to Amazon and Smiley for comment.
Another Viral Amazon Moment
In June, an Amazon delivery driver was filmed accidentally walking into someone's home. "I think he thought it was a communal area until he opened it, saw my dog and realized," said a TikTok user named Charlotte, the home's resident. "I absolutely love his reaction though."