Amazon Invites Democrats Calling for Federal Investigation Into Company Over COVID-19 Allegations to Visit Site
Amazon has invited two Democratic congresswomen calling for a probe into its sites over coronavirus safety measures to visit one of its facilities.
Reps. Rashida Tlaib and Debbie Dingell, both representing Michigan, are seeking a federal investigation into workplace safety at Amazon units nationwide, citing issues raised by workers.
The pair wrote to Deputy Assistant Secretary for Labor for Occupational Safety and Health Loren Sweatt, asking for this to be looked into and for further guidance to be issued.
Following this, Amazon has the defended measures it has in place and said the pair are welcome to visit any of its fulfillment centers to see these in action.
"It's surprising that Reps. Dingell and Tlaib are calling for measures that are already in place—something we've explained to them in great detail on two separate occasions," an Amazon spokesperson told Newsweek.
"We invite them to visit any one of our fulfillment centers so they can see firsthand rather than repeatedly asking the same questions."
It further defended its operations as allowing customers to receive "critical items" throughout the COVID-19 pandemic.
"As people across Michigan and the country stay home, our workers are enabling communities and customers—especially the most vulnerable among us—to get the critical items they need during this crisis," the spokesperson added.
"Amazon's commitment to protecting our team members is clear and has never been stronger."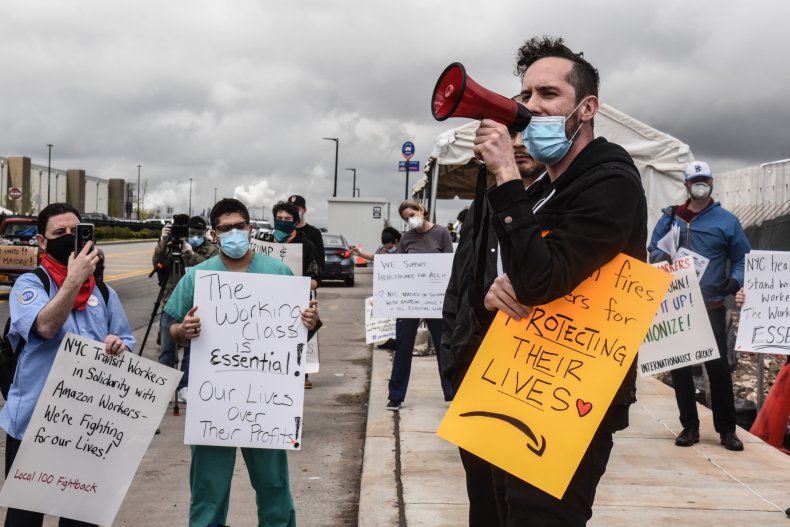 In their letter, Tlaib and Dingell acknowledge Amazon had provided them with details of policies it had announced, but said they have heard issues from constituents working in facilities.
"While Amazon has provided our offices with an accounting of the corporate policies they have announced, we have consistently heard from our constituents that these policies are not being implemented on the ground by Amazon management in their warehouse facilities," they wrote.
"Worker concerns persist, from an inability to maintain social distancing to a lack of personal protective equipment and hand sanitizer. This is not isolated to our districts, as reports continue to surface across the country about unsafe conditions in Amazon facilities and Amazon workers dying from COVID-19."
Tlaib also shared a message to Amazon founder and CEO Jeff Bezos on Twitter after the letter was sent.
In it, she said: "Just in case you were unaware, you just p***** off two Congresswomen from Mich & we don't play. Your corp needs to focus on worker safety. They deserve better than this."
In a statement responding to Amazon's invite, the congresswomen said: "The health and safety of essential workers is critical. Our offices have been in regular contact with many workers that say the policies that Amazon talks about are not being implemented on the ground, and we believe them.
"We have been told Amazon facilities remain closed to the public. We would consider visiting if an open invitation is extended directly, but any visit from us—like the visits from OSHA we trust will occur with an investigation like the one we called for yesterday—must be spontaneous to ensure management isn't cherry picking times and situations that follow policy."
They added that they "put great weight on the fact that workers tell us these policies aren't being implemented, putting their health and safety at risk at work."
Newsweek has contacted the Department of Labor for further comment.
Amazon workers have previously held protests over working conditions amid the coronavirus crisis, with such events held in Michigan and Staten Island.
Amazon centers have continued operations throughout the pandemic, while a number of other businesses across the U.S. that had shut down are beginning to reopen.
This comes as COVID-19 cases nationwide continue to rise, with the below graphic from Statista showing confirmed figures at state level as of May 14.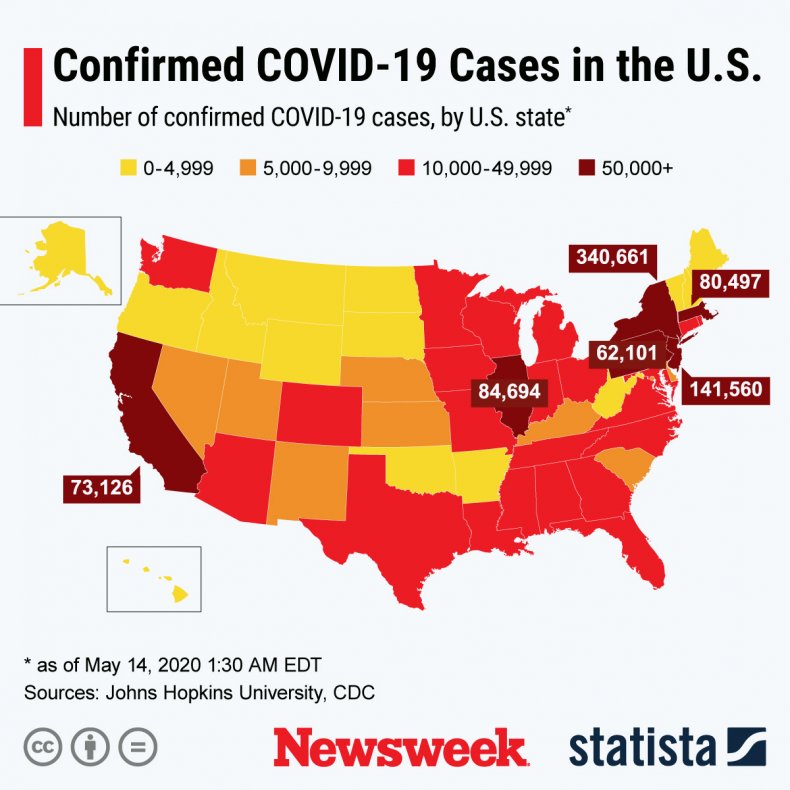 This article has been updated to include a response from Reps. Tlaib and Dingell.