Amber Heard Can't Win | Opinion
A woman went shopping in TJ Maxx. That's not news, It's a beloved store of so many of us. Bargain designer discounts—yes please! But this became a media frenzy. Because the woman was Amber Heard and it was seen as the last bastion in her fall from grace.
I'm going to assume you know the reasons for this. You would need to have been living under a rock not to. However, Amber was damned if she did and damned if she didn't. Had she swanned into a designer store, she would have been accused of spending Johnny Depp's money. Instead, she shops in TJ Maxx and she is subjected to abuse online. She has been accused of being broke. She has been accused of staging the pictures. Basically, she can't win.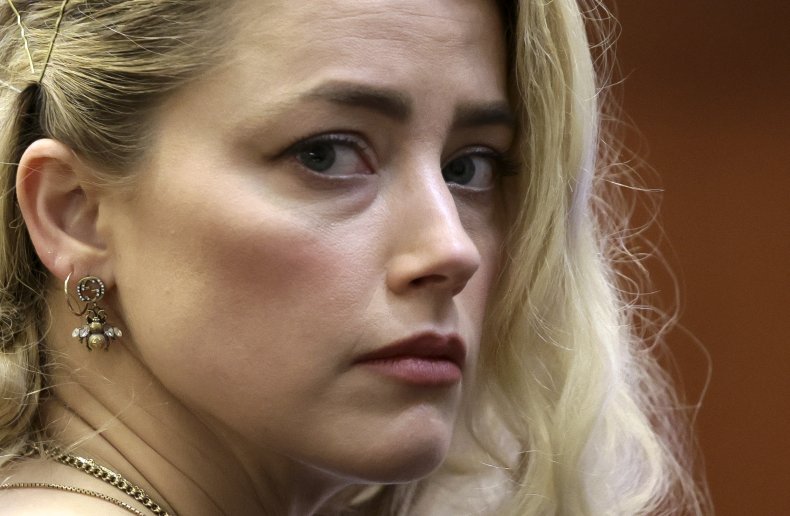 But there are people delighted about her apparent downfall. A YouTuber called Matthew Lewis, better known as That Umbrella Guy, is seemingly set to make $64,000 a month for simply dragging Amber in his videos.
Take a minute to process that. A man is about to make a lot of money for belittling a woman online. How can that sit comfortably with anybody?
This comes on the back of her TV interviews where she bared her soul. Seemingly Amber is determined to have her voice heard. The case has come at a very high personal and professional cost to her so, like many, I assumed she would lie low until her appeal was heard. However, unlike many (if the comments on social media are anything to go by) I was glad she was speaking up again. I speak as someone who has experienced domestic abuse.
The entire system is designed to ensure that people (of any gender) don't report violence from their partners. The process is traumatic and violating. I speak from personal experience. At one point when I tried to report my abuser a female police officer asked if I was "just trying to get back at him!" And police incompetence is only one issue. For many, myself included, there is ongoing PTSD and other issues that linger long after the bruises have faded.
To tell the world that you were abused is difficult. To be disbelieved is soul-destroying. In Heard's case she has received support online, much of it from survivors of domestic violence, including one anonymous writer who penned a piece detailing Heard's support of her back in 2019 and reflecting:
"Amber's support was life changing for me. I am not exaggerating when I say it could have been the end of my life if I didn't have support like that."
But this has been far outweighed by a barrage of vile rhetoric from Depp supporters on social media ever since she first made her claims. Way back before this trial and still continuing. Including one (male) Facebook poster who encouraged people to abuse any of her supporters writing: "If anyone is looking for a few of these women to mess with I've infiltrated the ridiculousness known as the amber heard (sic) private groups."
The fact that he sees nothing wrong with encouraging people to attack (even virtually) her supporters says a lot about the ripple effect of this trial and the reasons that Amber must keep speaking up.
People don't have to disbelieve Johnny Depp to allow her to speak. People don't have to like Amber Heard to allow her to be seen. But people do have to stop shouting her down and mocking her mercilessly when she does. Because many domestic violence victims are no longer here because people didn't allow them to be seen or heard.
Fran Winston is the writer of domestic-violence-themed play Arnica Was My Eyecream, and the creator and host of syndicated weekly radio show Girl Power. The views expressed in this article are the writer's own.