Amber Heard's Shopping Trip to TJ Maxx Defended by Twitter Maxxinistas
The merits of department store chain TJ Maxx are being defended online after Amber Heard was seen shopping in the store.
Short videos were published online after Heard's loss in the defamation trial against her ex-husband Johnny Depp. Heard owes Depp millions of dollars but interviews given by her and by her lawyer Elaine Bredehoft suggest that she will struggle to pay the full amount. Taking this into account, some have suggested online that it was orchestrated by Heard to be "papped" in TJ Maxx, which has a reputation for offering low prices, by TMZ.
"Amber Heard PR team in full overtime mode. Got her shopping at TJ Maxx?!" Digital marketing expert Juan Hustle said on Twitter, "Just pay that man his $8.3M and move on."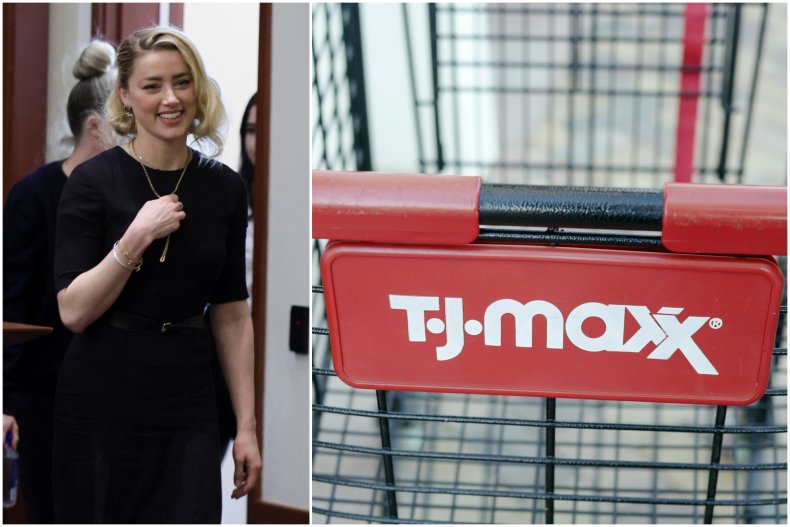 Many believed it was a set-up to show how Heard was struggling financially, after being spotted shopping at the department store in The Hamptons, NY. She was seen in the store with her sister Whitney Henriquez.
"Say what you want about Amber Heard, but LEAVE TJ MAXX OUT OF THIS," wrote journalist Cabot Phillips, "I won't stand for the slander." Reporter Candice Frederick backed up this by tweeting: "Ain't nothing wrong with TJ Maxx."
Morgan Tremaine, the former TMZ journalist who was called to testify during the Depp v. Heard trial wrote "You guys, TJ Maxx isn't that bad."
Trans activist and entertainer Plastic Martyr didn't comment on the validity of the public outing by Heard, but did remind Twitter followers that not all famous people have to shop on "Rodeo Drive" in Los Angeles. "I shop at TJ Maxx & I'm not broke," she wrote.
Political analyst Ameshia Cross thought people were focusing on the wrong part of the story and was most surprised by the existence of the store in the upscale part of Long Island. "Don't bury the lede...the big story is there's a TJ Maxx in The Hamptons," she tweeted.
Amber Heard's friend Eve Barlow, who has spoken out in support of Heard multiple times throughout the trial and since, again weighed in. "The moral of the story is: it doesn't matter how successful you are in life, there's always a good time to be had at TJ Maxx," she wrote while the pictures of Heard in the store were trending online.
Activist and campaigner Lindsey Boylan didn't believe the sighting was an orchestrated move and received backlash online for writing: "People are so gross,. Following a lady through a store."
Heard recently sat down with Savannah Guthrie for an open interview which aired as a Dateline special. The entire one-hour special episode is now available to watch on Peacock.
Ahead of the interview, a spokesperson for Heard called for Depp to have a similar styled-interview. "If Mr. Depp or his team have a problem with this, we recommend that Johnny himself sit down with Savannah Guthrie for an hour and answer all her questions," Heard's team wrote in a statement sent to Newsweek.