Amber Heard Team Challenge Johnny Depp to Give His Own NBC Interview
Amber Heard's team has challenged Johnny Depp to give his own interview to Savannah Guthrie if he has a "problem" with his ex-wife's upcoming post-trial TV appearance.
In the aftermath of Depp's court victory over ex-wife Amber Heard, who a jury found had defamed Depp with malice, the actress has given a post-trial interview to Today co-host Guthrie that is set to air on Friday night on NBC.
"If Mr. Depp or his team have a problem with this, we recommend that Johnny himself sit down with Savannah Guthrie for an hour and answer all her questions," a spokesperson for Heard told Newsweek.
This statement follows one from Depp's team which accused Heard of "reimagining" the case in her NBC interview.
"It's unfortunate that while Johnny is looking to move forward with his life, the defendant and her team are back to repeating, reimagining and re-litigating matters that have already been decided by the Court and a verdict that was unanimously and unequivocally decided by a jury in Johnny's favor," a spokesperson for Depp said.
This statement follows an earlier one from Heard's team which said the Guthrie interview is a response to Depp's "aggressive" media coverage since the verdict.
"Johnny Depp's legal team blanketed the media for days after the verdict with numerous statements and interviews on television, and Depp himself did the same on social media," a spokesperson for Heard previously told Newsweek.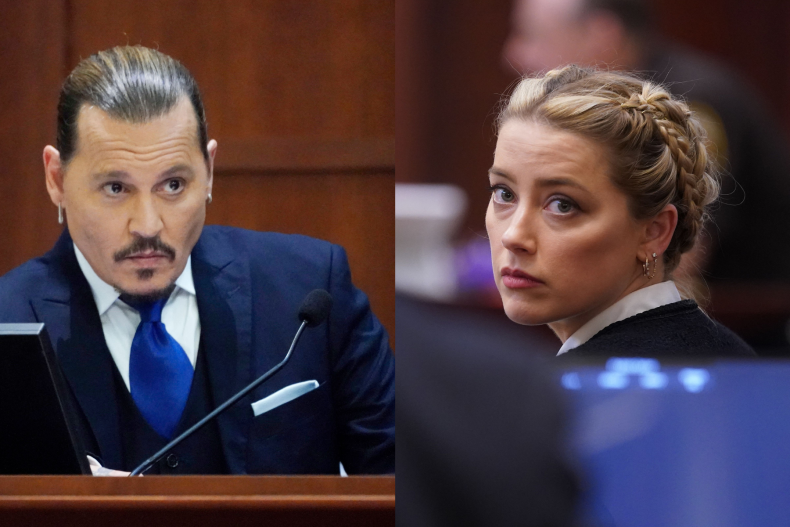 "Ms. Heard simply intended to respond to what they aggressively did last week; she did so by expressing her thoughts and feelings, much of which she was not allowed to do on the witness stand."
Heard and Depp were embroiled in a weeks-long blockbuster trial after the actor sued his ex-wife for $50 million, accusing her of defaming him by writing an op-ed in The Washington Post in 2018 in which she said that she had been the victim of domestic violence.
The trial ended with a jury finding that Heard had defamed Depp with actual malice. She was ordered to pay him $10 million in compensatory damages and $5 million in punitive damages. The punitive damages were reduced to $350,000, due to a Virginia law that caps them at that amount.
In one preview for the highly-anticipated NBC interview, Heard discussed how she had been recording alleged physical abuse within her relationship with Depp since 2011 but that this evidence was not permitted to be shown during the recent trial.
"There's a binder worth of years of notes dating back to 2011, from the very beginning of my relationship, that were taken by my doctor who I was reporting the abuse to," Heard told Guthrie in the clip.
She also presented Guthrie with notes from her therapist that represent "years of real-time explanations of what was going on" that seemingly corroborate her records of the alleged abuse.
Elsewhere in the interview, Heard said that she doesn't blame the jury for ruling in favor of Depp and called him a "fantastic actor."
Heard's interview with Guthrie is scheduled to air this Friday on NBC at 8 p.m. ET.