Amber Heard Doesn't Blame Jury as Johnny Depp a 'Fantastic Actor'—Interview
Amber Heard has said that she doesn't blame the jury for ruling in favor of her ex-husband, Johnny Depp at their defamation trial, calling him a "fantastic actor."
The exes were locked in a high-profile court battle after Depp, 59, filed a $50 million lawsuit against Heard, 36, over a 2018 op-ed in The Washington Post, in which she said that she was a survivor of domestic abuse. Following a six-week trial, a jury on June 1 awarded Depp $10 million in compensatory damages and $5 million in punitive damages.
In her first interview since the trial, Heard told Today co-host Savannah Guthrie that she had no hard feelings about why the jurors at Virginia's Fairfax County Circuit Court ruled largely in favor of her former husband.
A preview of the upcoming interview that aired on Monday showed Heard saying of the jurors: "I don't blame them. I actually understand. He's a beloved character and people feel they know him. He's a fantastic actor."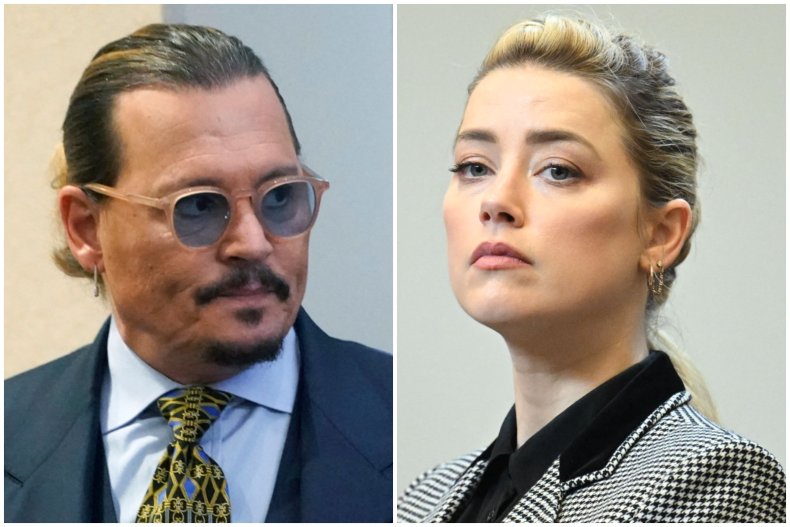 During the trial, Heard was the focus of an avalanche of unfavorable social media posts. The TikTok hashtag "#JusticeForAmberHeard" received 27 million views, while a version supporting Depp pulled in 20 billion views, according to NBC News.
Calling the onslaught of negative social media posts against her "unfair," Heard went on to state that she doesn't take individuals' judgments about her "personally."
"I don't care what one thinks about me or what judgments you want to make about what happened in the privacy of my own home, in my marriage, behind closed doors," she told Guthrie. "I don't presume the average person should know those things. And so I don't take it personally.
"But even somebody who is sure I'm deserving of all this hate and vitriol, even if you think that I'm lying, you still couldn't look me in the eye and tell me that you think on social media there's been a fair representation. You cannot tell me that you think that this has been fair," she said.
It was announced on Monday that Heard had sat down for the interview, with is set to air in full as a primetime special on NBC on Friday. Shortly after news of Heard's interview broke, a spokesperson for Heard defended her decision to speak out about the trial.
"Johnny Depp's legal team blanketed the media for days after the verdict with numerous statements and interviews on television, and Depp himself did the same on social media," the representative told Newsweek in a statement. "Ms. Heard simply intended to respond to what they aggressively did last week; she did so by expressing her thoughts and feelings, much of which she was not allowed to do on the witness stand."
Depp's courtroom victory came almost two years after he lost a 2020 libel case against British tabloid The Sun, which had labeled the actor a "wife-beater" in reference to Heard's allegations of domestic abuse.
Heard accused Depp of domestic abuse during their divorce proceedings in 2016. The stars, who wed in 2015, had their union officially dissolved in January 2017, months after Heard filed for divorce from Depp.
While Depp had repeatedly denied ever having been violent to Heard during the three-week trial in London, the judge found that the U.K. publication's claims that the actor was abusive to Heard were "substantially true."
Correction 06/13/22, 12:01 p.m. ET: This article was updated to correct Johnny Depp's age from 58 to 59.