Viral Thread Explains Why Heard-Depp Trial Is as Important as 'Real Issues'
The vicious legal battle between Johnny Depp and Amber Heard has dominated news cycles, social media, and pop culture discourse over the past month as the former married couple's multi-million dollar defamation trial continues.
The trial is being aired live with millions of people tuning in from all over the world, and with both parties' every move being scrutinized, and either mocked or praised widely by fans and critics alike.
Depp is suing his ex-wife Heard for $50 million over an op-ed she wrote in The Washington Post in 2018, claiming it damaged his career.
Heard did not name Depp in the article entitled, "I spoke up against sexual violence—and faced our culture's wrath. That has to change."
His lawyers argue it was obviously about him, and she is meanwhile counter-suing for $100 million for damages.
Hundreds of TikToks have even been made making light of the trial's many revelations and allegations and creators on Etsy have been making crafts inspired by the proceedings.
Countless moments from the trial have been made into viral videos, viewed and commented on by millions.
Messy divorce trials throughout recent history have often become tabloid fodder and typically shine in showbiz magazines and celebrity columns, which has led to some voices claiming that the Depp versus Heard trial is getting too much coverage when other, arguably more important things, are happening in the world.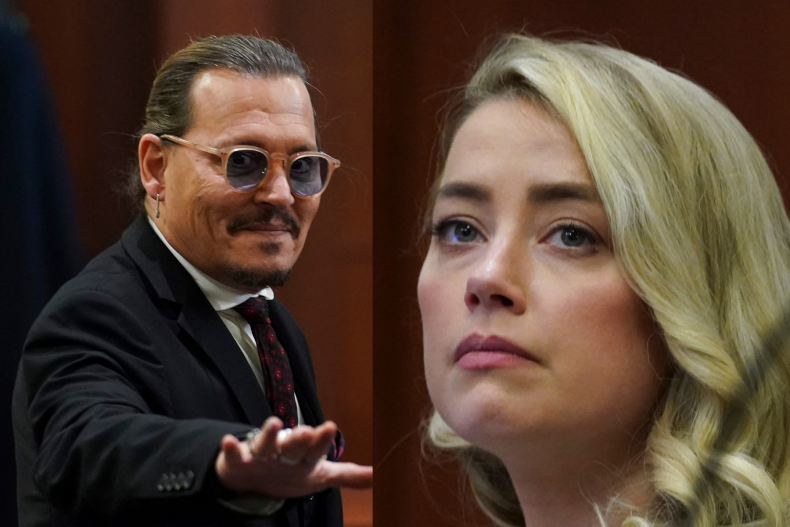 However, one thread explains why this trial is important and newsworthy and deserves the same attention as "real issues."
"I've seen some tweets from left wing folks arguing that the Depp/Heard trial is a celebrity tabloid mess and we should be focusing on the real issues right now," tweeted author and culture critic Ella Dawson.
"The country is going to s***. You're not wrong. But we need to talk about this trial, too. Here's why."
"This trial isn't a criminal case deciding Johnny Depp's innocence or guilt. It's a defamation case that will rule on whether or not Amber Heard and other victims of abuse are allowed to speak up. And it's creating a legal playbook for other abusers to silence their victims," Dawson explained.
The author's thread has gone viral, amassing more than 12,000 likes, 650 quote tweets and 3,400 retweets at the time of writing.
"This case is about more than two celebrities," Dawson said. "It has completely taken over the internet and warps our understanding of abuse in ways that hurt victims right now. YouTubers, TikTok creators, and even Etsy sellers are chasing the trend and cashing in."
Dawson pondered what lesson does it teach us about domestic abuse and its victims.
According to statistics from the National Coalition Against Domestic Violence (NCADV), an estimated 10 million people experience domestic violence every year in the U.S.
Research from the NCADV shows that one in four women and one in 10 men experience sexual violence, physical violence and/or stalking by an intimate partner during their lifetime, with "intimate partner violence-related impact" being such things as concern for safety, PTSD symptoms, injury, or needing victim services.
Dawson goes on to say that the "circus" surrounding this trial will end up hurting us all in the end.
"The circus around the Depp/Heard trial will insidiously damage the way we think about and talk about abuse and sexual violence for decades," Dawson tweeted. "It will indirectly hurt millions of victims who feel less safe getting help, speaking up, and seeking justice. It hurts all of us."
Depp famously lost his 2020 libel case against British tabloid The Sun, which had called the Pirates of the Caribbean star a "wife-beater," in reference to Heard's allegations.
Heard initially accused Depp of domestic abuse during their divorce proceedings in 2016.
The actor denied having been violent to Heard during the three-week trial in London, but a judge found The Sun's claims that he was abusive to his then-wife to be "substantially true."
During the London trial, a text message that Depp sent to his former talent agent, Christian Carino was read out and featured him promising Heard "total global humiliation."
The Depp v. Heard trial continues on Thursday, and Newsweek will be covering all the breaking stories from the Fairfax County courtroom on our live blog.