Johnny Depp Promises 'Total Global Humiliation' for Amber Heard in Old Text
Johnny Depp once vowed to deliver "total global humiliation" to his ex-wife Amber Heard as their marriage broke down back in 2016.
Depp, 58, filed a $50 million lawsuit against Heard, 36, over an op-ed published by The Washington Post in 2018, in which the Aquaman star stated that she had been the victim of domestic abuse.
Heard did not name Depp in the article, though his lawyers have argued that it was clear she was referring to the actor. Heard is countersuing for $100 million for nuisance. The ongoing trial is taking place in Fairfax, Virginia.
With the televised trial gripping the attention of fans across the globe, details from Depp's 2020 libel trial in London have been revisited, including evidence submitted at the time.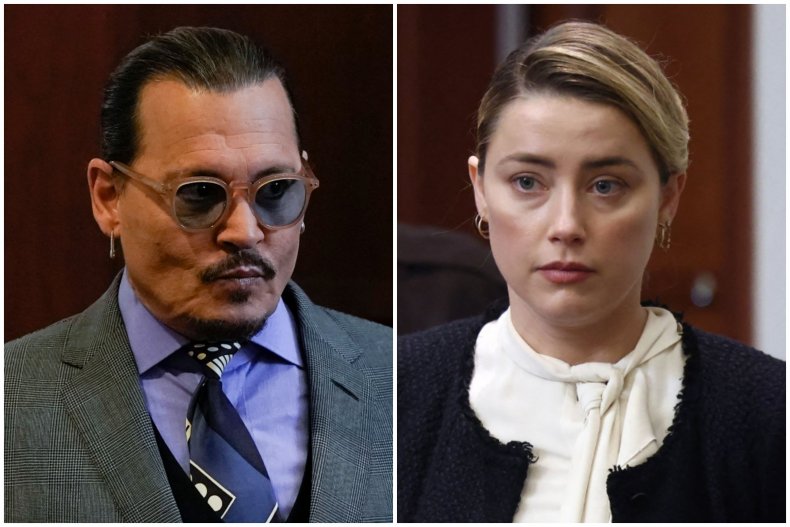 Depp famously lost his 2020 libel case against British tabloid The Sun, which had called the Pirates of the Caribbean star a "wife-beater," in reference to Heard's allegations.
Heard accused Depp of domestic abuse during their divorce proceedings in 2016.
While Depp had repeatedly denied ever having been violent to Heard during the three-week trial in London, a judge found that The Sun's claims that the Kentucky-born actor was abusive to Heard were "substantially true."
During the London trial, a text message that Depp sent to his former talent agent, Christian Carino, who is also the ex-fiancé of singer and actress Lady Gaga, was read out in court.
In the August 2016 message, Depp hurled a series of insults at Heard as he referred to her then-boyfriend Elon Musk as "Mollusk." The message has resurfaced on Reddit.
"She's begging for total global humiliation... She's gonna get it," Depp wrote. "I'm gonna need your text about San Francisco, brother... I'm even sorry to ask... But, she sucked Mollusk's crooked d*** and he gave her some s***ty lawyers...
"I have no mercy, no fear and not an ounce of emotion, or what I once thought was love for this gold digging, low level, dime a dozen, mushy, pointless dangling overused flappy fish market..."
"I'm so f***ing happy she wants to go to fight this out!!! She will hit the wall hard!!!" Depp went on. "And I cannot wait to have this waste of a c** guzzler out of my life!!!"
Referring to an apparently new relationship at the time, Depp said: "I met a f***ing sublime little Russian here... Which made me realize the time I blew on that 50 cent stripper... I wouldn't touch her with a goddam glove.
"I can only hope that karma kicks in and take the gift of breath from her... Sorry, man... But, NOW, I will stop at nothing!!! Let's see if mollusk has a pair. Come see me face to face... I'll show him things he's never seen before... Like, the other side of his d*** when I slice it off."
Musk, who dated Heard until early 2018, has been caught in the crossfire during the current trial. Text messages Heard had shared with Carino about billionaire Tesla and SpaceX CEO Musk were read out in court last month.
In the texts, Heard shared that she was sad while going through a breakup and hated when things "went public." Carino believes she was referring to Musk.
"You told me a thousand times you were just filling space," Carino texted Heard about Musk in 2017. "You weren't in love with him."
"I'm saying, why would you be sad if you weren't in love with him to begin with?" Carino continued.
Heard responded: "I know, but I wanted time to grieve and recover in my own time."
Due to a previously scheduled engagement for Judge Penney Azcarate, Depp and Heard's current trial is scheduled to resume on May 16.