Elon Musk Offered Amber Heard '24/7 Security' After Johnny Depp 'Fight'
Elon Musk offered Amber Heard round-the-clock security after she got into an alleged fight with Johnny Depp back in 2016 amid the breakdown of their marriage.
There has been renewed interest in Tesla and SpaceX CEO Musk's romance with Heard, 36, amid her high-profile defamation trial with ex-husband Depp, 58.
Depp has sued Heard over a 2018 op-ed published by The Washington Post, in which the Aquaman star said that she had been the victim of domestic abuse.
While Heard did not name Depp in the article, his lawyers argued that it was obvious she was referring to the actor. Heard is countersuing for $100 million for nuisance.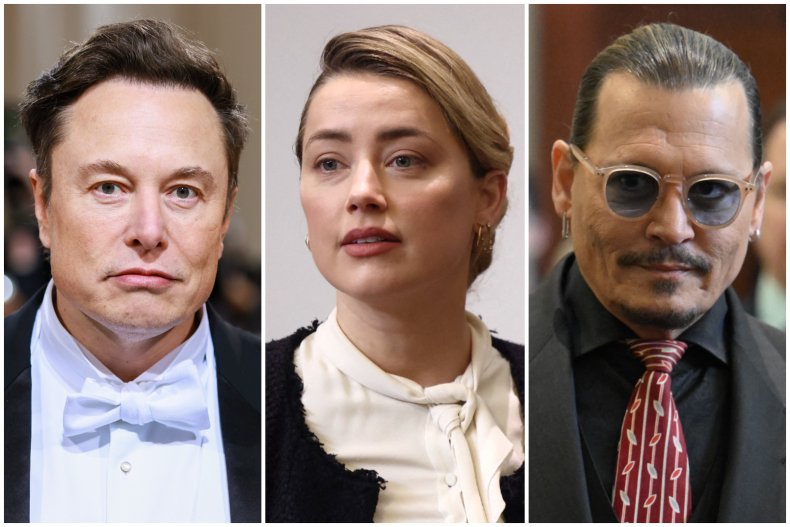 Musk, 50—who previously stated that he began dating Heard in 2016—had been expected to testify during the former couple's court battle, though it was recently revealed that he would not be among the list of witnesses taking the stand.
While Musk is not involved in the trial, fans following the court proceedings have been raking over the many text messages, photographs and statements that were presented as evidence during Depp's 2020 libel case in London.
Transcripts reviewed by Newsweek show that Musk messaged Heard on May 26, 2016, amid her allegations that Depp had assaulted her during a confrontation in the Los Angeles home they once shared.
Appearing to respond to a previous message from Musk, Heard wrote: "For such a smart man....... I would think you wouldn't need to investigate any further than your last text to me before such radio silence commenced...."
"Well, I'm just glad you're ok," Musk responded. "You talked about J being violent in the past and still having keys to the apartment, so I thought something might have happened."
"It did. But that's irrelevant. I had the locks changed," said Heard. "Legal divorce filing tomorrow. Restraining order—all that."
"Wtf!? But you're ok, right? Is there anything I can do?" Musk said, adding: "I'm happy to engage 24/7 security for you, if you'd like. It would be utterly confidential."
"All that is irrelevant to why I stopped talking to you," wrote Heard.
"I know. And the offer would stand even if you never wanted to see me again," Musk responded. "Anyway, sorry for being an idiot. the radio silence hurt a [lot]. It only matters because I really like you."
"Yeah, hence why I was so affected by your text the other night," said Heard. "Look, some things are hard to text... I'm here if you wanna ring."
Musk agreed that he would call Heard, whom he dated on and off until early 2018.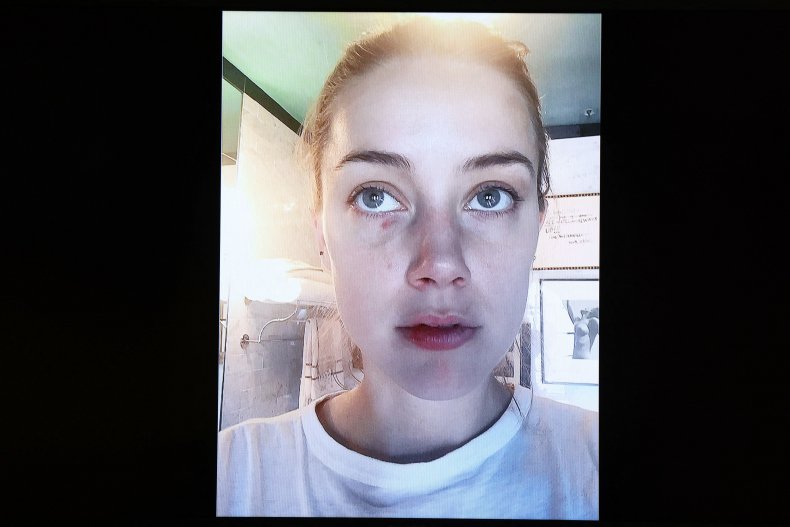 While the entrepreneur has stayed away from Heard and Depp's latest court battle, his name was still brought up when another set of text messages were shared.
Late last month, Depp's former talent agent Christian Carino shared details of the 2017 messages with the courtroom.
In the texts, Heard shared that she was sad while going through a breakup and hated when things "went public." Carino believes she was referring to Musk.
"You told me a thousand times you were just filling space," Carino texted Heard about Musk in 2017. "You weren't in love with him."
"I'm saying, why would you be sad if you weren't in love with him to begin with?" Carino continued.
Heard responded: "I know, but I wanted time to grieve and recover in my own time."
Heard tied the knot with Depp in 2015. Heard filed for divorce the following year with their union being officially dissolved at the start of 2017. Heard accused Depp of domestic abuse during their divorce proceedings in 2016.
Depp had previously lost a 2020 libel case against British tabloid The Sun, which had labeled the Charlie and the Chocolate Factory star a "wife-beater," in reference to Heard's allegations of domestic abuse.
While Depp had repeatedly denied ever having been violent to Heard during the three-week trial in London, a judge found that The Sun's claims that the Kentucky-born actor was abusive to Heard were "substantially true."
Due to a previously scheduled engagement for Judge Penney Azcarate, Depp and Heard's current trial is scheduled to resume on May 16.