Amber Heard Accuses Johnny Depp's 'Team' of Telling Media She Abused Ex
During actor Amber Heard's cross-examination in the defamation trial filed by ex-husband Johnny Depp, Heard accused Depp's team of planting the allegation that she abused her ex-partner in the media.
Depp's attorney, Camille Vasquez, led the cross-examination and asked Heard, "Tasya van Ree is your ex-wife, right?"
Heard responded, "That's right. She's my ex-partner."
"She's the one that you told this jury Mr. Depp was jealous of, right?" Vasquez questioned. Heard testified that she and Depp had fought about Van Ree, a photographer and artist who was in a relationship with Heard for roughly five years, and confirmed that he had once tried to burn one of Van Ree's paintings that Heard kept.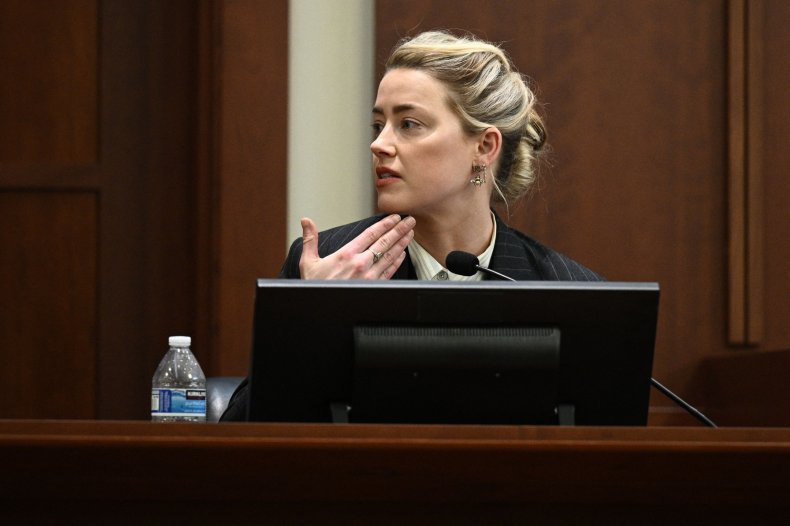 "You committed domestic violence against Miss Van Ree during your relationship, didn't you?" Vasquez questioned, which Heard denied. "You assaulted her at a Seattle airport in 2009, didn't you," Vasquez continued.
"And people saw that," Vasquez said.
"That's not true," Heard denied.
"And it was covered in the press. Isn't that true?" Depp's attorney said.
"It was planted in the press by Johnny's team, two days after I got the TRO [Temporary restraining order]," Heard testified.
Heard filed for a restraining order against Depp a few days after filing for divorce in 2016.
Heard continued to say on Tuesday that the story alleging she had committed domestic violence against Van Ree was planted to the press shortly after she got the restraining order. Vasquez questioned, "Mr. Depp is not the only domestic partner you've assaulted, is he, Ms. Heard?" to which Heard denied the accusation.
Earlier in the trial, a video of Heard facing allegations that she abused Van Ree went viral. The video showed Heard testifying on the matter in 2016 as she went through divorce proceedings with Depp. It is unclear whether the testimony occurred during a trial session related to Depp at the time.
Heard and Van Ree argued at an airport in 2009 before Heard was arrested after she allegedly hit her then-partner in the arm, USA Today reported in 2016. However, Van Ree issued a statement claiming that the incident was "misinterpreted" and that Heard was "wrongfully" accused.
"I [recall] hints of misogynistic attitudes toward us which later appeared to be homophobic when they found out we were domestic partners and not just 'friends,'" Van Ree said in the statement, according to the news outlet.
"It's disheartening that Amber's integrity and story are being questioned yet again. Amber is a brilliant, honest and beautiful woman and I have the utmost respect for her. We shared 5 wonderful years together and remain close to this day," Van Ree's statement continued.
After being arrested in 2009 by Port of Seattle Police, Heard stated that the charges were dropped "because they knew the exact same thing that I just told you, that no domestic violence ever occurred and my ex has stated such."
In Heard's 2016 deposition, she said, "In fact, it was so ridiculous those charges, it was a verbal argument, it was misinterpreted [and] misrepresented. There was no physical violence, no physical abuse, and zero domestic violence whatsoever between us."
Depp filed a $50 million lawsuit against Heard, whom he accused of defaming him in an opinion piece published by The Washington Post in 2018. Heard countersued for $100 million for nuisance. The trial has entered its sixth week and closing arguments are expected on May 27.
Update 5/17/2022 5:44 p.m.: This story has been updated to include new information and more background material on the trial.