Amber Heard Laughs During Teen Suicide Speech in Resurfaced Viral Clip
A decade-old video of Amber Heard breaking into laughter in the middle of a speech about teen suicide has gone viral on TikTok.
Heard joined fellow actor Zachary Quinto at The Trevor Project's 2011 Trevor Live! on December 4, 2011, in Los Angeles to deliver speeches about the young LGBTQ lives that TrevorSpace had saved through their work.
TrevorSpace provides support for LGBTQ youth aged 13-24 and also has a suicide prevention hotline, which the stars spoke about when they took the stage at storied venue the Hollywood Palladium.
In the video, Star Trek actor Quinto was the first of the two to speak, telling the story of a teenage boy living with autism who had lived through multiple suicide attempts.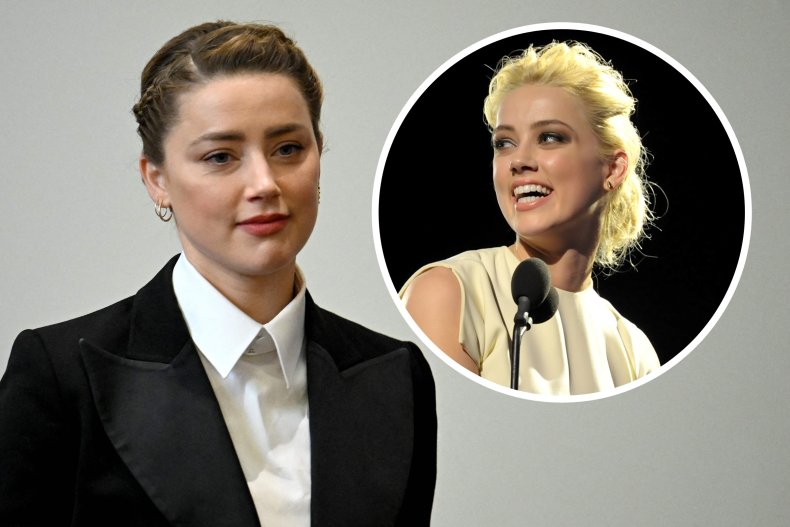 As Quinto's speech came to an end, Heard was visibly moved as she joined the audience in applauding him.
Driving home that she was emotionally overcome, Heard said as she stepped up to the mic: "You know, they sent me a script in the email today and they did not send his speech. I wish they had, or else I'd have prepared. So I'm sorry if I stumble through my bit. But I wasn't prepared to hear that."
She then went on to tell the story of a teenage girl from Massachusetts who had called the Trevor Lifeline, where counselors are available to speak with callers.
After admitting to her "very conservative" adopted parents that she was gay, "they didn't respond that well. And that time she called the Lifeline. They were threatening to send her at that moment to reparative therapy to fix her."
As she continued to recount how the girl was bullied at school and how calling the helpline had given her hope, a phone was heard loudly ringing in the audience.
Heard then broke into laughter, as she said toward the person in the audience, who was off-camera: "Thank you, I needed that so much. Jennifer, I see you, you planned that!"
Quinto and the audience briefly laughed along with Heard, before she apologized and then proceeded to complete her speech, which she appeared to be reading.
While there was no evidence of Heard's laughter being malicious, the video was shared on TikTok as an apparent example of "how horrible this woman is," wrote the uploader. "This is at a teenage s**cide event."
The video, which has been viewed 1 million times since it was uploaded last week, was met with a barrage of disparaging comments aimed at the Aquaman star, a number of whom accused her of lacking sensitivity. The full clip can be viewed here.
Newsweek has contacted representatives of Heard and TrevorSpace for comment.
Heard has been the focus of much social media scrutiny and backlash over the past several weeks, as she faced off against ex-husband Johnny Depp in court.
Depp filed a $50 million lawsuit against Heard over a 2018 op-ed for The Washington Post, in which she said she was a domestic abuse survivor.
While Heard did not name Depp in the article, his lawyers argued that it was obvious she was referring to the actor.
During court proceedings, which were televised, the exes hurled a series of allegations at one another, including accusations of domestic abuse—claims they both vehemently denied as they took the stand.
Following a high-profile trial, the jury on June 1 awarded Depp $10 million in compensatory damages and $5 million in punitive damages, after finding Heard's claim to be false and defamatory.
Heard, who had countersued for $100 million, was awarded $2 million after it was found that Depp's former attorney, Adam Waldman, had made defamatory comments about her.
If you have thoughts of suicide, confidential help is available for free at the National Suicide Prevention Lifeline. Call 1-800-273-8255. The line is available 24 hours every day.