Psychological Theory About Lawyer Camille Vasquez's White Suit Goes Viral
Amber Heard's courtroom outfits have been scrutinized throughout her ongoing legal battle with Johnny Depp, and now viewers of the trial are looking at what lawyer Camille Vasquez has been wearing to court.
The Pirates of the Caribbean actor is being represented by attorney Camille Vasquez who in recent days has become a viral sensation for her performance in the multi-million dollar defamation trial.
Depp, 58, is suing his ex-wife Heard for $50 million over an op-ed she wrote in The Washington Post in 2018, entitled, "I spoke up against sexual violence—and faced our culture's wrath. That has to change."
Depp is claiming it damaged his career, causing him to lose million in earnings. Though Heard did not name Depp in the article, his lawyers argue it was obviously about him, and she is meanwhile counter-suing for $100 million for damages.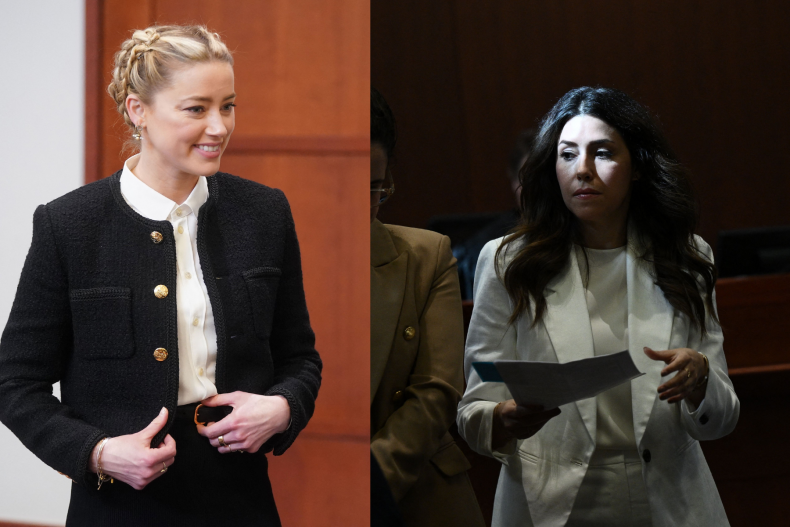 The trial has been ongoing for a number of weeks now in Fairfax, Virginia with both parties leveling severe allegations of violence against the other, all of which have been denied.
This legal battle has been played out on social media and scrutinized by millions in an unprecedented manner, and now a TikTok video assessing Heard and Vasquez's courtroom outfits has gone viral.
Shadé Zahra, who describes herself as a former lawyer and a psychologist, made a video analyzing the suits the two women have chosen to wear in the courtroom.
"Two days ago, Johnny, Depp's attorney showed up in all white to court an interesting and uncommon choice," Zahra began in the video which has clocked up 3.2 million views on TikTok at the time of writing.
"I wanted to comment on some of the psychology I've noticed in action," she said.
Speaking about Vasquez and her choice of a white suit, Zahra explained: "In my perspective. Vasquez showing up in all white was a very smart move to reflect innocence and then she's on the right side of the law."
She said that studies consistently demonstrate that the color of a person's clothes can influence their perceived trustworthiness and credibility.
Moving on to Heard, Zahra showed clips of the actress dressed in blue, grey and black respectively.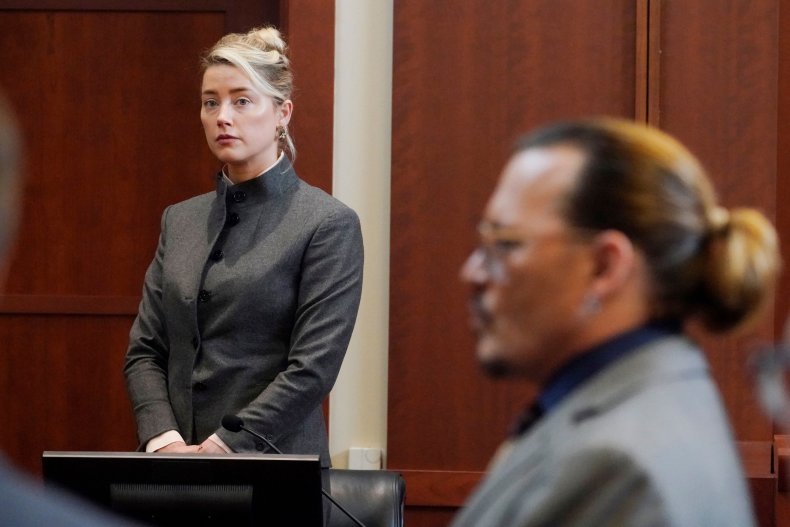 "Blue is generally associated with wealth and security, gray with strength and success and, black with power and dominance," adding that white is generally associated with "innocence and purity."
She added: "Interestingly, some have commented that Heard's outfit choices that symbolize control, power and dominance aren't actually helping her case.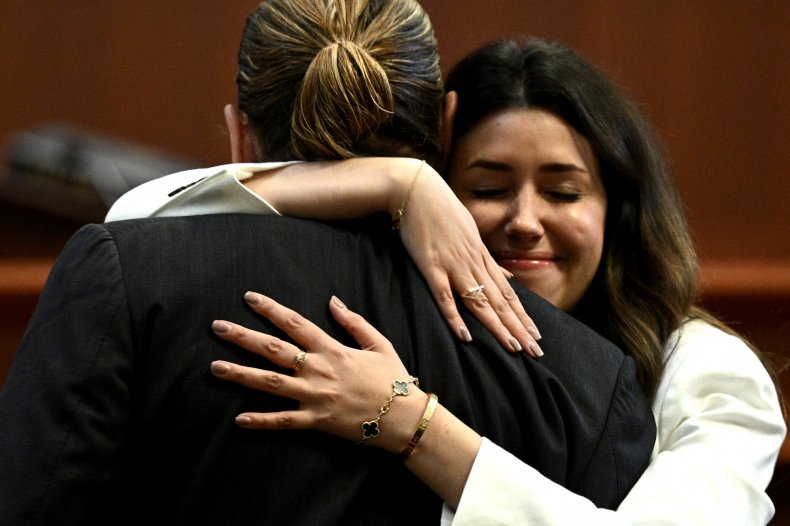 "So the lesson for all of us is that we need to be aware of how we physically present ourselves and how it might either be helping us or detracting from how we want to come across."
For this trial, Heard has worn a series of menswear suits with some viewers speculating that she is copying her former husband's sartorial choices, with this theory even going viral last month.
Meanwhile, earlier this week, Heard's grey suit was compared to the Austin Powers character Dr. Evil in another viral wardrobe moment from the courtroom.
The Depp v. Heard trial continues on Monday and Newsweek will be covering all the breaking stories from the Fairfax County courtroom on our live blog.