Amber Heard Reveals She Was Confronted by Barrage of Johnny Depp Fans
Amber Heard has revealed that she was confronted by the sight of Johnny Depp fans wishing her harm during Depp's defamation trial against her.
Heard, 36, was sued for $50 million by ex-husband Depp, 59, over a 2018 op-ed in The Washington Post, in which she said that she was a domestic abuse survivor.
Following a six-week trial, the jury on June 1 awarded Depp $10 million in compensatory damages and $5 million in punitive damages. The judge adjusted the punitive damages to $350,000, as Virginia law limits punitive damages.
Heard, who had countersued for $100 million, was awarded $2 million by the jury, which found that Depp's former attorney, Adam Waldman, had made defamatory comments about the Aquaman star.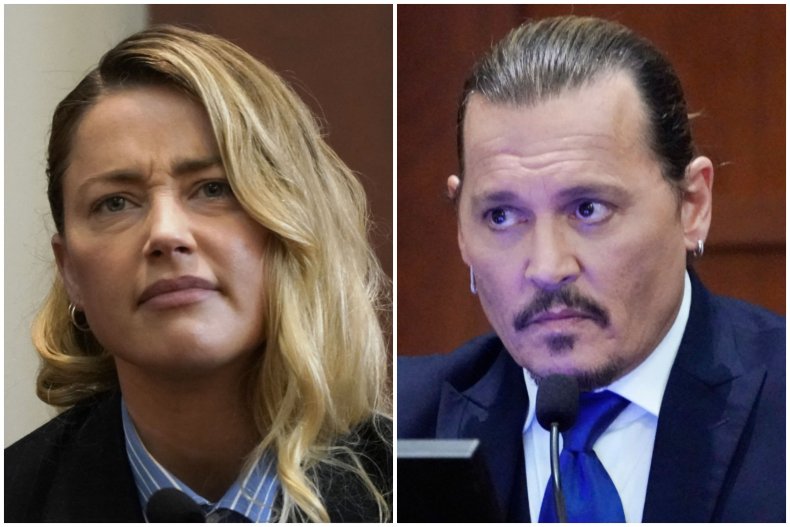 As the high-profile trial progressed, it became clear that Heard had lost to Depp in the court of public opinion, with an overwhelming percentage of social media posts about the court proceedings largely favoring her former husband.
In an interview with Today's Savannah Guthrie, which is set to air in full as a primetime special on Friday, Heard revealed that she came face to face with Depp's fans on a daily basis as she was transported to and from Virginia's Fairfax County Circuit Court.
"Every single day I passed from three, four, sometimes six blocks—city blocks lined with people holding signs saying, 'Burn the witch,' 'Death to Amber,'" she said in a preview of the interview aired on Tuesday.
"After three and a half weeks, I took the stand and saw a courtroom packed full of Captain Jack Sparrow fans who were vocal, energized," she went on, referring to Depp's character in the hugely popular Pirates of the Caribbean franchise.
"This was the most humiliating and horrible thing I've ever been through," Heard added of the trial, which was televised each day. "I have never felt more removed from my own humanity. I felt less than human."
During the trial, Depp and Heard accused one another of domestic abuse through their ill-fated relationship. Both stars denied the allegations.
Despite Depp's vehement denial, and overall court victory, Heard said of the claims made in court: "To my dying day, I'll stand by every word of my testimony."
Fans of Depp shared a host of viral videos across social media—particularly TikTok—where they analyzed each day's proceedings and shared what they believed to be evidence supporting Depp's case.
Acknowledging the deluge of social media activity, Heard told Guthrie: "I think the vast majority of this trial was played out on social media. I think that this trial is an example of that gone haywire, gone amok. And the jury's not immune to that."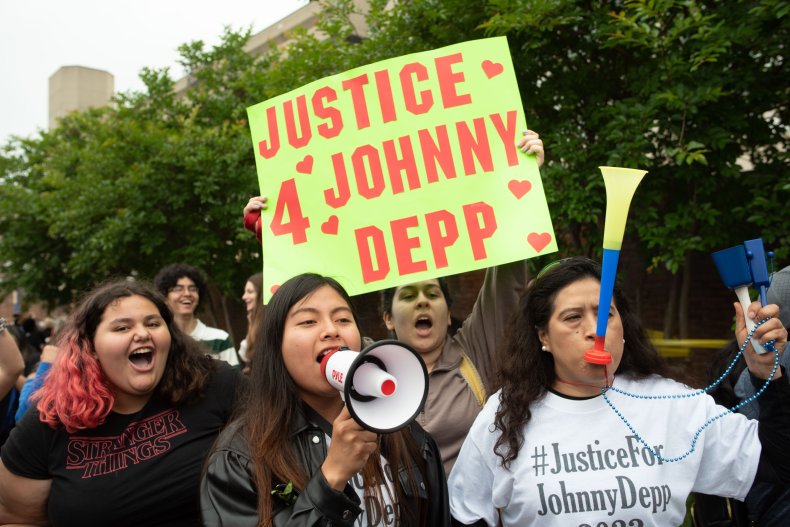 She also went as far as to suggest that jurors had viewed some of the posts, despite them being barred from looking at the news or social media during the trial.
"How could they not?" Texas native Heard said. "I think even the most well-intentioned juror, it would've been impossible to avoid this."
"Hollywood Brats at Their Worst"
Elsewhere in the preview of Heard's first sit-down interview since the trial, the screen star also addressed statements by some observers that both she and Depp were to blame for the negative aspects of their marriage.
"I would not blame the average person for looking at this and how it's been covered and not think that it is Hollywood brats at their worst," Heard said. "But what people don't understand is it's actually so much bigger than that. This is not only about our First Amendment rights to speak."
Sharing her interpretation of the First Amendment, she added: "It's a freedom to speak truth to power, and that's all I spoke. I spoke it to power and I paid the price."
Following much of her emotional testimony about the abuse Heard alleged she endured at the hands of the Edward Scissorhands star, she was criticized by a wave of detractors who accused her of acting during her time on the stand.
"Says the lawyer for the man who convinced the world he had scissors for fingers? I'm the performer?" Head shot back when asked by Guthrie about the accusations. "I had listened to weeks of testimony insinuating or saying quite directly that I'm a terrible actress, so I'm a bit confused how I could be both."
Edited Audio Claims
While Heard said she stood by her testimony, Guthrie—whose husband, Michael Feldman, served as a consultant for Depp's legal team—pushed back, pointing out that Heard spoke of starting fights on recorded audio that was unveiled during the trial.
"I know much has been made of these audiotapes," Heard responded. "They were first leaked online after being edited. What you would hear in those clips are not evidence of what was happening. It was evidence of a negotiation ..."
"I made a lot of mistakes, but I've always told the truth," Heard told Guthrie.
Newsweek has asked Depp for comment.