Amber Heard Says Bed Feces Wasn't Hers, Belonged to Yorkshire Terrier
Amber Heard took the witness stand again on Monday in her defense testimony and stated that the feces in her and ex-husband Johnny Depp's bed was their dogs, not hers.
In the high-profile defamation trial between the two actors, Depp claimed that Heard had defecated in their bed, and a video of his testimony went viral in late April.
During her defense testimony on Monday, Heard stated that it was actually Depp's Yorkshire Terrier named Boo that had left feces on the bed. Heard stated that in 2016, while she and her friend were preparing to leave for the Coachella music festival, they left the dogs on the bed.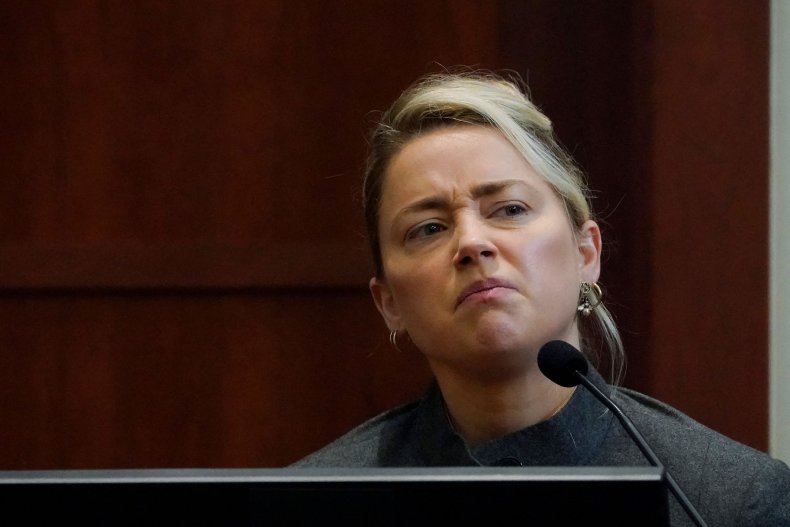 When asked if she had committed any kind of "prank," Heard replied, "Absolutely not."
"First of all, I don't think that's funny. I don't know what grown woman does find that funny," she added.
"I was not also in a pranking mood…my life was falling apart. I had just been attacked on my 30th birthday by my violent husband with whom I was desperately in love and knew I needed to leave," she said. "It was not really a jovial time. And I don't think that's funny, period. That's disgusting."
When asked about the dog, Heard said, "She had some control issues. Hence why she liked to burrow in the bed.… We have to leave her in bed so that she wouldn't be encouraged to go to the bathroom, which would happen almost immediately once you put her down on the floor. And sometimes it happened in bed, too."
Heard brought up the incident once more on Monday. After about a month of no communication, Heard stated that she and Depp spoke on the phone. "And when I spoke to him," she said, "he was going on about scientists and DNA and feces, that he had had some, you know, scientific analysis done and DNA analysis done."
"As soon as I heard about this feces he thought that was a prank and was going on about all the scientists that he had conferred with about the DNA results, I just thought he was out of his mind," Heard testified.
In April, Depp appeared to laugh on the witness stand when first alleging that Heard had defecated and "tried to blame it on the dogs."
When asked why he believed it was Heard and not the dogs, Depp said, "They're teacup Yorkies. They weigh about 4 pounds each. The photograph that I saw—I lived with those dogs for many years. It was not the dogs.… I didn't feel like I deserved that kind of treatment."
Depp, 58, filed a $50 million lawsuit against Heard, alleging that she defamed him in an op-ed published by The Washington Post in 2018. Heard countersued Depp for $100 million for nuisance.